Main content
Finding The Lost Words in music
Writer Robert Macfarlane and artist Jackie Morris were spurred into creating their magical book, The Lost Words, by the exclusion of once familiar nature words like fern, otter and starling from the Oxford Junior Dictionary. Through "spells" and paintings, they celebrated a natural world that is slipping from children's mouths and minds, and conjured 20 of those words back into our everyday experience.
The 2019 Lost Words Prom brought a selection of those words – and a new "spell" – to life in a kaleidoscopic concert embracing different musical genres, spoken word, dance, and painting … Here are five tracks from the concert, with Jackie's illustrations. All images are © Jackie Morris and the spoken text is © Robert Macfarlane.
1. Fox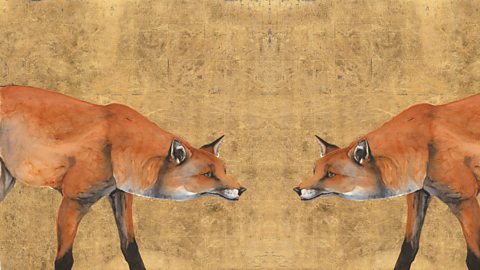 With the National Youth Choir of Great Britain, conducted by Jessica Cottis.
Robert and Jackie collaborated with composer Alissa Firsova in a new BBC commission – Red Fox – for the Lost Words Prom. Robert says, "Foxes are famously elusive creatures, hard to pin down or catch. That certainly proved true when I tried to write a spell for 'Red Fox'.
"For several weeks, she wouldn't break cover, wouldn't show herself. Then two things happened. Jackie Morris sent me a notebook with her paintings of foxes on its cover and pages. That felt like the right habitat in which to conjure up the fox. And then, while I was cycling late one night back down the street near my suburban house, a vixen hurtled across the road in front of me, passing a yard in front of my whirring wheels before vanishing into a neighbour's garden. I saw the blur of a brush, a pair of glowing green eyes, my heart raced – and there was the spell. Rather than trying to see the fox full and square, it was of course to be about the ways these enigmatic creatures slip in and out of our lives, glimpsed and sensed at the edges of sight and hearing: 'The shadow that slips through a hole in the hedge.'"
Jackie says, "'Red Fox' by Robert Macfarlane demands red paint for her bright pelt. Learning the shape of the words and the shape of the fox, so each is drawn from the other, is a wild and a beautiful challenge. It's an untamed magic, this conjuring with words and coloured water, chasing 'the spirit of wild'. Where I live, red fox does not skulk. She owns the land and her love song to the wild rules the twilight.'"
2. Newt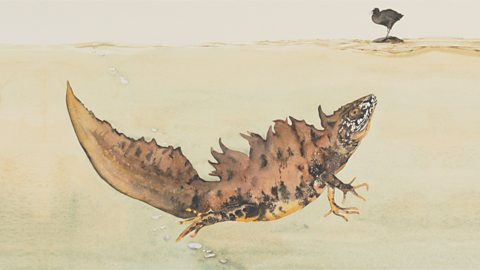 With the National Youth Choir of Great Britain, conducted by Jessica Cottis.
Newt is a giant in his own eyes. Here we have a comic synergy between subject, words, painting and music.
In fact the great crested newt – also known as the warty newt, and protected by law – is the largest of the three species of newts that live in the British Isles, growing up to 15cm long. In spring the male develops a flamboyant wavy crest down his back and tail. And he likes to show it off! In an elaborate courtship ritual, he tries to impress the females by standing on his front legs, arching his back and waving his tail around. The "king of the pond" becomes a "dancing queen".
3. Cantus Arcticus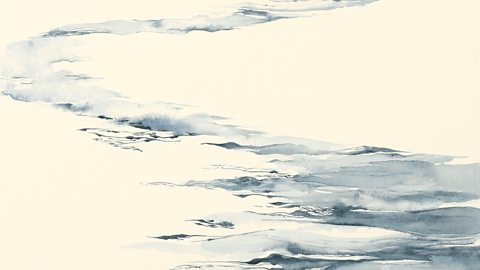 With the Southbank Sinfonia conducted by Jessica Cottis.
The Finnish composer Einojuhani Rautavaara uses haunting bird-calls to form the background of his Cantus Arcticus.
The shore lark is the star of this piece. Rautavaara tape-recorded the bird's song in Arctic Finland, slowed it down and lowered it, to create a mournful, eerie sound, evoking the wide, wintry expanses and bleak beauty of its habitat. In this second movement of his "Concerto for birds and orchestra", the composer interweaves the
calls with tender strings, and the result is both sparse and romantic.
4. Willow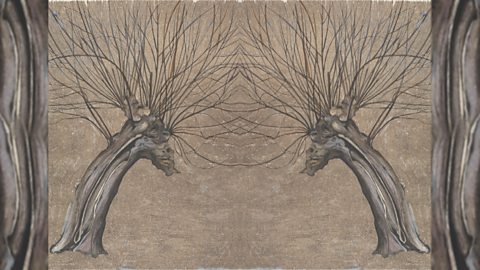 With the National Youth Choir of Great Britain, conducted by Jessica Cottis.
Canadian ecologist Suzanne Simard's forest research led her to discover that trees "talk" to each other; they co-operate by sharing water, information and distress signals. They are social individuals, mother trees nurturing younger trees, in a community that supports the whole forest.
German writer and former forester turned forest custodian, Peter Wohlleben, ran with the idea of a "woodwide web" in his book The Hidden Life of Trees. He insists trees are deeply social, that oak trees use 600 "words"… and that willows are loners.
Composer James Burton says, "For me, Willow is the heart of the book, the real 'heartwood'. It was reading Willow that first inspired me to imagine young voices singing the words with a gentle power: 'for we are willow, and you are not.'
"In an age when we adults are learning to listen to young people, the enigmatic responses of the willow tree remind us that there are some things that we may never understand – and that may include our own children."
5. Lark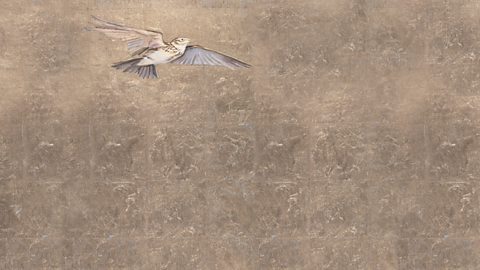 With Stephanie Childress (violin) and Indigo Griffiths (spoken word)
Hearing Vaughan Williams's shimmering paean to the skylark and its song, it feels as if our human souls take flight with it over the pastoral landscape.
Keeping on into deep space, exploding suns, to where at last, little astronaut, you sing your heart out at all dark matter.

Robert Macfarlane
The composer was inspired by George Meredith's 1881 poem of the same name, and he copied its lines describing the bird's "silver chain of sound" onto his score.
The Lark Ascending was written just before the outbreak of the First World War, and for post-war listeners there is a sense of the loss to come.
Here we pair the soaring melody with Robert Macfarlane's spell-poem, Lark, where sadness wrestles with hope, the darkness of depression and fear reaching towards the light.
With a brand-new "spell" by the book's author Robert Macfarlane, the programme includes the nightingale, quail and cuckoo calls from Beethoven's "Pastoral" Symphony, the Arctic bird cries of Rautavaara's Cantus arcticus, the carefree flight of Vaughan Williams's The Lark Ascending, plus new commissions by Jocelyn Pook and Alissa Firsova.