Main content
Happy Heads
The Big Fancy Dress Singalong
There is still time to help us raise £250,000 for BBC Children in Need.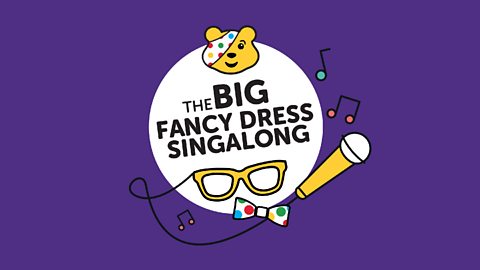 Tom Grennan is joined by people from across the UK for BBC Children in Need.
Hundreds of you filmed yourself singing and dancing to 'By Your Side' by Calvin Harris ft. Tom Grennan.
Some of the videos were used on a special live performance of the song on BBC Children in Need's live show on BBC One, others were shared across local BBC radio and online.
You can still donate to help us raise £250,000 for BBC Children in Need. The charity supports over 1800 projects in England alone, but they can't do it without your donations.
So please give what you can so that they can continue to support children and young people at a time when they need it most.
There's still time to give what you can and help us raise £250,000 for BBC Children in Need.*
*Children In Need will process your data when you donate online as a separate data controller from the BBC. View terms of use and privacy policy.

What is the Make a Difference Happy Heads campaign?

The Make a Difference Happy Heads campaign is part of a BBC Headroom toolkit of practical tips, mood mixes, personal stories and daily inspiration. We're here to help you through the day.

Recent data published by BBC Children in Need found that more than two-thirds of children and young people (68%) aged 11-18 believe that young people's mental health in general has got worse as a result of the pandemic, with one in three (34%) not feeling comfortable to ask for help if they needed it.

We want to help children, parents and carers by promoting volunteering and sharing links to charities and organisations.

We know that not everything can be fixed quickly or simply however we hope that together we can help those in need of support.
Find out about companies and charities who are able to help

Anna Freud - This is a mental health charity which supports children,

BEAT - This is a national charity that supports people with eating disorders. Helpline: 0808 801 0677; Youthline: 0808 801 0711. Helplines are open 365 days a year from 9am–8pm during the week and 4pm–8pm on weekends and bank holidays.

Childline - Provides phone and text support as well as 1-2-1 counselling for children between 7am and 3am 7 days a week. Call: 0800 1111.

Kooth - Provides digital mental health care for parents and children.

NHS - Information about child and young peoples' mental health.

Shout - Provides free, confidential mental health text support 24/7. Text 85258.

The Mix - This is the UK's leading support service for young people. Call: 0808 808 4994 (4pm – 11pm).

YoungMinds - Offers information, support and advice for children and young people on mental health, wellbeing and self-harm. They also offer help for concerned parents of those under 25 is offered by phone: 0808 802 5544 (Mon –Fri 9.30am-4pm).

We will be adding to this list as the campaign continues.
Find out about charities that need volunteers

Below is a list of organisations that rely on volunteers to carry out their work. If you can give any time, no matter how little, they would be very grateful to hear from you.

We will be adding to this list as the campaign continues.
Find out how your local BBC radio station is making a difference
Share your scheme
If you are an organisation supporting child mental health and would like to add information about support you can offer please contact us for consideration using this online form.