Main content
Eight fizzling facts about fireworks
It's that time of year when the nights draw in and the skies light up, with firework displays occurring across the country. But where and when did the pyrotechnic phenomenon begin, who buys more fireworks than anyone else in the world, and what are "dragon's eggs"?
Wrap up warm, buckle up and enjoy these explosive facts to mark fireworks season. (Don't forget to warn the cat.)
1. Fireworks originated in China around 2000 years ago
The birth of fireworks can be traced back to 7th century China. But there is further evidence that primitive Chinese firecrackers date back as far as 200BC. It is thought that a Chinese cook accidentally invented gunpowder by mixing three common kitchen ingredients! Today, it is estimated that China produces around 90% of the world's fireworks.
2. They were first used in England at a royal wedding
Although fireworks were probably used in the UK from the late 13th century onwards, they didn't become popular until at least 200 years later. The first documented use of fireworks in the UK is at the wedding of King Henry VII and Elizabeth of York, in 1486. The marriage marked the union of the long-sparring Yorkist and Lancastrian families, bringing peace after years of dynastic war. A suitable occasion for a pyrotechnic party!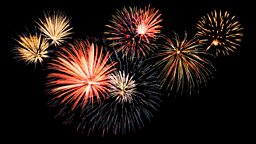 3. There used to be a Fire Master of England
It wasn't until the reign of Queen Elizabeth I that fireworks really took off (excuse the pun) across the nation. The queen found them so thrilling that she created the position of "Fire Master of England". As the best and most respected fireworks-maker in England, he took charge of all royal displays.
4. The bard loved a banger
Shakespeare refers to fireworks in a number of his plays, suggesting that they were widely used by his lifetime. In Love's Labour's Lost one character states, "the king would have me present the princess, sweet chuck, with some delightful ostentation, or show, or pageant, or antique, or firework."
5. It's all about flower power
A shell that emits stars in a perfect circle, with the brightness growing as the circle gets bigger, is called a "chrysanthemum". A firework that has stars that fly outward, then start to descend, is called a "peony". And multiple breaks of small chrysanthemums is called a "bouquet". Other exotic firework names include the "butterfly", the "coconut palm" and "dragon's eggs" – characteristically a gold or silver breaking effect that ends in crackles or strobes.
How to get turkeys to laugh at fireworks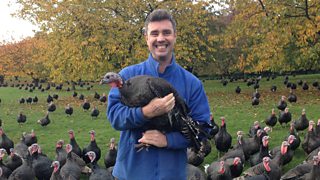 One farm has a novel solution to getting their birds ready for Bonfire Night.
6. A firework is behind the expression "damp squib"
These days, we use the expression "damp squib" to describe a disappointing event that is not as exciting or impressive as expected. But a squib is literally a miniature explosive device, or form of firework, usually cylindrical in shape and with a paper fuse at one end, which fails to ignite if it gets wet. (The phrase is commonly misquoted as "damp squid", but of course we all know cephalopods are big fans of water.)
7. The largest ever firework display consisted of 810,904 fireworks
According to Guinness World Records the biggest ever fireworks display was achieved by Iglesia Ni Cristo (Church of Christ) in the Philippines, who welcomed 2016 in with a record-breaking bang. The display lasted for 1 hour, 1 minute and 32.35 seconds and, sadly, it poured with rain the whole way through.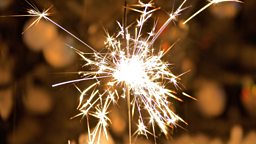 8. Disney is the largest consumer of fireworks in the world
The Walt Disney Company is said to be the largest consumer of fireworks in the world. It is estimated that they spend around $50 million a year on their displays. That's no Mickey Mouse operation!
What is fire? Is it a solid, liquid or a gas? Why is it hot and why can you see it in the dark?

With over 200 varieties of cider apple, here are some appley facts.

Other parts of the world have their own wonderful ways of referring to the season.