Main content
A Showcase for Talent – International Women's Day 2017 on Radio 3
WEDNESDAY 8 MARCH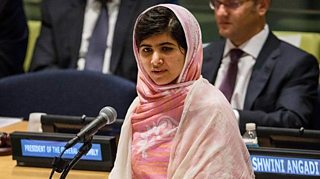 Malala Yousafzai
This year on International Women's Day we're looking forward to hearing directly from some of the composers whose work we are celebrating. We're inviting six renowned female composers to take over the schedule, guest-editing and curating parts of regular programmes, with Alissa Firsova taking over Breakfast, Sally Beamish at the reins for Essential Classics, Tansy Davies in charge of Afternoon on 3, Errollyn Wallen curating In Tune, Annette Peacock in the studio for Late Junction, and Kerry Andrew sharing her own Late Junction Mixtape.
We're also broadcasting several world premieres including music by Dobrinka Tabakova and Sasha Johnson Manning (courtesy of Truro Cathedral's recently formed girl choristers in Choral Evensong), by Joo Yeon Sir and Laura Snowden in the live Lunchtime Concert, and a new piece by Kate Whitley, entitled "Speak Out", which sets the text of Malala Yousafzai's historic 2013 UN speech about every girl's right to education to music for the first time. There is still such a lot of music by women of the past which is unjustly neglected, and a wealth of exquisitely talented women writing today. Radio 3 can give them a platform, and "speak out" for these gifted women whose music deserves to be heard.
MORNING
0030 THROUGH THE NIGHT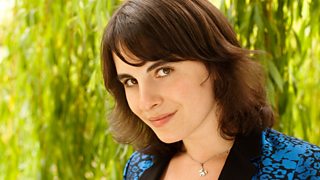 Curator Alissa Firsova
Music composed by women in performances from around Europe
0630 BREAKFAST presented by Petroc Trelawny
Curated by Alissa Firsova
0900 ESSENTIAL CLASSICS presented by Sarah Walker
Curated on the day by Sally Beamish: Essential Classics' guest all week is novelist Sarah Perry
1200 COMPOSER OF THE WEEK presented by Donald MacLeod
Exploring the music composed by, performed by and written for women in 16th-century Ferrara – the place most encouraging to female musicianship before the 20th century.
AFTERNOON
1300 RADIO 3 LUNCHTIME CONCERT presented by Kate Molleson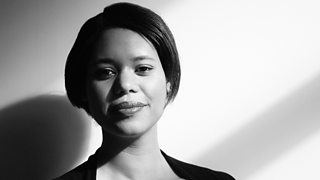 Inspire Young Composers: Hannah Kendall
Kate Molleson presents a Women in Music concert from the Royal College of Music in London. Featuring Sofya Gulyak in the UK premiere of a major piano sonata by Fanny Mendelssohn, and Joo Yeon Sir and Laura Snowden in a new work inspired by Fanny Mendelssohn's recently rediscovered piece.
Until recently, Fanny Mendelssohn's Easter Sonata was wrongly attributed to her brother Felix - not least because it's just so good! Thanks to some serious detective work, the music has now been correctly restored to its proper creator - and this is the first chance to hear it in the UK.
1400 AFTERNOON ON 3 presented by Katie Derham
Specially-recorded performances of music by women from the BBC Performing Groups and the BBC Radio 3 New Generation Artists, curated by Tansy Davies

1530 CHORAL EVENSONG
From Truro Cathedral – the first live broadcast on BBC Radio 3 of the cathedral's recently formed girl Choristers. Including the first performances of newly commissioned pieces by Sasha Johnson Manning and Dobrinka Tabakova.
1630 IN TUNE presented by Sean Rafferty
Curated by Errollyn Wallen
Featuring the Inspire Young Composers project for IWD led by Hannah Kendall
EVENING
1830 COMPOSER OF THE WEEK (Repeat)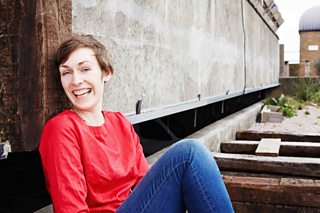 Setting Malala: Kate Whitley
1930 RADIO 3 IN CONCERT presented by Sara Mohr-Pietsch
An "Open Ear" concert recorded in the round at St John-at-Hackney. Avant garde ensemble Plus Minus will perform a large-scale piece by Joanna Bailie, and two "action" pieces by German composer Carola Bauckholt. Pianist Xenia Pestova will play birdsong-inspired music by Arlene Sierra, and premieres of new works by Egidija Medeksaite, Ailís Ní Ríain and Nicola LeFanu. Virtuoso violinist Aisha Orazbayeva will improvise spontaneously with spoken-word artist Tim Etchells; and there is also a set of immersive surround-sound electronic music by sound-artist/composer Kaffe Matthews.
2130 RECITAL
"One child, one pen, one teacher, one book can change our world."
Radio 3 presents the world premiere of a work specially commissioned for International Women's Day, "Speak Out". Composer Kate Whitley sets the words of Malala Yousafzai from her 2013 United Nations speech about the right of every girl to education. We hear the piece performed by the BBC National Orchestra and Chorus of Wales, and BBC Choir of the Year finalists Cor y Cwm. Plus interviews with Kate Whitley and the performers.
2200 FREE THINKING
Anne McElvoy and guests including Tracy Chevalier on women neglected in standard histories
2245 THE ESSAY: Screen Goddesses
Sarah Churchwell discusses the original "blonde bombshell": actress Jean Harlow.
2300 LATE JUNCTION presented by Fiona Talkington
Annette Peacock and Kerry Andrew join Fiona Talkington to share music by female composers.
Sunday 5 March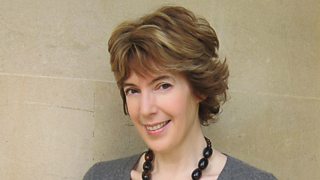 Cecilia McDowall
Sunday Morning: Building a Library choice by Dame Ethel Smyth plus music by Ruth Crawford Seeger, Cecilia McDowall, and Barbara Strozzi. The week's young artist is 17-year-old recorder virtuoso Lucie Horsch, and this Sunday's neglected classic is Scriabin's Piano Concerto in F sharp minor, Opus 20.
The Listening Service: Tom Service immerses himself in Deep Listening, a practice created by composer and electronic music pioneer Pauline Oliveros: it's a kind of sonic meditation, a way of approaching music with more sensitivity that anyone can practise.
Words and Music – Seven Ages of Women: Poetry, prose and music exploring the lives of women from birth to death. The readers are Fiona Shaw and Ellie Kendrick. With words by Sylvia Plath, Elizabeth Barrett Browning, Carol Ann Duffy, Kate Chopin, Muriel Spark, Kathleen Jamie, Emily Dickinson and Mrs Gaskell and music by Sofia Gubaidulina, Sally Beamish, Joan Baez, Judith Weir, Elizabeth Maconchy and Clara Schumann.
Thursday 9 March
Thursday Opera Matinee: The Boatswain's Mate: A Comedy in One Act and Two Parts (1916) by Ethel Smyth in a new recording by Lontano, conducted by Odaline de la Martinez
Saturday 11 March
Music Matters: Sara Mohr-Pietsch interviews the conductor Simone Young
Sound of Cinema: With guest Anne Dudley – looking at her film work to date and focusing on the release of "Elle" for which she has composed the score.
Sunday 12 March
The Early Music Show: Soprano Ruby Hughes and friends mix rare arias by 17th-century female composers with those featuring tragic heroines. A chance to hear music by nuns Claudia Sessa and Lucrezia Vizzana, and singer-composers Francesca Caccini and Barbara Strozzi, alongside Purcell's great laments for Dido and Boudica. Ruby Hughes is joined at London's King's Place by Swedish lutenist Jonas Nordberg and Japanese cellist Mime Yamahiro-Brinkmann, who will contribute instrumental works of the time.
Women composers on Radio 3
Programmes and archive interviews with women composers.

Keep your chin up, leave your mark and other life lessons.

Listen to female composers speaking in these exclusive archive recordings.