Main content
Building a Library – Living with the Pathétique
When Record Review asked Marina Frolova-Walker to pick her favourite recording of Tchaikovsky's last symphony, little did she know what was in store...
It was my own choice to recommend Tchaikovsky's Sixth Symphony for 'Building a Library', so I have no one else to blame. In fact, I was thrilled with the opportunity to engage with one of my favourite pieces of music, and perhaps to communicate something vital about it to the Radio 3 audience. Until, that is, a 10kg box of CDs arrived at my door, and then another, and then another… Now it hit me: for the next six weeks I would have to live with around 100 recordings of this piece of music day in, day out. I would be listening to this highly intense music, sometimes terrifying, whether at home, at college, or in the car, from early morning to late at night, and I'd probably be dreaming about it, too. A seemingly delightful musical project began to take on a grimmer dimension.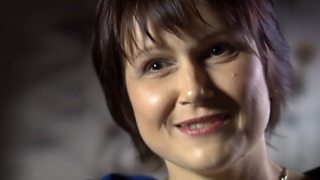 Marina Frolova-Walker
I found myself emotionally exhausted, unable to face this, or indeed any music.
I embarked on the task straight away. It immediately became clear that I can't listen to the Sixth in a detached manner, as an objective outsider: the music invariably drew me in, even when it was performed in a routine manner, still able to draw some reluctant tears. It seemed that even the least inspired conductors still left the music with most of its power. Sometimes I had to exclude a particular recording from my selection straight away, for all sorts of reasons, including a vigorous coughing chorus that obliterated the Introduction in one live performance, but even then, I found that I couldn't simply switch off the CD player – the music forced me to listen on, at least until the tense drama of the first movement began to dissipate in the final embrace of the celebrated lyrical theme. The task that seemed so daunting became addictive, and I sometimes managed eight uninterrupted hours before I even thought of looking at the clock; but this took its toll, and the following day I found myself emotionally exhausted, unable to face this, or indeed any music.
It also became clear to me that there was no neat, systematic way to embrace the task: the experience of each performance is too rich and complex to lend itself to verbal summary, let alone a crude score sheet, and yet somehow almost a hundred such experiences have to be compared – how is the memory to cope with this? I did, of course, resort to repeated listenings, but this could be more frustrating than useful: I could note down the impression given by one interpretation of a particular passage, and then find a few days later that the passage failed to give the same impression a second or a third time. Sometimes I found an interpretation moving on the first hearing, only to find that it had lost its lustre on later hearings – perhaps the apparent virtues were superficial, or perhaps I'd heard the same effect handled more deftly by someone else in the meantime. With my favourite I had no such disappointments: the elation I felt the first time, was just as powerful the second time, and the third. This settled the matter.
With mounting obsession, I also learned many new things about a piece I already felt I knew very well, largely thanks to a marvellous facsimile edition of the autograph draft, published by Schott. But in the end, there was only room in the script to focus on the recordings, and I already felt that my six weeks of work with them impelled me towards writing a whole book on the Pathétique. The fresh intimacy of my relationship with this great masterpiece is my main reward for those exhausting weeks, and despite the pain, I love it even more.
Building a Library
Marina Frolova-Walker recommends her favourite recording of Tchaikovsky's final symphony.