Main content
10 surprising things we learned from Micky Flanagan's Desert Island Discs
Micky Flanagan is one of Britain most successful stand-up comedians. Much loved, he sells out arenas and his DVDs top the charts. His journey to success is something of a jaw-dropper – in a frank, heartfelt and hilarious interview, he speaks to Kirsty Young about fame, being funny… and fish.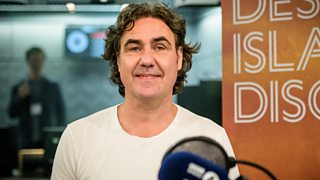 1. He was a sensitive child
The comedian's mother once described him as a "strange and sullen child". He admits he was certainly sensitive: "I was trying to make sense of the world. I'd see something horrendous on the news and it would affect me the whole day… or I'd see someone in school get beaten up, and that would really affect me… Nothing seemed to settle easy with me… It didn't make me unhappy, it just made me a bit different." And he says that what he learned about surviving an East End childhood was that "you couldn't be too odd or too different." Hearing The Jam's music helped him realise it was OK to want more, to want something different. He wasn't on his own.
2. He skipped school, but "bunked in" to his favourite lessons
Micky found school easy. He says there was a general belief that most pupils would settle for manual work: making, driving or cleaning things. The expectations were "you left school very early, and you got a job, you got a girlfriend, you possibly got her pregnant and that would be it." As a result, he regularly bunked off school, but chose to "bunk in" to the few lessons that he enjoyed, such as American Studies.
It wasn't until later life, after a furniture business failed, and he'd spent a summer thinking about his future on Fire Island in the US, that he realised he wanted to continue with his education. By the time he went to university he was 28, and rather than partying like many of his fellow students, he studied hard: "When they said this is the reading, I did the reading."
3. Working with fish wasn't for him
Originally following in his father's footsteps, in his late teens Micky became a Billingsgate fish porter. He was making enough money to have "nice suits", go clubbing and book holidays – but there were occasions when he didn't turn up for work because he "didn't really like the job." He describes how, "it was hard, it was early start, 5.30am, freezing cold, putting on damp clothes, delivering fish in the rain, your hands used to really hurt from the ice… it wasn't for me."
4. America has a special place in his heart
In April 1981, Micky boarded a plane and travelled to Fire Island, near New York: "This is what happens when you take a chance. You can sit around all day talking about what you're going to do, thinking about what you'd like to do – you've got to go and do it. So, I got on a plane to New York and went."
It was a place of great partying and excess, where he worked in kitchens doing "bit of this, bit of that" – and he had the summer of his life. The trip was the beginning of a special relationship with America, which he's continued to this day.
5. He started doing stand-up "very quietly"
Micky was working as a painter and decorator when he took up stand-up. He'd been a fan of comedy all his life but it was watching a comedy course at a community centre on the TV that made him suddenly think, "I reckon I could do that."
He believes keeping it quiet was the best decision he made: "If I've got any advice to give to people who are going to start doing it – just do it really quietly… Don't take your friends along, don't take your aunt Mary along. You go there very quietly, on your own, do the gig."
6. He no longer feels solidly working class
Through his monumental success, Micky has crossed his class boundary. But it's not something that sits easily with him: "If you leave your class, which one of them do you join? 'Cause I don't want to join anybody's. But it's quite obvious I'm not solidly working class anymore. But there's no way in a million years I want to be recognised as middle class or upper middle class. Can you think of anything more horrific?"
He had to find a way to tell the same jokes about his past and roots, whilst acknowledging to the audience that he was now "loaded". Being honest about that was very important to him: "You cannot tell lies in comedy."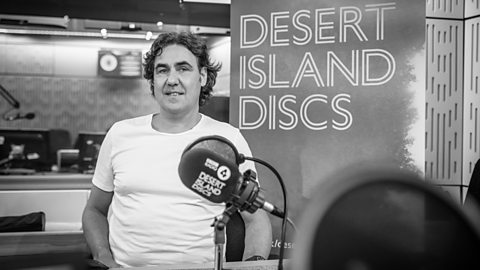 Micky Flanagan on being called middle class.
7. He's almost as big as Beyoncé
The comedian recently finished a 12-gig run at the O2 in London – the same as Beyoncé. But he laughs at the suggestion that he might have an entourage like the pop star: "I've got Barry, my tour manager, and we travel with our own kettle, and teabags. I take along some stoned dates. And I like a towel. That's it. Anything more than that is just aggravation."
8. He prefers big stages
He feels most free when he's performing live, and "the bigger the stage the better." He says, with confidence, "I will fill it up, I will run, and jump, and skip, and sing – I can feel the energy coming back to me – it's electric." But he'll draw the line at spectacular entrances: "I don't ever want to get to the point where I come down on a swing."
9. He's partial to a herbal tea
After a performance, the adrenaline means he's normally "high as a kite for a couple of hours" – so he uses valerian tea, often with a "nice salad", to wind down. But it will normally be two or three o'clock in the morning before he can nod off.
10. He's not a morning person
Gigging or not, Micky's not an early riser: "I get up at 11. I might wake up a bit earlier, but I'm not getting out the bed." But he does confess that the one thing that will rouse him is "a party".