Main content
Weird, windswept and wonderful: Charlotte Brontë at 200
11 April 2016
To mark the 200th anniversary of Charlotte Brontë's birth, her biographer CLAIRE HARMAN – author of the critically acclaimed Charlotte Brontë: A Life – reveals how she got under the skin of the unique and pioneering writer. We've also rounded up the rest of the BBC's celebration of all things Brontë on radio, television and iPlayer.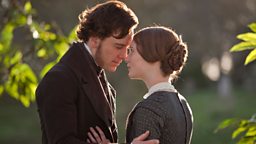 Michael Fassbender and Mia Wasikowska in the 2011 film adaptation of Jane Eyre
Big anniversaries focus attention on our cultural icons, so it's no surprise that the bicentenary of Charlotte Brontë's birth on 21 April this year is reminding readers of just how weird and wonderful her life was: brought up motherless in a windswept parsonage on the edge of the Yorkshire moors and struggling against the odds to get her own and her sisters' novels into print.
The story of how the Brontë sisters, led by Charlotte, produced three classic books in a single year – Jane Eyre, Wuthering Heights and Agnes Grey – is almost better than those Gothic page-turners themselves and gripped the nation when the first biography of Charlotte appeared in 1857, written by her friend Elizabeth Gaskell.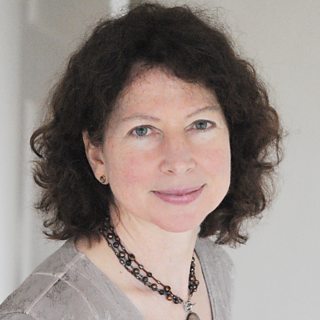 Claire Harman
But the success of Gaskell's myth-making, coming so quickly on the heels of Brontë's death in 1855, might have had the effect over the years of muffling certain aspects of what she had been trying to say.
Charlotte Brontë perhaps became famous too fast. Jane Eyre was an instant bestseller in 1847 and has never been out of print; it's been read by countless people and made familiar to even more people through plays, films, prequels, sequels - with general belovedness and nation's-favourite status for the author.
But that sort of fame forms a carapace around a book, and I think when people are asked to look at the text afresh, and think about the author behind it, a lot of surprising things come out.
Jane Eyre ceases to be a distant Victorian classic, but a woman whose messages about equality and independence have yet to be taken on board properly. Her famous speech to Rochester, "I am no bird, and no net ensnares me", was never meant to be just a motto on a commemorative mug.
You can't blame readers for being massively diverted by Jane and Rochester's epic love story and the gripping melodrama surrounding it of dark secrets, mad women and creepy old houses on fire.
But there's another kind of fire in Jane Eyre, too, of righteous anger, stringent morals and passionate advocacy. It's the inflammatory nature of Jane's 'rebel slave' outbursts against authority and rage at her own powerlessness that scandalised some of the novel's first readers in 1847 and made them mark the book down as dangerously subversive.
Jane Eyre reproaches our complacency about social and sexual politics on almost every page
No one would think of censoring it now, but the flames linger on.
Rereading the book, I was struck not just by Jane's almost unquenchable sense of injustice but by things like the use of the word 'degradation' to describe her feelings at receiving Rochester's presents when they go on what should be a jolly shopping trip before their wedding.
In an age which claims to have solved certain issues such as equal rights and promotes 'empowerment' through striptease, Jane Eyre reproaches our complacency about social and sexual politics on almost every page.
One way to keep the message of a book alive is to put it back into the context of the author's life, which is what I hope to have done with my new biography, Charlotte Brontë: A Life.
Brontë's tragic but triumphant story has fascinated readers from Gaskell onwards, but I tried to put aside the idea of her as 'a famous writer' and think of Brontë as much as possible from her own angle, unknown and (most of her life) unpublished, increasingly frustrated by the prospect that lay ahead of her, of hard work (as a governess and teacher), genteel poverty and wastage of genius.
Over three years, I tried to get under the skin of this troubled young woman, go to the places she went to, read the books she read, study her manuscripts and pore over her possessions.
Every researcher will find something different in such resources; I found a person who both longed to be 'forever known', but clung to anonymity in order to achieve it, a woman much more concerned about truthfulness than personal fame and someone who felt compelled to put into words her own terrible sufferings (most notably her bereavements and her agonising unrequited love) as being the only way to deal with them.
That's why I don't believe that Jane Eyre is a novel that will ever sit quietly in its classic status or lose its power to disturb people. And if Jane's fieriness of spirit seems to belong more to our own times than to hers, it could be because her ardour came straight from her author, and Charlotte Brontë intended to keep us listening.
Claire Harman's Charlotte Brontë: A Life is out now in paperback, published by Penguin Books. Claire will also be taking part in a special Jane Eyre Live Reading in London on 21 April.

Arts highlights on BBC iPlayer
Watch 12 mesmerising performances from Dancing Nation, a sampler of UK dance in all its forms.

Chizzy Akudolu presents a new collection of dramatic short films.

The Oscar-nominated actress gives a singing masterclass.