Main content
The Complete Walk celebrates 'exotic' Shakespeare
From Verona to Athens to Denmark to the Scottish Highlands - the varied locations for William Shakespeare's plays reads like a 17th Century travel guide of far-flung places (although don't expect to find Australia, it had only just been discovered by Europeans in the playwright's lifetime).
To commemorate the 400th anniversary of the Bard's death, Shakespeare's Globe has assembled an all-star cast to make 37 short films - one for each play - and here's the twist: each lavish 10 minute vignette is made on location in the real setting of each plot.
More about the resource dedicated to Shakespeare's work and the playhouse for which he wrote

Experience the genius of the Bard's creativity and its reinterpretation by artists in all art forms.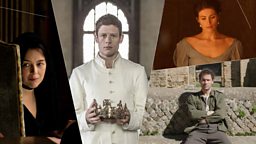 (C) Shakespeare's Globe
The films have been directed by a selection of young directors and blend existing Shakespeare's Globe footage with new material shot in locations that capture the breadth of the Bard's imagination, including the Pyramids of Dahshur in Egypt, the rocks of Elsinore, Denmark, and the historic Jewish Ghetto of Venice, Italy.