Main content
'It's only now I feel able to face up to what I've been through'
In the documentary, Being Gail Porter, the TV presenter opens up about two decades of mental health struggles — delving into her past and revealing the key moments in a deeply personal exploration of depression, self-harm and anorexia.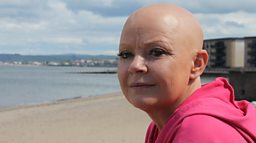 Gail at Portobello beach where she grew up
'I was legally mad!'
A poster girl for the 1990s, Gail was a bubbly, witty, unflappable TV presenter married to an indie rock guitarist.
She rocketed to fame in her twenties but underneath the effervescent blonde was a vulnerable girl struggling to cope and hiding it from everyone.
Increasing mental health struggles would eventually mount up contributing to a divorce, the loss of her hair and financial ruin. It culminated in Gail being held against her will (she was clinically sectioned) for 28 days in a London hospital in 2011.
"I was legally mad!" she says.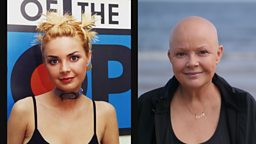 Gail in 2000 and in 2019
'The celebrity fairytale became a nightmare'
Gail's story is told by the woman herself and from the beginning we are reminded just how extraordinary the change in her circumstances was.
"In 1999 I was presenting the country's top music show, I was one of the UK's most famous female TV presenters and most famously I helped sell over a million copies of a magazine after they projected my image onto the Houses of Parliament. But the celebrity fairytale became a nightmare."
"It's only now I feel able to face up to what I've been through."
In an effort to understand what happened, Gail retraces her steps in this moving film which highlights the vulnerability of young people thrust into the spotlight.
Gail's FHM cover image was projected onto the Houses of Parliament in 1999
'I heard my name on the BBC News and there was my bottom'
From the 'alopecia totalis', the loss of her hair, which she says effectively ended her TV career overnight, to that time a magazine publicly projected a 60-feet tall naked image of her without asking, Gail relives some of her highest profile moments.
The FHM stunt was a defining moment for Gail and led to a great deal of backlash.
"I heard my name on the BBC News and there was my bottom."
"People thought it was a career move. It absolutely wasn't. I knew nothing about it."
The negative comments that followed plunged Gail into a depression, "I didn't want to leave the house."
Gail recognises that now she might be able to use her image to help people. "Even now, people want my image to make a point hopefully in a more positive way."
In the clip below Gail allows the cameras to capture an honest moment of upset that appears to come out of nowhere.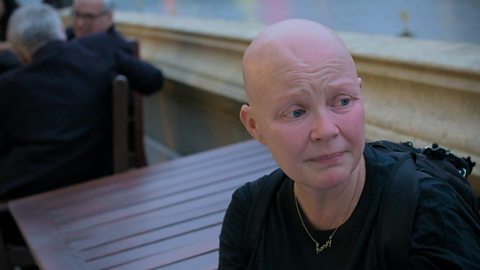 Gail explains how she is feeling as she becomes overwhelmed at a public event.
"The feeling is sometimes overwhelming", she explains.
"This is when I know I've got something wrong with my personality. It's like someone has just like punched me and I think you're going home on your own right now. And then I start to panic. So I'm starting to panic right now."
As she says at the start of the insightful documentary, "How did this happen to wee Gail Porter from Portobello?"
Gail travels to her hometown of Edinburgh where she meets friends, relatives and medical professionals to try and uncover the reasons she has such emotional extremes.

The result is an honest exploration of mental health and a reminder of how much the world has changed since Gail's TV presenting heyday in the 1990s.
"In this film, I'm going to revisit my past and try to understand my mental state. I hope I can learn something and, maybe, even help others."
On BBC iPlayer
Gail Porter takes a tell-all journey into her past to understand her rise to celebrity and her fall into depression, anorexia, self-harming and homelessness
On BBC Sounds
Louis and Gail Porter discuss 90s 'lad culture and trying to contact the dead.
Latest features from BBC Scotland