Main content
What's Rhianna Dhillon been listening to?
Rhianna Dhillon is the the new voice of Seriously… Formerly BBC Radio 1 and 1Xtra's film critic, she also presents film podcast Back Row with her boyfriend Mike Muncer, and BAFTA's The Guru podcast. She tells us what she's been listening to recently.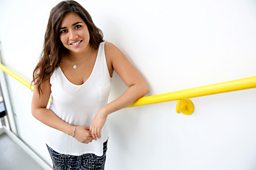 Over the last few years I've had this real nostalgia for the tapes I listened to when I was little and trying to sleep. So the "soundtrack of my life" right now definitely includes Just William, Paddington Bear and The Famous Five, not to mention Harry Potter. That's a lot of Stephen Fry. But you can't have such a soundtrack without Mr Fry.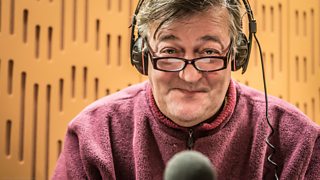 Stephen Fry
I'm a huge fan of live storytelling
I listen to stories and podcasts more than music nowadays, so a lot of what I listen to is spoken word. As a huge fan of live storytelling, I listen to podcasts like The Moth and the incredibly funny Guilty Feminist. I'm also obsessed with My Dad Wrote a Porno (like most people who've listened to it are). I used to work with the wonderful Alice Levine, and she's just as funny, witty and quick in real life.
The podcast I make with my boyfriend Mike means I spend a lot of time watching films, and that's great. We review loads of new movies, but we also watch older classics such as The Shining and The Night of the Hunter. It's so much fun to rediscover those films – and watch some I probably should have already seen.
In my opinion, a good story is a true story. But I love a funny story you can relate to, or fantasy stories you wish you could put yourself in to. Growing up reading Malory Towers and wanting to be that adventurous kid really excited me. It still excites me.
More importantly, I think a good story gets under your skin. Having that memorable, easy-to-describe plot is crucial because that's how word of mouth works. I think that's why I repeat so many of the stories I hear on my favourite podcasts to my friends. Stories we would never hear, or even think of, are now at our fingertips. That's exciting.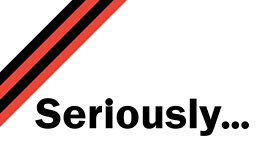 Seriously… finds stories from such a great range of backgrounds and experiences, and makes them visual. When you're listening, your imagination has to work hard and Seriously… stories are so descriptive and detailed. They unpick that amazing moment of someone's life. Not all documentaries get it right, but Seriously… docs manage to find the extraordinary in everything.
A good story is a true story
I'm really excited to be bringing you two, hand-picked stories every week. BBC Radio 4 gives the stories gravitas, so you know there will be depth to these programmes and they will be told a little sideways.
All these elements come together to make new, fresh and exciting storytelling.
The Seriously... podcast is released on Tuesdays and Fridays at 3pm.
More from Seriously...
The band member recalls the anarchistic joy of a truly unique group.

The team of recovering addicts who made their mark on cinematic history.

David Aaronovitch on how an Eastern political tract became a Western icon.

David Bowie's interviews reveal his humour, passion and determination to succeed.

Did Nazi leader Hermann Goering have a brother who saved innocent lives from the Holocaust?

A selection of great female authors who have radically altered the genre.

Mat Fraser meets the former striptease stars back on the stage in their 70s and 80s.

The legendary radio maker recommends seven great documentaries for Seriously...

A poetic retelling of the Orpheus myth, from the celebrated writer Neil Gaiman.

An aspiring singer-songwriter meets the man who predicted the demise of the music industry decades ago.

What have you learned from our documentaries? Try our fiendishly difficult quiz...

Kellie Redmond explores Disney's fascinating contribution to the war effort.

The Simpsons star, satirist and actor reflects on the flood that devastated his home town of New Orleans.

Seven reasons to love the modern melodic drum that creates a haunting tone.

The award-winning writer on porpoise dissections, stranded whales and beached dolphins.