Main content
10 years with Kate Bush: Rare photographs of the singer at the height of her career
30 August 2016
Since her debut single Wuthering Heights hit number one in 1978, Kate Bush has been the object of unusually intense adulation and devotion. ANDREW LOCKYER considers a book and exhibition by photographer Guido Harari, boasting over 200 unseen images, which brings alive the most fascinating decade of the singer's career.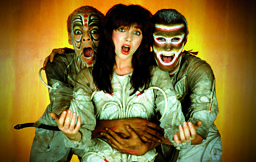 Harari first met Bush in 1982 when she was promoting The Dreaming in Italy with two of her dancers, Gary Hurst and Douglas McNicol. 'She was very impressed by my photo book of Lindsay Kemp,' he says, 'And agreed to be photographed back at her hotel after the tv performance. Still in stage gear and make-up, she immediately agreed to 'perform' for my camera.
The announcement of a new release (most recently 2011's 50 Words for Snow) or, be still my beating heart, a live performance (the quite unexpected Before the Dawn shows in 2014) still generates huge excitement among acolytes of the Blessed Kate.
Unlike many of her contemporaries, Bush has never been one for regularly reissuing her back catalogue nor for rummaging through the archives for previously unreleased outtakes or sneezing fits to satisfy the demand for new product. New Pink Floyd box set for £375, anyone?
Even the film that was supposedly made of Before the Dawn has still not seen the light. That means that anyone who has got something original to say or show about her is guaranteed attention.
Glenys Groves, one of the two backing singers on Bush's 1979 Tour of Life, devoted a chapter to that experience in her recently published memoir Ballads, Songs and Snatches, thus earning a plug on the KB fan sites.
More substantially, Guido Harari, the photographer who worked with Bush in the 80s and early 90s, is now publishing The Kate Inside, a collection of 300 images, 200 of which have not been seen before.
It's a luxuriously bound volume that'll set you back 120 euros or 520 euros if you insist on getting one of the 'Deluxe Edition' copies which are, presumably, hand-delivered by the subject herself.
To be fair, the pictures are pretty stunning, ranging from immaculately staged images of Bexleyheath's finest songstress in all manner of exotic costumes and maquillage, to more candid, behind-the-scenes snaps such as the one in which she reclines in curlers, eyes shut, while her mentor Lindsay Kemp, the man she described as 'the most original artist ever' mugs extravagantly behind her.
Harari's association with Bush covered the most interesting decade in her career.
Harari's association with Bush covered the most interesting decade in her career.
He took promotional images for Hounds of Love in 1985, the album that remains Bush's best-seller and which spawned hits such as Running up that Hill and Cloudbusting.
Eight years after this commercial and artistic high, he also documented the making of the rather less successful The Line, the Cross and the Curve, a 45 minute filmic folly based on songs from The Red Shoes which Bush herself reportedly later dismissed as 'a load of bollocks'. Still, the art design, costumes and make-up are ravishing.
That was effectively Bush's last release until Aerial in 2005. The myth that Bush is some sort of recluse formed in that period when she devoted more time to raising her son, Bertie, than to musical and promotional activities.
But she didn't hold back earlier in her career and appeared, seemingly happily, on Michael Aspel, Terry Wogan and Leo Sayer's shows to promote singles.
As early as 1979 Nationwide were given enough access to warrant titling a whole edition Kate Bush on Tour, following rehearsals and the official first night in Liverpool of the successful Tour of Life.
The awfully polite doctor's daughter could not have been more open and obliging on camera to the man from the Beeb. She even manages not to hit him when he asks if she might "give up, get married, settle down and be an ordinary mother".
Of course, in a way, she did do that – for a while at least. Fortunately for us, she never gave up.
A free exhibition will coincide with the publication The Kate Inside, which will run in London from September 13 – 30 at Art Bermondsey Project Space.
Kate Bush - Wuthering Heights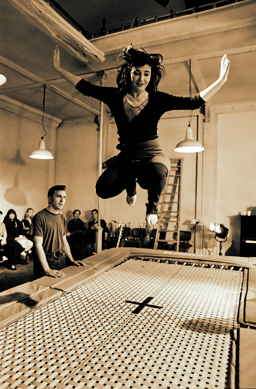 Kate Bush rehearsing, trying to jump higher and better for her song Rubberband Girl.
On tour in 1979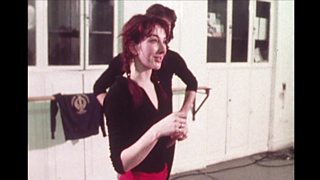 An extract from BBC TV programme Nationwide which followed Kate Bush preparing for her tour in the late 70s.
Live at the Hammersmith Odeon in 1979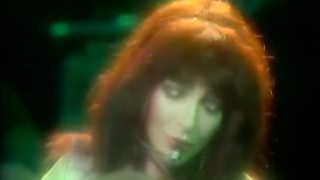 Kate Bush performs Them Heavy People in London
All images © Guido Harari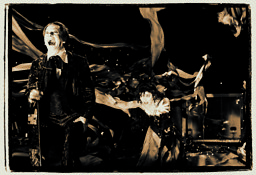 Harari notes, 'My collaboration with Kate owes everything to my work with Lindsay Kemp (on the left) in the late 70s'. Kemp would be one of the leading actors of the film The Line, The Cross & The Curve.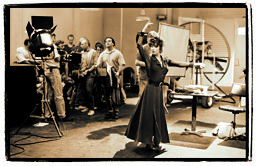 Pictured in 1993, Bush rehearses her song The Red Shoes while the crew are setting up lights and camera.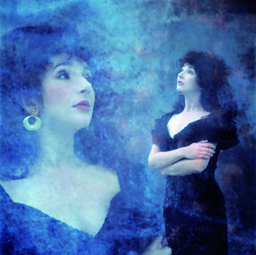 Shot for Bush's sixth studio album The Sensual World. Harari says, 'This 'underwater' series is among my favourites of Kate. Initially, she resisted the technique that required her to constantly move in and out of the set, but the results certainly pleased her'.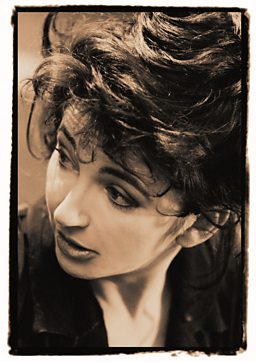 Close-up from the film The Line, The Cross & The Curve. 'It's priceless to see Kate not being fully made-up, her hair still not right, captured in that no man's land in between takes'.
On location for The Line, The Cross & The Curve. Harari: 'Here Lindsay can't resist goofing around as the Madman while Kate is taking a nap, still with no make-up on and her hair in curlers'.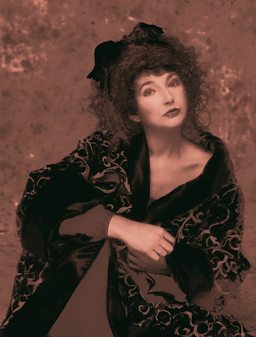 Publicity shot for the 1989 album The Sensual World. 'Kate was not much into fashion', says Harari. 'But she loved Romeo Gigli's clothes, their materials and textures'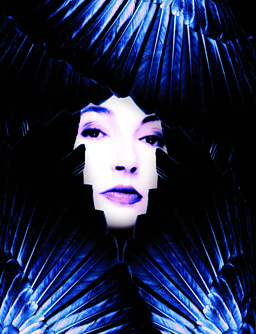 One of Harari's favourite portraits in the collection has been transformed to include raven wings - 'I thought it'd be interesting to create some new images' he notes, 'transforming specific photos into new visions of Kate, almost as if I had another chance of photographing her'.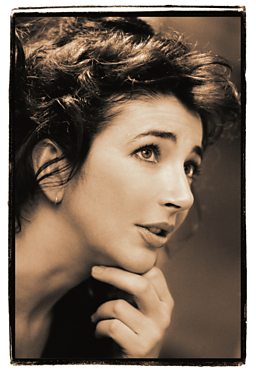 Another close up from the set of The Line, The Cross & The Curve. Harari's total access on the set of her film allowed him 'to capture some interesting candid moments'.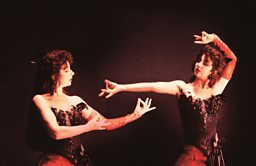 From the film The Line, The Cross & The Curve, 1993, London, Black Island Studios. Harari: 'Kate dances during the filming of the song Lily, inspired by her healer friend Lily who was in the film too'.