Main content
They Swear They Were There: Sex Pistols at the Lesser Free Trade Hall
David Nolan, author of I Swear I Was There: Sex Pistols, Manchester And The Gig That Changed The World, has spent decades tracking down the audience of the legendary gig the Sex Pistols played in Manchester in the summer of '76. Here he explains the debt that bands around the world have owed to that infamous night.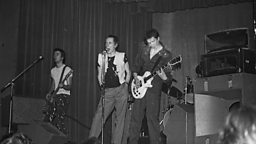 Sex Pistols, 4 June 1976, Glen Matlock, Johnny Rotten (John Lydon) and Steve Jones
When about 40 people saw the Sex Pistols at the Lesser Free Trade Hall in Manchester on 4 June 1976, they came away inspired. But they were inspired in a very Mancunian kind of way. Many people in the audience that night didn't look at the Pistols and so much think: "I want to do that..." but instead, they looked at the young Londoners and thought "Come on, I could do way better than that!"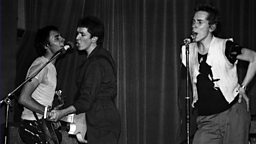 Sex Pistols at Free Trade Hall: (L-R) Glen Matlock, Steve Jones and Johnny Rotten
It's thanks to that very Mancunian approach that we have some of the most thrilling music of the last 40 years. The creativity that sprang from the Lesser Free Trade Hall would loom large over the Manchester scene for decades. Without that 4 June gig – and the Pistols return visit six weeks later - there would be no Buzzcocks, Magazine, Joy Division, New Order, Factory Records, no 'indie' scene, no The Fall, The Smiths, Hacienda, Madchester, Happy Mondays or Oasis.
Think then about the ripples of inspiration that came as a result of the bands and situations that sprang from those gigs. Maybe there would be no Nirvana or Green Day, no Suede, no Killers, no Arctic Monkeys, no Interpol or Savages, no Blur, no Pavement, no Radiohead, Prodigy, no Arcade Fire.
These are all acts that owe a debt to bands formed in the sticky-carpeted aisles of the Lesser Free Trade Hall. "Funnily enough, I've often done it for practice," says, ex-New Musical Express journalist and audience member Paul Morley. "Everything that happens is still a fall-out of the Sex Pistols coming to the Lesser Free Trade Hall. There's no doubt about it. You can draw it all back to that little explosion at the Lesser Free Trade Hall. It's not hard at all."
The two people we have to thank for organising the gig are Bolton Technical College students Howard Trafford and Pete McNeish. Inspired by an article in the NME about the Sex Pistols, they borrowed a car and headed for London in February '76, intent on tracking down the Pistols and their manager, Malcolm McLaren.
Having watched the Pistols twice while in London, they invited the band to come up to Manchester to play a gig. They did it for slightly selfish reasons: they wanted their band, christened Buzzcocks during the London trip, to support them. Trafford and McNeish also changed their names that weekend – to Howard Devoto and Pete Shelley. "I know that it changed my life beyond a whole roomful of shadows of doubt," Devoto later told me. "Forever."
Devoto and Shelley's band weren't ready in time to play with the Pistols on 4 June 1976 – that task landed with a local heavy rock band called Solstice. But Devoto and Shelley – along with Steve Diggle and John Maher - were ready for the Pistols second Manchester gig six weeks later. In Devoto's words, they "just about got away with it."
Six months after their Lesser Free Trade Hall debut, Buzzcocks released the first independent punk record, Spiral Scratch, essentially creating indie music. Far from "getting away with it" they made it look easy.
Buzzcocks' effect on modern music is massive thanks to that one move. That's before we've even mentioned their disarming, unique punk pop.
Salford council clerk Peter Hook was so inspired by seeing the Pistols at the Lesser Free Trade Hall he walked into Mazel's – a music and electronics shop – and bought a bass the day after. The world of music would look, feel and sound very different had it not been for Joy Division. Very different indeed.
Morrissey was there. He "penned an epistle" about it to the NME. Morrissey would never merely write a letter. He was slightly sniffy about what he saw: "Despite their discordant music and barely audible audacious lyrics, they were called back for two encores." He was sure he could do better.
Tony Wilson? Mark E. Smith? Ian Curtis? They were at gig two – another hugely important event. Again – imagine a world without Factory Records, The Hacienda, Live At The Witch Trials and Closer. Makes you shudder.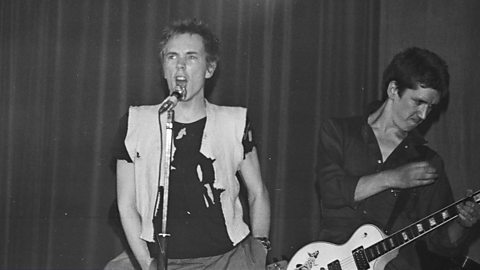 Journalist David Nolan gives us a definitive rundown.
That's why the Pistols at the Lesser Free Trade Hall in Manchester is so important - as an event, a moment in musical history and as a myth.
Not because of the songs the Pistols played – essentially a few cover versions and a smattering of originals – but because of the effect they had on those who were there. The Sex Pistols themselves are, in many ways, the least interesting aspect of the story.
What's fascinating is to think of a world without the Lesser Free Trade Hall audience. A world without Peter Hook's basslines, Pete Shelley's winsome punk heartaches, Morrissey's uplifting brand of misery, Factory Records' self-destructive, creative madness and Mark E. Smith's... Mark E. Smithness.
"That was the day the punk rock atom was split, no doubt about it,"says Steve Diggle of Buzzcocks. He was there on 4 June. Of course he was. "It was amazing to see. That's where it exploded from, it changed Manchester and it changed the world."
Some other things to listen to and read