Main content
Advice on selling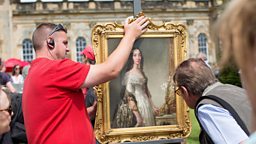 The specialists on the Antiques Roadshow are not permitted to engage in any commercial activity related to items seen on recording days, nor are they in a position to buy your items or to sell them for you. However, some Antiques Roadshow visitors ask us for advice about selling items and getting valuations so we hope you find this information useful. There are three basic ways to sell privately, including via the internet, to a dealer, or at auction.
Privately
The internet has transformed the antiques trade and there are now many online auction sites and marketplaces, where you can sell your items, although there can be risks involved. Advertising in the local press or small ads is another option, but be aware this can raise issues of privacy and security.
Dealer
A traditional means of selling is through a dealer and most towns have one or more antiques shops, but if you have a speciality item it may be more difficult to find the right potential buyer. Selling to a dealer has some advantages – you are likely to be paid immediately and they may well arrange and pay for transportation of large items.
Auction
A popular and relatively easy way of selling. Most towns and cities have a salesroom and there are some very good and well respected provincial auction rooms throughout the UK. It may not always be necessary or appropriate to go to one of the main London auction houses. As a seller you will normally be charged 15%-25% commissioner the sale of your item, plus insurance and VAT. There may be additional charges. The buyer will normally pay a premium of around 15%-25% of the hammer price.
Useful contacts
BADA
The British Antique Dealers' Association
https://www.bada.org/
LAPADA
The Association of Art and Antique Dealers
https://lapada.org/
SOFAA
The Society of Fine Art Auctioneers and Valuers in the UK
http://www.sofaa.org/
NAVA
The National Association of Valuers and Auctioneers
http://www.nava.org.uk/