Main content
Maya Angelou
BBC Arts presents a selection of complete BBC programmes, available on demand, featuring the revered American poet and author. Angelou died on 28 May 2014, aged 86.
This programme included contributions from Bill Clinton, Oprah Winfrey, Quincy Jones, Hillary Clinton and Angelou's son Guy Johnson. Enjoy clips from the programme, which was broadcast on BBC One in February 2017.
In the summer of 2002 Maya Angelou joined James Naughtie for an intimate evening with readers at Broadcasting House. Here she sheds further light on I Know Why the Caged Bird Sings, the first instalment of an epic autobiography that would eventually run to six volumes.
The book begins when the young Maya is sent to live with her grandparents in Arkansas in the wake of her parents' separation: "a too big negro girl with nappy black hair, broad feet and the space between her teeth to hold a number two pencil".
James Naughtie introduces the story as "a rough journey across stony ground" but one that imbued the writer with tremendous strength. That strength is gloriously on show from the beginning of the recording when Angelou takes issue with Naughtie's introduction that she is renowned as one America's great black writers: "I am considered one of America's great writers, not just a black writer."
As her fifth volume of autobiography was published, Angelou shared memories inspired by the music of her life, from a girl of four listening to her grandmother's voice "of liquid gold" to the soundtrack of America during the Great Depression.
She also discusses memories of her mother, living among the markets of West Africa and the pressure she came under from the black community to marry a black American man. Her characteristic response? "If the next person who comes along and cares for me and makes me laugh happens to be a four foot tall five hundred pound Japanese sumo wrestler I will marry him and make no apology to anyone."
The programme features music from Frank Sinatra, Max Roach, Roberta Flack and Mahalia Jackson.
First transmitted in 1994, Jeremy Isaacs talks to Maya Angelou about her life as a cook, a conductor on a tram car, a 'madam', a prostitute, a dancer, a singer, an actress, a civil rights activist and above all a writer.
She also discusses her hopes for the future in a frank and sometimes shocking account of her journey to becoming an established author. Summarising her work, Angelou states all she has ever tried to say is that we humans are more alike than we are unalike.
The programme also features a rousing rendition of Oh I Went to the Rock and Deep River sung by Angelou herself.
Woman's Hour caught up with Maya Angelou after she was named an Official Poet to President Clinton and the United Nations to talk about the issuing of her first cookbook, Hallelujah! The Welcome Table, released in 2005.
She described herself as a serious cook: "Food is much more than it may appear to be… we use it to flirt, we use it to make good impressions, we use it to apologise."
The programme includes a memorable story of how her grandmother dealt with a teacher who hit the young Angelou and the culinary panacea that followed. She also tells of the old widow who used a divine lemon meringue pie to seduce men, a story she heard from her grandmother who she would regularly implore to make the pie herself from a secret recipe.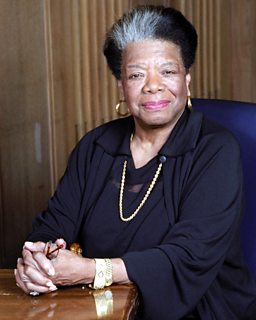 Maya Angelou: 1928-2014