Main content
From propaganda to Plasticine: Six secrets of British animation
29 November 2018
BBC Four's Secrets of British Animation explores the ingenuity that defines Britain's contributions to the art form and uncovers the trade secrets of legends like Aardman, Bob Godfrey, John Halas and Joy Batchelor. Here are six things you might not know about animation through the years.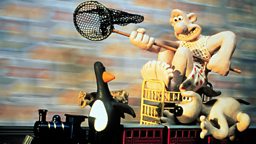 Wallace, Gromit and Feathers McGraw in The Wrong Trousers by Ardman Animations | Photo: AF archive / Alamy Stock Photo
Morph didn't make any money
Morph, the funny figure made of brown clay who lived in a microscope box, was the original star of Aardman Animations, who went on to create Wallace and Gromit, Shaun the Sheep and Timmy Time. "Made from a simple bit of clay, he's practically a mascot for animation," says the documentary.
Made from a simple bit of clay, he's practically a mascot for animation
Created by David Sproxton and Peter Lord, Morph has been on the go for four decades: from children's TV with Tony Hart in the 70s to CBBC's SMart in the 90s and his current YouTube channel full of claymation antics.
However, despite being synonymous with British animation, he isn't profitable. Peter Lord says: He wasn't a financial success really at all, which surprises everyone I think because he's been a popular success, a cultural success but not economic." Co-creator David Sproxton adds: "We've never made any money out of Morph and we still don't, we just love doing him."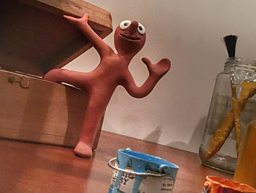 Morph climbing out of his microscope box on an artist's desk | Photo: Andy Pearson/Stockimo/Alamy Stock Photo
Animation helped the war effort
Most propaganda films for the Second World War were functional and direct but in 1941 audiences were dazzled by a different style of information film that urged the public to recycle scraps for the war.
The animation Dustbin Parade was high quality, with characters that had the appeal of Disney, as well as some modernist darkness. In the film a gang of scraps (a tin can, a toothpaste tube, a bone and a children's spinning top) are thrown away. On the advice of an animated metal railing they decide to enlist and march to a recruiting centre / factory, where they ask to become a shell to help the war effort.
In the factory rags rise up as military uniforms and rubber hot water bottles are stamped into tyres. The four characters are recycled into the shell they wanted to be and target a giant swastika on a map, followed by the slogan: 'Mobilise your scrap'.
Britain's first full-length animated feature film was funded by the CIA
American film-maker Louis de Rochemont hired Halas and Batchelor to make a feature film of George Orwell's allegorical novella Animal Farm, which reflects the Russian Revolution and Stalinist Russia through a cast of farmyard animals. Funded by the CIA, the film was part of the American cultural offensive during the Cold War.
The film required a quarter of a million drawings, a thousand backgrounds and two tonnes of paint
Animal Farm was a vast undertaking for the company, with pre-production alone taking a year. Their staff swelled from 20 to 80 and the film required a quarter of a million drawings, a thousand backgrounds and two tonnes of paint to complete.
Contentiously, the ending was altered. Orwell's novella ends with the pigs and the farmers celebrating a new alliance at a dinner party while the other animals look on, unable to tell the difference between man and pig.
In the Halas and Batchelor version the porky overlords are ousted from their position by the other animals. The pigs, who stood for the Stalinist era of Soviet Russia, couldn't be seen to triumph.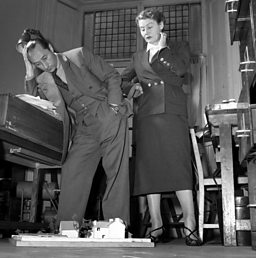 Animators John Halas and Joy Batchelor study a mock-up of the farm buildings around which they filmed Animal Farm | Photo: Popperfoto/Getty Images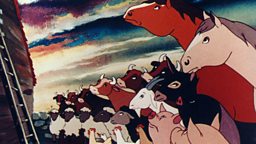 Animal Farm was Britain's first full-length animated feature film | Photo: Alamy Stock Photo
Animation sold the NHS to the public
After the war the Labour government were embarking on a number of new programmes, including a new health service. Animator Joy Batchelor created the character of Charley, an everyman who would help sell the NHS to a sceptical public.
The public information film Your Very Good Health simplified complex issues and introduced a touch of humour. It showed Charley pedalling about town on his pushbike being convinced of the NHS benefits for himself and his family through dialogue with an unseen narator. He's then convinced of the benefits for his wider community, who he in turn attempts to educate and persuade.
Charley went on to star in seven animated films, looking at new towns, schooling and building up exports, and became the familiar face of post-war propaganda.
The first British animation to be nominated for an Oscar was about sex
During the sexual revolution of the 60s and early 70s, animator Bob Godfrey created a series of very British sex comedies.
The freedom of animation allows Godfrey to go to places other filmmakers won't dare
Kama Sutra Rides Again, a collaboration with Stan Haywood, was the story of Stanley and Ethel, who decide to add a bit of excitement to their marriage and work their way through a laundry list of elaborate sexual positions.
Kama Sutra was made to shock, as the documentary states: "The freedom of animation allows Godfrey to go to places other filmmakers won't dare."
To everyone's surprise, the film was a commercial success. It received an Oscar nomination for Best Animated Short Subject in 1973 and was picked up by director Stanley Kubrick to play before A Clockwork Orange in cinemas.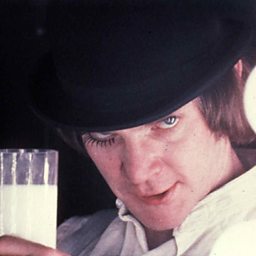 Malcolm McDowell in Kubrick's A Clockwork Orange | Photo: United Archives/Alamy Stock Photo
An independent studio can make a feature film
Animated feature films usually rely on American money but over the last few years, in a former speaker factory in Wales, Animortal Studios has created an independent British animated film. Chuck Steel: Night of the Trampires is a send-up of 1980s American action movies, complete with gore, car chases and cheesy dialogue.
The character of LA cop Chuck Steel was created by Mike Mort when he was a teenager. After years trying to get a Chuck Steel project off the ground he took matters into his own hands and made a short film in his basement that attracted backers.
The whole film was made with 150 people, working across 400 sets and with up top 27 units shooting simultaneously. Mort's business partner Randhir Singh Heer says: "It can be done. You don't have to be a big Hollywood studio, or you don't have to be backed by a billion dollar company, and you can do with 20 million dollars rather than the 100 million dollars that these studios throw at projects."
Secrets of British Animation is on BBC Four, 21:00, Sunday 2 December and then on BBC iPlayer.
Warning: Third party content may contain adverts.