Main content
"Coming Out Is Still A Thing"
Vandullz co-writer Leila Navabi on the importance of depicting authentic coming out experiences on TV
24 November 2021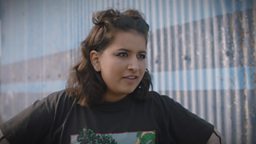 Leila Navabi as Nadz in Vandullz
"It's 2021! Everyone's gay! Who cares?" Um, me actually...
I am quite tired of being told (almost exclusively by heterosexual people, absolutely exclusively by white people) that 'no one cares anymore' about the large chunk of my identity that I spent a lot of my life desperately, ceaselessly ashamed of. Not to say that the billowing smoke of self-disgust doesn't plague me still, on occasion. It does.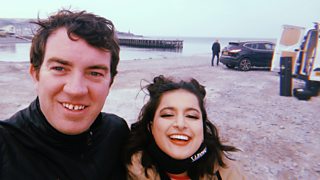 Leila Navabi with Vandullz co-writer Sion Edwards
Unfortunately, the shame-smog doesn't simply blow away every time a white queer character is lovingly accepted by all their friends and family on-screen. 'Good for you, Love Simon!' I scoff over popcorn, wondering if I'll ever hear from certain relatives ever again. I spent every night of my late teens (and I'm only 22 now, not to brag) weighing up whether to falsely admit it was all a silly phase - like the time I got really into acoustic goth music or textile appliqué - in exchange for a hug. Specifically from someone I used to feel safest in the arms of, but now feel unbidden in breathing the same air as.
You're not born with shame. It's thrust upon you like an irritating colleague or nits. It hurts when people say 'no one cares' because they do. Care, I mean. And not in a good way. There are people in this world who care about me being gay like how you'd care if someone egged your car or punched your nan.
On-screen representation of coming out can usually be separated into two categories:
One traumatic singular event that is so catastrophic, it results in the physical harm of the queer character in question.
One empowering singular event that is so heartwarming it results in the father of the queer character in question shedding a SUPER UNMANLY tear in pride, curing his toxic masculinity forever.
Coming out is never one singular event. The first time you utter those words it can feel momentous/nauseating/exciting/alien, but you quickly realise you can't send a mass text letting everyone you have ever and will ever meet know that you're actually a massive fruit. I've always promised myself that if I'm lucky enough to tell my own stories on screen, I will honour the reality of this situation. And guess what? It's happened.
What I was keen to spotlight was the interim period between coming out to yourself and before sharing with anyone else. There's something sacred about that time.
Vandullz is a comedy pilot all about a Welsh Indie band on the road (A470, if we're being specific) to commercial success. Except it's not really about that. It's about found-family. And with found-family comes the divulgence of personal truths.
I won't say too much because you can go and watch it now on BBC iPlayer, but I was lucky enough to be working with peers who gave me the space to depict a coming-out experience that I feel is authentic. It's not one singular event, complete within a neat narrative arc and resolution. It's messy, contradictory, and infinite. Because, like the Spice Girls say of friendship, coming out never ends. Told you I was gay.
What I was keen to spotlight was the interim period between coming out to yourself and before sharing with anyone else. There's something sacred about that time. The beauty of internal acceptance, uncorrupted by external perception.
Pride and shame are like love and hatred. We are inexplicably capable of feeling both at once. The level of shame thrust upon you is always in direct correlation to the pride you had in sharing your truth in the first place. And that's why I agreed to write this article. Even though it cringes me to my core.
Up-and-coming Welsh indie band Vandullz are on the brink of their big break. But will the pressures of life on the road force them to give up before they've even started?