Main content
Christmas and New Year 2014-15 on BBC 6 Music
Radcliffe and Maconie - Live from Manchester Christmas Market
Friday 19 December, 13:00 - 16:00
Mark Radcliffe and Stuart Maconie will be live from Manchester's Christmas Market with their annual 'last day in the office party'. Expect live music from Badly Drawn Boy, The Unthanks and King Creosote plus chat with Maxine Peake and other special guests.
Tom Ravenscroft - Festive Covers
Friday 19 December, 19:00 - 22:00
Tom brings a seasonal show which will feature some specially recorded Festive covers from some of his favourite artists of the year including Marika Hackman, Francoise & the Atlas Mountains, and The Drink, plus there will be a few winter tales read by some surprise guests.
6 Music Celebrates... The Winter Solstice - Sunday 21 December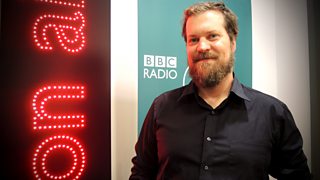 John Grant
6 Music celebrates the Winter Solstice with some tailored shows to salute the shortest day/longest night of the year. Shows include:
John Grant's Songs from a Dark Place, 13:00 - 14:00

American singer-songwriter John Grant - who recently relocated to Reykjavík - explores the music, magic and rise of Icelandic music and Nordic Noir and how a land deprived of sunlight has become a melting pot for creativity and music. Featuring interviews with The Sugarcubes, plus emerging Icelandic talent including Olof Arnalds, Asegir, Mammut, hotly-tipped Fufanu, Ben Frost who is based in Reykjavík, and Dry The River who recorded their second album there.
Wireless Nights with Jarvis Cocker
Overnight there will be another chance to hear Radio 4's Wireless Nights with Jarvis Cocker in which he explores the human condition after dark.
BBC Philharmonic Presents..., 01:00 - 01:30
Reaching for the Moon, 01:30 - 02:00
Three Wise Women of 6 Music
Three wise women - St Vincent, Neneh Cherry and Alison Goldfrapp - take over BBC 6 Music, bearing Christmas gifts to delight the listener.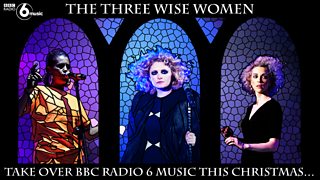 St Vincent, Neneh Cherry and Alison Goldfrapp
Christmas Eve, 16:00 - 18:00
Annie Clark, aka art-rock supremo St Vincent, is the first of the three Wise Woman of 6 Music and has produced one of the albums of 2014 with her fifth self-titled studio album. With a fiercely unique sound and being a full-on music obsessive, she'll be demonstrating her eclectic palate in her two hour show, from Nine Inch Nails to John Coltrane, Cate Le Bon to Peggy Lee and archive selections from Fela Kuti, Nirvana, Kate Bush, and an Album of the Day from one of hip hop's finest beat makers, musical innovators and production geniuses J Dilla.
Christmas Day, 16:00 - 18:00
Unwrapping the 6 Music archive and sharing her superlative music taste with listeners on Christmas Day will be Neneh Cherry. She burst onto the scene with her performance of Buffalo Stance, whilst pregnant, on Top of the Pops in 1988. She was instrumental in incubating the sound system culture and the triphop sound and this year, following a hiatus of 18 years, released her fourth, critically-acclaimed solo album. Her return is being hailed as one of the most creative chapters in an already fascinating career. Her music selections for her show will include punk, jazz, reggae, hip hop, and soul tracks.
Boxing Day, 16:00 - 18:00
Pioneering pop creative, Alison Goldfrapp, is the third of the Three Wise Women. She'll be keeping listeners warm with her musical wisdom in her show on Boxing Day. She has been an innovative presence in international art-pop for over a decade, with her albums touching upon everything from trip-hop to stomping electro-glam to pastoral folk, and this year she has also co-created an award winning 30-minute film.