Main content
Label of love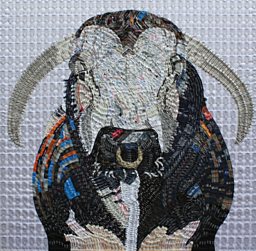 Longhorn Bull using 5,000 labels
You could say artist Joy Pitts work is very label intensive. She turns thousands of unwanted clothing labels into works of art and now she is inviting people to take part in her next creation as part of Get Creative.
A multiple award-winning artist, she is looking for 450 people to stitch labels which will make up the backgroud of a portrait that will be unveiled later this year.
She has previously been commissioned by designer Paul Smith and department store Liberty.
Drop into The Lace Market Gallery for ten minutes to participate and become part of this artwork. The workshop is free and all materials are provided.
Date: Monday 27th April 10am – 13:00pm and 14:00 – 17:00pm
Where: Lace Market Gallery, 25 Stoney Street, Nottingham, NG1 1LP
Joy Pitts Exhibition, '30,000 Used labels' will take place at Lace Market gallery from 23rd April until 13 May 2015.