Main content
BBC Ten Pieces Proms 2016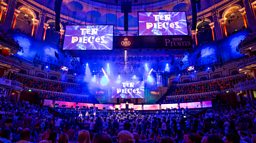 Ten Pieces II Proms
For the second year running, BBC Music's classical music initiative Ten Pieces took over the world-famous Royal Albert Hall and students aged between 10-14 had the opportunity to perform their creative responses as part of the BBC Proms.
The BBC Philharmonic, conducted by Alpesh Chauhan, performed the Ten Pieces Secondary repertoire in two BBC Proms concerts, on Saturday 23 July and Sunday 24 July. The Ten Pieces II Proms formed part of the BBC Proms 2016.
The two Ten Pieces Proms showcased a range of students' creative responses - through composition, dance, digital art or performance poetry.
Online resources continue to be available to encourage children to learn more about the repertoire and composers. Students are encouraged to develop their own creative responses to the music, often supported by some of the 260+ music, dance and arts organisations that have signed up as Champions for Ten Pieces in their communities, and who are offering lessons, workshops, teacher training and celebratory concerts on the theme.
This second set of ten pieces, aimed at students aged 10-14, follows on from the first year of the hugely successful project, which has so far seen more than half of the UK's primary schools engaging in the scheme.
Behind the scenes highlights from the Ten Pieces II Proms
Find out what happened behind the scenes to make this world famous event come to life.