Main content
"The new album is about getting through some tough times" – Bon Iver speaks to Annie Mac in an exclusive Radio 1 interview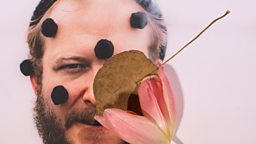 He's made some of the most influential albums of the last decade, he's inspired everyone from Kanye West to Frank Ocean, but most of the world still doesn't know a great deal about Bon Iver's Justin Vernon.
In Annie Mac's words, he's "been deliberately elusive. He doesn't like to put himself out there beyond the music. And over the course of the albums, the music got more obscure." Lyrics became more cryptic, song titles began to look like they were written in code (he's gone from calling a song 'Skinny Love' to calling one '715 - cr∑∑ks'). And you would be hard-pressed to find a portrait photo of Vernon where he isn't covered in some kind of object, shrouding his face.
But on the eve of his fourth album 'i,i', Justin FaceTimed Annie from his hometown in Wisconsin and gave a rare interview. "He was relaxed, he was happy, and he was really honest," says Annie.
Here's what we learned about the record and the man himself:
The new album is about getting through a tough time
Justin revealed that after releasing 2016's '22, A Million' album, he experienced serious anxiety for the first time in his life. It resulted in him being forced to cancel a tour.
"I was stunned by it. Usually I have my stuff together"

Justin Vernon
"I've never had that before, [I] never quite understood what it could do to people," he told Annie. "It really got me. I was stunned by it. Usually I have my stuff together."
New album 'i,i' is about the breakthrough in Justin becoming a "more calm and grateful" person. "That's sort of the story [of the record] for me… [It's about] getting through some tough times and getting to a point where you can feel vulnerable and grateful. It's a big clearing, personally and artistically."
Part of that process saw him collaborating with more musicians this time round, instead of having complete control over songwriting, recording and mixing.
He released the reins and "let other people's strengths speak to my strengths."
He's learning how to deal with fame
2007 debut album 'For Emma, Forever Ago' was recorded in remote Eau Claire, Wisconsin, and gained popularity when Justin self-released the record on MySpace (remember that?!).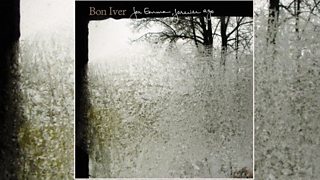 But over time, it became a surprise sleeper success. Rough Trade and The Observer named it Album of the Year, and Justin had his first brush with worldwide fame.
"I think at the beginning, I was comfortable because I didn't know what was going on exactly," he told Annie. But as he grew in popularity, he began to feel like "I was lost, and that I would never get my life back or something."
He remains cautious about being a household name ("I actively don't go towards the light"), but over time, he's learnt to deal with fame. "At the end of the day, it's music – that's all it is. You can relax after a while when you remember that's the reason people know who you are."
He's learned to simplify things
In terms of lyrics, Justin says he's attempted to make something less cryptic. "We're not gonna hide behind this curtain this whole time, we're gonna say something that's pretty basic – something you can chew on."
Usually, he would write words to go alongside the music – they wouldn't always make perfect sense. But 'i,i' producer Brad Cook encouraged Justin and his band to write "clearer things on this album. "It feels like a nice change."
The album is all about its collaborators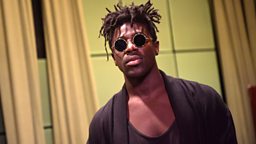 Photo: Moses Sumney, by Mark Allan/BBC
'i,i' sees Justin collaborating once more with Mercury Prize winner James Blake, plus LA-based songwriter Moses Sumney and The National's Aaron Dessner.
There's no Kanye West this time round, but he and Justin have worked together several times before.
He explained to Annie why he leans towards working with the same people across several records – including Kanye and Francis and the Lights.
"Their music speaks for themselves. They know how to make good music. Every once in a while, you've gotta go out and orbit around some other people, but I'm looking forward to going back in with them at some point."
Bon Iver's big collaborations
You might be obsessed with Justin Vernon's music, or he could be completely new to you. Here's where you may have heard him before:
Kanye West – 'Monster' (2010)
This song is all about Nicki Minaj's colossal guest verse, but Justin also contributes vocals. He later worked with Yeezy on 'I Am a God', 'Hold My Liquor' and 'I'm In It'. Justin also appeared on stage during Kanye's Glastonbury headline set in 2015.
Francis and the Lights – 'Friends' (2016)
Another Kanye x Bon Iver collab saw them joining forces on California musician Francis and the Lights' breakthrough single.
James Blake – 'I Need a Forest Fire' (2016)
James and Justin's voices are the perfect fit, and this is a highlight from the former's 'The Colour in Anything' album.
Disclaimer: The BBC is not responsible for the content of external websites
More from Radio 1's Annie Mac
The 17-year-old superstar gave a candid insight into what it's like to deal with fame at her age.

The biggest names in dance music curate a Mini Mix for Annie every week – subscribe on BBC Sounds.

All the biggest surprises, sunset moments and back-to-back sets from a massive year in Ibiza