Main content
6 Music Live 2017
6 Music Live returns for 2017 with Lauren Laverne introducing a week of live performances from the BBC's iconic Maida Vale studios, featuring Morrissey, Mogwai, alt-J, Loyle Carner and Robert Plant.
The sessions will take place during Lauren's 6 Music show, at midday from Monday 2 to Friday 6 October 2017.
Please note registration for these concerts has now closed. If you're not lucky enough to get a ticket, you'll still be able to watch each performance live on the BBC Radio 6 Music website and via the BBC Red Button, as well as listening on the radio and following on our social channels. Highlights of all the gigs will be available to catch-up on later each evening.
Get more details on our line-up below...
Morrissey - Monday 2 October 2017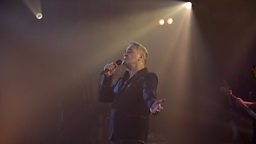 Morrissey will be joining us to perform his first live session for the BBC in over five years. He recently announced the release of his 11th solo album Low in High-School, which is due out this November.
After rising to prominence as the lead singer of indie legends The Smiths, when the band split 30 years ago Morrissey embarked on a successful solo career. To date all his albums have reached the UK Top 10, with three, 'Viva Hate', 'Vauxhall and I' and 'Ringleader of the Tormentors' topping the charts. He's also enjoyed ten solo Top 10 hits, with 'Irish Blood, English Heart' and 'You Have Killed Me' both reaching No.3.
In 2006, Morrissey was voted as the second greatest living Britain by BBC's The Culture Show. Not only a musician but also a writer, his 'Autobiography' was the first book to be published directly as a Penguin Classic.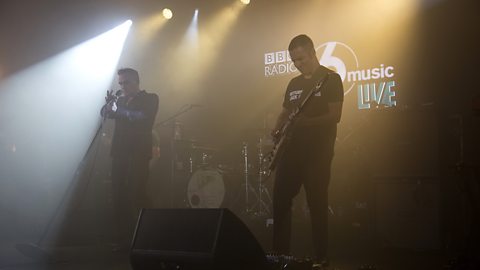 Watch Spent the Day in Bed from Morrissey's 6 Music Live performance
Mogwai - Tuesday 3 October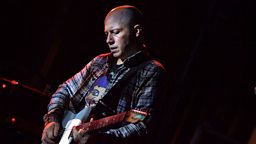 Mogwai returned with new album 'Every Country's Sun' at the start of September, and treated the 6 Music audience to an exclusive first listen, during a special 6 Music Recommends listening party.
The band's ninth album is 56 concise minutes of gracious elegance, hymnal trance-rock and transcendental euphoria.
For 22 years the Glasgow post-rock pioneers have given us their signature, contrasting sounds of towering intensity, pastoral introspection, synth-rock minimalism and DNA-detonating volume. In addition to their nine studio albums, they've released 13 EPs, two remix albums, two live albums and four compilation albums to date. They were frequently championed by John Peel from their early days, and recorded seven Peel Sessions between 1996 and 2004. Peel also recorded a brief introduction for their compilation Government Commissions: BBC Sessions 1996–2003.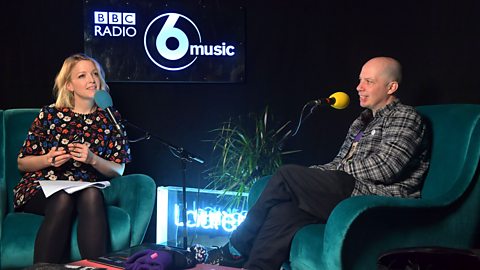 The Mogwai star chats to Lauren Laverne about Joy Division & more music that inspired him
alt-J - Wednesday 4 October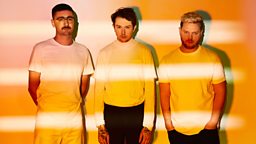 alt-J will be performing tracks from their Mercury nominated third album 'Relaxer' as well as songs from their previous two albums.
They first came to the attention of 6 Music when they recorded an early session for Steve Lamacq back in July 2011. Their debut album 'An Awesome Wave' was named 6 Music's Album of the Year in 2012, winning the Mercury Prize in the same year.
Follow-up This is All Yours topped the charts and earned them a Grammy nomination. They've also sold-out Madison Square Garden, headlined the Latitude festival, been nominated for three Brit Awards, and headlined the Other Stage during this year's Glastonbury. Three years of world touring that have forged a live reputation as fierce as the trio are tall (that is, very).
Of their performance for 6 Music Live, the band say "We are honoured to be part of this incredible series of performances. 6 Music has always been our spiritual home, and getting to spend a day at Maida Vale is something we would never turn down."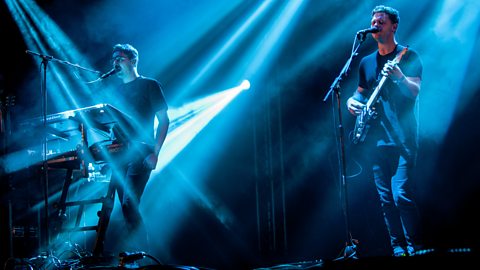 Joe and Gus chat about avoiding expected sounds, working with Iggy, and enjoying time out.
Loyle Carner - Thursday 5 October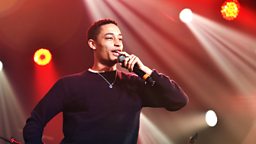 Benjamin Gerard Coyle-Larner, better known by his stage name Loyle Carner, has had an incredible year so far.
His debut album Yesterday's Gone, mixing rap with a diverse and inspired range of samples, was released to widespread acclaim in January. It's gone on to nominated for this year's Mercury Prize, not to mention being selected as one of 6 Music's must-hear albums of the year so far in our half-year round-up.
He's been one of the stand-out festival stars of the year, with well-received appearances at the 6 Music Festival, Glastonbury and Reading + Leeds. Between performances he's found time to present a couple of shows for 6 Music, including a Hip-Hop Playlist for 6 Music Recommends (available to listen to until Tues 10 September)
Loyle's rise has been meteoric. He studied theatre rather than music at school, with hip-hop something he did on the side. But when his stepfather died, he dropped out of university and started rapping to support his family. Despite triumphing on countless European gig stages, he still lives with his mum (who joined him on stage at Glastonbury during a performance of his track 'Sun of Jean') brother and Ringo, the family poodle, in Croydon.
Robert Plant - Friday 6 October
Multiple Grammy Award winner; Rock and Roll Hall of Fame inductee; and, in a 2011 Rolling Stone poll, named by readers as the top rock vocalist of all time.
Robert Plant is best known for his work with rock heavyweights Led Zeppelin, who delivered a series of era-defining albums in the 1970s, as well as classic tracks such as 'Stairway to Heaven', 'Whole Lotta Love' and 'Kashmir'. He's since gone on to forge a successful solo career, releasing ten albums to date.
Robert Plant and his Sensational Space Shifters will be performing songs from their new album 'Carry Fire' for the first time, alongside some of his classic tracks. This, his 11th album, is due for release the week after his 6 Music Live performance, and is his first full length release since 2014's acclaimed 'lullaby and…The Ceaseless Roar'.
"It's about intention," says Plant of his latter-day career and his current work. "I rejoice in my previous work but must continue the journey to new worlds, after all there are so many songs that are yet to be written."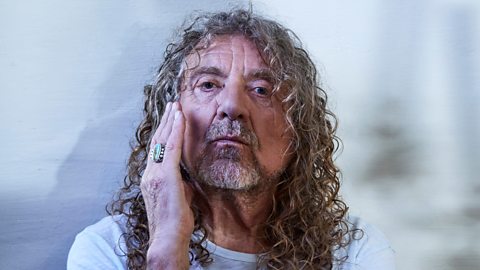 Robert Plant chats to 6 Music Breakfast's Matt Everitt about his brand new album and tour
6 Music Live is now in its 6th year of sessions at Maida Vale. The historic studios have seen the likes of New Order, De La Soul, Paul Weller, Primal Scream, Goldfrapp, Sigur Ros, Paul McCartney, Bat For Lashes, Manic Street Preachers, Johnny Marr, Underworld, Hot Chip, Suede, Orbital, Richard Hawley, Foals, James, Leftfield, Mercury Rev, Michael Kiwanuka, The Pretenders, Wild Beasts, Super Furry Animals and Placebo all being filmed performing live for 6 Music.
Keep an eye on the 6 Music website for all the highlights from this year's event.