Main content
Happy Birthday
Do you or a loved one have a birthday coming up?
How would you like Vanessa to call you up to wish you Happy Birthday and then play the number one song from the day you were born? You would? Then read on!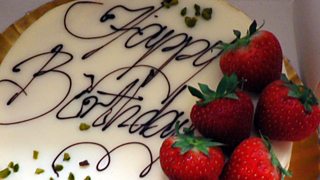 If you want to be in with a chance of taking part and chatting to Vanessa, just email vfeltz@bbc.co.uk using the subject title 'Happy Birthday' with the following details:
• Your name
• Your/their date of birth
• A contact telephone number
• And a few details about yourself or the person you're nominating
Please note this feature is LIVE at approximately 06:15 on weekday mornings, so please only email if you're able to answer the phone at this time.
The BBC promises that you will NOT receive unsolicited mail by supplying your personal details.
The BBC and any service provider we engage will use the information you supply to respond to your queries/comments, to develop and enhance our services and for statistical analysis of audiences and users. For full details of our policy regarding the personal information we collect about you visit our Privacy & Cookies page.
All personal information supplied is held securely by the BBC and in accordance with the Data Protection Act 1998. Your details will not be used for any other service.
See photos of Vanessa's birthday boys and girls alongside their birthday number 1 artists!