Main content
Ten things you might not know about Stacey Dooley
Stacey Dooley is known for her investigative documentaries, and her brand of raw, gutsy and compassionate reporting. She took a break from a punishing Strictly Come Dancing schedule to talk to Tina Daheley from the Beyond Today podcast about her on-screen style and the fine line between empathy and emotion.
Here are ten things we learned about Stacey...
1. She finds it hard to call herself a journalist
Despite fronting current affairs documentaries for over a decade, Stacey struggles to call herself a journalist. "I still don't really feel like a journalist to be totally honest with you," Stacey says, especially at what she describes as "fancy award dos", surrounded by other great film-makers and news reporters.
She admits her reluctance is probably down to her style: "I'm a bit more relaxed" and "it's a bit more informal" than conventional news reporting, she says.
2. She left school at 15
Stacey's reluctance to identify herself as a journalist is largely due to what she describes as the "very unorthodox" way she "fell into it". She left school at 15 and, having never studied journalism, gradually found her feet as a reporter by first working as a contributor on the BBC Three documentary Blood, Sweat and T-shirts. It wasn't particularly conventional, she adds.
3. When she was asked to appear on Newsnight she didn't know what it was
After appearing in Blood, Sweat and T-shirts (which investigated the working conditions of Indian sweatshops) Stacey got a call asking her to come on Newsnight to discuss her experience: "I didn't even know what Newsnight was."
She rang her mum (who was at the bingo) and was promptly told she was crazy and that Jeremy Paxman would tear her to pieces. "But actually, he was very accommodating and very lovely."
4. She was working at Luton airport when she got her first TV series
Stacey got her own series off the back of her appearance on Newsnight. "I was working at Luton airport at the time, doing promotions for perfume and make-up," she recalls. Two 60-minute shows focusing on child labour were commissioned: "It was just so surreal."
5. She doesn't want to be "vanilla"
Stacey's unconventional style of reporting immediately split opinion among the viewers. Some people loved it, and described her as a breath of fresh air. Others declared she was "totally inadequate" and "incapable". "I'd much rather that, you know, than be vanilla," she retorts, rather than being "just another privately educated… white woman."
6. She hates watching her early material
"I wasn't great at the start," admits Stacey. In fact, she laughs, she has erased the first four of five years of her material from her memory "like they don't exist!" She recalls how she was too invested and overly emotional, and had to learn how to turn into a more "objective figure". It's only in the last couple of years that she's become happy with the tone and feel of her pieces.
7. BBC correspondent Orla Guerin is her "queen"
Stacey really looks up to the female news correspondent: "I love Orla Guerin – she's my queen… when I watch her on the news I just can't believe how brave she is." She's on the front line speaking to everyone, Stacey says, and going down in the ISIS tunnels in Mosul: "She just doesn't seem to have any fear. She's the one I sort of look up to and think, oh man, you're awesome."
8. She doesn't think she's brave
Although Stacey is no stranger to dangerous situations herself she says, "I do get scared… I am a massive wimp!"
She recalls being in Mosul, interviewing girls from the Yazidi community, with ISIS just a few miles away. There was talk of a mortar exploding that morning. "I was so scared, I can't tell you," she admits. "You're certain that something's about to kick off and there's the potential that you could get shot."
9. Her biggest passion is making foreign documentaries
"At the minute, I'm absolutely loving the foreign documentaries. That's where my heart is… that's my genuine passion." She would love to do more of the same: "I do love being out there, on the ground. I love being in people's houses. I love watching it when it's all unfolding."
But she likes doing the lighter stuff as well: doing Strictly has proved to be an incredible experience for her: "It's one of the best things I've ever done."
10. She believes there's a place for feelings in news
"As a journalist, I think it's ok to feel - I think there's space for it." Stacey believes that it's unrealistic to expect reporters to go to areas of conflict, witness the most appalling crimes, and not be moved. "It's how you react to those feelings that's important," she states. Obviously it's not appropriate to cry, "but you've got to show people that you care… that's why you're there."
Stacey Dooley interview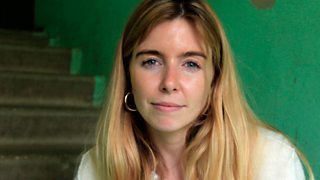 The reporter and Strictly Come Dancing star talks to Tina Daheley about her career.