Main content
Black and Scottish — 'I thought I was the only black person in the world'
Actor Ncuti Gatwa who plays 17-year-old Eric Effiong in the hit Netflix show Sex Education opens up about growing up a Rwandan-Scotsman.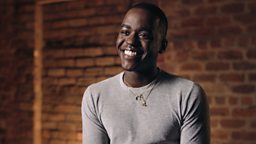 Ncuti Gatwa in new documentary, Black and Scottish
Described as a break out star for his scene-stealing turn as Eric in the hit comedy drama, Ncuti Gatwa appears in Black and Scottish — a film that brings together diverse voices to build a picture of the black community of Scotland.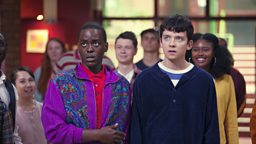 Ncuti as Eric in Netflix's Sex Education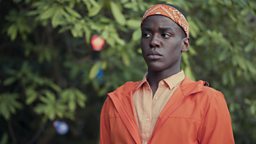 Ncuti: 'Nobody's got the right to tell you who you are. You just are who you are.'
Despite Sex Education being Ncuti's first major TV performance, it has earned him swathes of fans — he has amassed 779k followers on Instagram.
But many may not have realised that at the heart of his single-minded and effervescent performance as Eric Effiong lies the real life experiences of the 26-year-old Rwandan-Scot.
"I definitely felt growing up that I wasn't seen as the same as anyone around me because no one around me looked like me."
"I think when you see another black person you're kind of like... *gasps*... there's another one!"
He laughs, "I must find them and I must be friends with them!"
Ncuti was born in Rwanda where he lived with his parents until 1994 when the family uprooted their lives to flee a deadly situation.
"We came to UK because of the genocide that happened in Rwanda in 94."
"Landscape wise it [Rwanda] looks really similar to Scotland."
"We were refugees, we were refugees coming to the UK and I definitely now view myself as a Rwandan Scotsman – yes there's such a term and I'm giving it a name today!"
"It's a thing...I'm making it a thing", he laughs.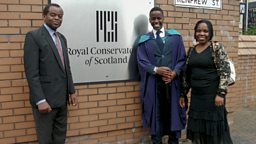 Ncuti studied acting in Glasgow
Role models
According to the 2011 Census, the percentage of Londoners who described themselves as Black stood at 13% whereas in Scotland it was under 1%.
"I remember my mum being like...(laughs)... 'everyone looks the same'. She travelled all around Edinburgh walking around all of Edinburgh trying to find someone that was black and she couldn't see anyone."
"Role models? There were no black Scottish role models. I felt like I was the only black person in the world."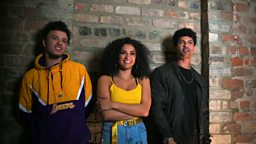 The Cutkelvins were also interviewed for the programme
Black and Scottish interviews successful black Scots from different walks of life including TV, fashion, politics, music, science and comedy. They were brought together by filmmaker Stewart Kyasimire himself a black Scot who grew up in Glasgow in the 1980s.
The film which also interviews X Factor semi-finalists The Cutkelvins and Scotland's first black professor, Sir Geoff Palmer OBE is a gift from the Stewart to his 8 year-old daughter Yasmin and her generation.
Ncuti and the other interviewees describe the dichotomy of being part of two cultures and not feeling truly accepted by either.
"I've always been a bit like scared to say that I was Scottish because it was almost as if people wouldn't believe me or people wouldn't buy that from me or people wouldn't accept it."
"Now, I think nobody's got the right to tell you who you are. You just are who you are."
Latest features from BBC Scotland
An ancient manuscript reveals some curious advice.

Clever about Cash returns with advice for the home.

The Scot faces a punishing regime before meeting Jack Catterall.

The Style Fixers share their tips for customising a plain pair of shoes.

Chloe and Bert the boar shed light on the industry.

Alfie's carers decide whether he is strong enough to receive treatment.

Why a Scots family opened their home to refugees.

Pilots, cabin crew and passengers remember this national treasure.

Why Highland games are crying out for home-grown talent.

Nikki Hardy has a world record and a new husband thanks to the US rapper.

Advice from the Scottish SPCA on dealing with an accident.