Main content
Prepare for an '8-hour lullaby'
From midnight on Saturday 26 September, composer Max Richter will – in a world premiere live broadcast on Radio 3 – perform his ground-breaking and experimental new eight-hour composition SLEEP at Wellcome Collection, London.
The performance will be the longest single continuous piece of music ever broadcast live on the BBC, and forms part of Why Music? – a free weekend of public events and one-off broadcasts from Radio 3 in partnership with Wellcome Collection.
We asked Max to explain what drove him to compose SLEEP and what ideas he is exploring through the work.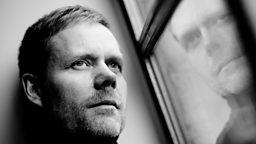 Composer, Max Richter. © Rhys Frampton - Deutsche Grammophon
Sleeping and music seem to be related altered states in some way.

Max Richter
I've always been interested in sleeping. In common with a lot of people who do creative work, I have an instinct that this state is where a lot of important things happen, both to do with my work, and also more generally. This is one reason why sleeping is one of my very favourite things to do. I also feel that there is an intuitive connection between sleeping and music beyond this - and this connection is summed up by the tradition of the lullaby, which seems to be a universal in human culture. Sleeping and music seem to be related altered states in some way.
So many of us today are overwhelmed by a blizzard of information, and because of this our engagement with the things around us can end up one-dimensional, and I hope this project can function as a holiday from our usual very busy data universe. In focussing on a single very large object like this, I'm hopeful we can engage with it more reflectively and deeply. Actually, in a way, this engagement, the experience of the listener, is the subject of the project. For me this connects to the recent renewed interest in mindfulness techniques.
The BBC Radio 3 "Why Music?" broadcasts from Wellcome Collection neatly sum up what my piece is about. I think of SLEEP as an experiment into how music and the mind can interact in this other state of consciousness, one we all spend decades of our lives completely immersed in, but which is so far rather poorly understood. I consulted with the neuroscientist David Eagleman on how music can relate to the sleep state and have incorporated our conversations in the compositional process of the work.
About Why Music?
The three-day programme will include lectures and debates from neuroscientists, psychologists and psychiatrists, with performances from artists and musicians to explore the relationship between music and the mind, mental health, evolution, nature and behaviour.
SLEEP will be live on Radio 3 from midnight Saturday 26 September until 08.00 on Sunday 27 September, and available to listen on demand through the Radio 3 website for 30 days.