Main content
Not acting her age: 12-year-old plays Falstaff and Richard III
The audience's anticipation must have been palpable. Liverpool is playing host to a big star from London, in town for eight nights only. But the remarkable fact is that the big draw is just 12-years-old and this pre-Victorian audience was about to see the child star take on Shakespeare's meatiest roles.
Before she was a teenager, Clara Fisher (1811–1898) was a veteran of the stage and a familiar face to audiences at Theatre Royal Drury Lane in London having started her acting life at the tender age of six. In May 1823, she was appearing at Theatre Royal Liverpool, a seasoned performer at the age of 12.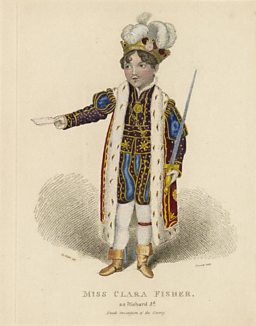 Clara Fisher as Richard III. Credit: Folger Shakespeare Library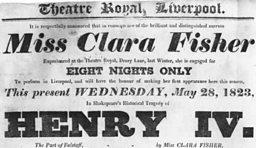 Courtesy of British Library
It's a return visit to the city and she is appearing in a variety of different roles including the Shakespearen parts of Falstaff and Richard II.
These – along with her Shylock – are roles she knows well, to such an extent she owns the right to perform in repertory companies.
It is difficult to imagine how a young girl could cope with the physical demands of playing Shakespeare's crook-backed King Richard III and even more of a stretch to imagine how she tackled the portly Falstaff.
The last night of the run was 6 June 1823 and she has chosen this to be her benefit night. So she would get to keep all the profits from the evening once the actors and other overheads were paid.
No doubt tickets for her final performance, in a petite comedy called Actress of All Work, would be like gold dust. It's a shrewd choice, a showcase for her talents and an example of art mirroring life .
Clara is playing not one, not two but six roles in this production – and the writer of the playbill can hardly contain his excitement!
As a sign of the esteem in which she is held Mr Foster, one of the actors will sing Thou Art Gone From Our Land.
Fisher went to the United States in 1827 appearing in New York City that same year. She went down a storm in the leading theatres there. Audiences in theatres across America were beguiled by her talent.
She was so popular that her name was given to babies, racehorses, stagecoaches, and steamboats, and she was generally held to be one of America's leading actresses.
Clara Fisher's last night in Liverpool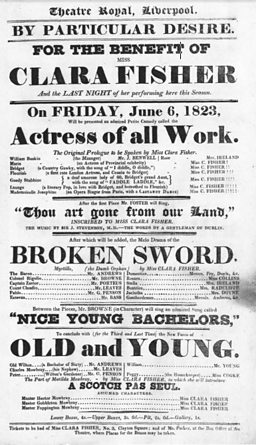 Courtesy of British Library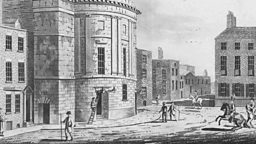 Liverpool Theatre Royal. With thanks to British Library
Theatre Royal in Liverpool
By Hannah Manktelow, University of Nottingham doctoral student working with the British Library
Liverpool's Theatre Royal was among the first in the country to be given a special royal seal of approval. This official patent, awarded in 1771 (four years ahead of Manchester) gave real prestige to the venue – making it more attractive to London stars.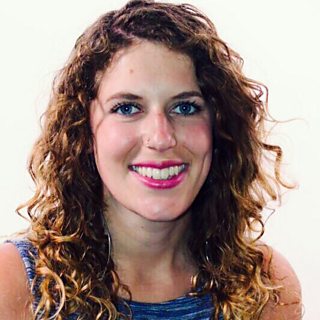 Hannah Manktelow
Prior to this, since the Licensing Act of 1737, only the two main London Theatres of Covent Garden and Drury Lane had been awarded official patents, meaning that legally they were the only venues able to stage 'theatrical entertainments'. Provincial towns got around the restrictions though local magistrates turning a blind eye to travelling theatre groups who would perform in town halls or civic buildings.
But as some provincial venues like Liverpool grew bigger they began to desire a permanent playhouse, with its own resident company.
A select few were issued patents by acts of parliament, giving them the same rights as Drury Lane and Covent Garden – to perform all drama, Shakespeare included.
By the beginning of the 19th century the port of Liverpool had surpassed London as the main place where cotton was imported. It was beginning to become one of the world's wealthiest cities and the population had grown to nearly 120,000 by 1821 creating a potential new clientele for theatre.
After the Liverpool and Manchester railway was built in 1830 it would become an even more accessible location for visiting London stars.
About Shakespeare on Tour
From the moment they were written through to the present day, Shakespeare's plays have continued to enthral and inspire audiences. They've been performed in venues big and small – including inns, private houses and emerging provincial theatres.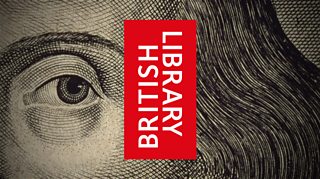 BBC English Regions is building a digital picture which tracks some of the many iconic moments across the country as we follow the 'explosion' in the performance of The Bard's plays, from his own lifetime to recent times.
Drawing on fascinating new research from Records of Early English Drama (REED), plus the British Library's extensive collection of playbills, as well as expertise from De Montfort University and the Arts and Humanities Research Council, Shakespeare on Tour is a unique timeline of iconic moments of those performances, starting with his own troupe of actors, to highlights from more recent times. Listen out for stories on Shakespeare's legacy on your BBC Local Radio station from Monday 21 March, 2016.
You never know - you might find evidence of Shakespeare's footsteps close to home…
Craig Henderson, BBC English Regions
Shakespeare on Tour: Around Merseyside
Ferdinando Stanley and his enthusiastic support for Elizabethan entertainers

Actress becomes first woman known to have played Shakespeare's Prince of Denmark
Child's Play
By Hannah Manktelow, University of Nottingham doctoral student working with the British Library
The nineteenth century saw a craze for juvenile Shakespeare performers. William Henry West Betty (1791 – 1874), commonly known as Master Betty, was one of the earliest and most successful child Shakespeareans.
He began his career in Belfast in 1803, and was engaged at London's prestigious Covent Garden and Drury Lane theatres a year later. Amongst other roles, Betty played Romeo, Macbeth, Richard III and Hamlet, performing alongside an otherwise adult cast.
Shakespeare on Tour: Around the country
The city gets its prestigious Theatre Royal

As he collects admission money at the door!

Size not everything as Shakespeare's tragic heroes appear in remote town of Launceston