Main content
How to write a Christmas number one
Do you love music? Are you up for a fun and creative challenge?
Every year, Radio 3 invites people around the UK to create music for a Christmas carol or song. You don't need any special skills or training to be part of the competition, and we warmly encourage entries from people who have never tried writing a song before.
If you're new to composing, or feeling a bit rusty, it can be hard to know where to start. So, we've asked two of our judges for their advice on how to create an original Christmas number one...
Don't forget - the deadline for entries is 11.59pm on Sunday 1 November. For more details, visit the Carol Competition website.
Meet the experts
Bob Chilcott has been involved with choral music for most of his life as a singer, conductor and composer.

Karen Gibson is the founder and conductor of The Kingdom Choir, which performed at the 2018 royal wedding.
What makes a good Christmas singalong?
Karen: There are quite a few things, aren't there? Sometimes it's just a really catchy melody, and sometimes it's the words that really speak to people. It can also be repetition of something that really grabs you - maybe a little motif that keeps coming back.
Bob: The great thing about well-known Christmas tunes is that they have the ability to go straight into people's voices. Sometimes, you feel like you know the tune already, even though it's completely original. And it's easier to pick up a tune if you have a sense of it already being there when you hear it or sing it for the first time.
Are there any special musical tricks for making a tune easy to sing and remember?
Bob: The shape of a tune is important, and that shape needs to correspond to the natural shape of your breath. Think of a tune you love singing: it has probably been put together in a way that allows your voice to grow naturally.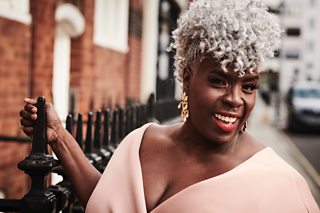 Karen Gibson, gospel expert and director of The Kingdom Choir
Karen: For me, a good tune should make people want to move. One of my favourite Christmas songs is by a gospel artist called Israel Haughton. It's called Tidings, and it's based on the carol God Rest Ye Merry Gentleman. It's the most beautiful, lilting arrangement: tunes written in 3 / 4 time make your body move automatically, and this song is one of those. I want to move to music, and I want to be moved by music.
Bob: Also, remember that a melody for a group of singers tends to have a different character to a solo melody. When you're writing for a group of people, you need to think in quite a straightforward way. A group of people will need time to breathe together, for example. And many people don't like singing too low or too high, so you might need to keep the range fairly small.
How should the music work with the words?
Entrants to the Radio 3 Carol Competition are asked to write a tune for the words of the poem Christmas Carol, by Paul Laurence Dunbar (1872-1906).
Karen: I'm a woman of faith, so the thing that makes a Christmas song for me is the lyrics. What will make this poem kick is the music and how it relays the meaning. How will the music communicate what is being said? How will it make my heart rise and soar?
Bob: These words by Dunbar have a constant rhythm. They would certainly fit very well into a hymn tune, but the style of the tune is actually irrelevant. It could be any style, as long as the tune feels natural and reflects the rhythm and sense of the words.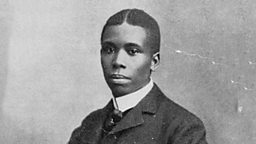 Paul Laurence Dunbar (1872-1906)
Karen: The words of this poem are quite "Christmas carolly", so a challenge for you might be to see how you can make the music relevant and modern. How can you make this poem rock with where you come from? My advice would be to take the carol out of the carol service and transport it to where you would like to listen to it - whether that's your bedroom, your mate's house or the street.
Bob: You need to imagine a lot of people singing it together, so visualise the space where your group might be singing and write something that will make those voices come to life.
Christmas Carol by Paul Laurence Dunbar (1872-1906)
You only need to compose a melody for the opening verse of the poem. Your tune will be repeated for every verse.
Ring out, ye bells!
All Nature swells
With gladness at the wondrous story,—
The world was lorn,
But Christ is born
To change our sadness into glory.
Sing, earthlings, sing!
To-night a King
Hath come from heaven's high throne to bless us.
The outstretched hand
O'er all the land
Is raised in pity to caress us.
Come at his call;
Be joyful all;
Away with mourning and with sadness!
The heavenly choir
With holy fire
Their voices raise in songs of gladness.
No, be not still,
But with a will
Strike all your harps and set them ringing;
On hill and heath
Let every breath
Throw all its power into singing!
Learn more about Paul Laurence Dunbar's life and work at the Poetry Foundation website.
How can you get into a creative frame of mind?
Bob: I remember hearing that when Paul Simon was writing music, he would strum his guitar and sing along to "oooh", a gentle sound that resonates inside you. By doing that, he found little hooks of melody that he could use for his songs. So think about the words and sing along some ideas. You're trying to come up with a hook that will draw you into a melody. If you do this every day, you'll quickly get better and gain confidence.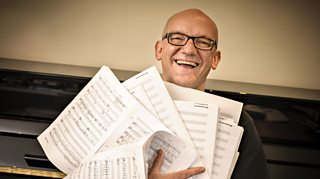 Choral conductor and composer Bob Chilcott
Karen: I'd try listening to lots of carols and other music that is "wordy". Ask yourself how these songs manage words in a way that it isn't repetitive and helps people to remember them. Then start getting the words of the poem into yourself, making sure that you know them really well and thinking about how they make you feel. Let the music come from that.
Bob: And don't be afraid of borrowing! In a way, all composers are magpies, taking ideas from other people. So, if there's a particular song or chord sequence you like, try coming up with a new tune over those chords. That's a great way of creating something new and giving yourself the confidence to build on it.
And what's the best way to capture ideas?
Bob: When I compose, I tend to write my ideas down - especially in the middle of the night, so I don't forget them by morning. But the brilliant thing is that you can record things on the move now. Just sing into your phone, or use computer software to get your ideas down. What matters is what comes out at the end, not how it gets there.
You can enter your carol as a written score, or record yourself singing it and upload a video or audio recording. It's up to you! For full details, visit the Carol Competition website.
Are there any traps that first-time composers should avoid?
Karen: We're pushing against a tide of history where carols are concerned. We all love carols: they take us back to our childhood, and we're used to hearing carols in a particular style. But my advice is to be authentic: don't feel you have to sound like anyone else.
"Be authentic: don't feel you have to sound like anyone else" - Karen Gibson
Bob: The most important thing of all is to have the confidence to be yourself. When you write a tune, it reflects the kind of person you are or the music you know. We all have different points of reference, and it's important to use that with pride.
And finally… in just three words, can you tell us what you'll be looking for in the winning entry?
Bob: Singability. Melody. Character.
Karen: Music that moves me. Sorry, that's four words, but that's what I want to hear!
Feeling inspired? The deadline for entries to the Radio 3 Carol Competition 2020 is 11.59pm on Sunday 1 November. Visit the Carol Competition website to find out more, including details of how to enter. Good luck!