Main content
BBC Young Chorister Of The Year
The competition has now closed. The below information is for reference only.
Are you a singer aged 10-16? Are you a member of a church or cathedral choir? A school choir, gospel or show choir? Maybe you lead worship in your church or perhaps you just love singing sacred music?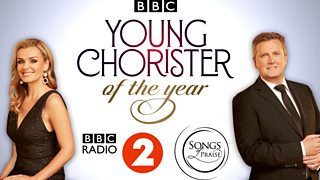 If so, the BBC is launching a competition to find the best young singers in the country and you could be one of them!
To celebrate the contribution made by young people to choirs and music groups across the UK, Radio 2 and Songs of Praise are joining together to find the BBC Young Chorister of the Year 2020.
How to enter
Make a simple video recording of you performing two pieces of music on your phone, tablet, laptop or camera. Remember to film in landscape. Here's our guide to recording your entry.
Ask a parent or guardian to fill in the online application form
Upload your two videos and submit your entry
What should I sing?
You'll need to film yourself singing two pieces of music - each under three minutes long
One MUST be a Christmas carol or song. The other can be a sacred song in any musical style, for example a hymn, favourite classical choral solo, a spiritual or inspirational song, anthem, aria, gospel or worship song.
You can sing accompanied or unaccompanied but you must comply with the social distancing regulations to prevent the spread of Covid-19. You could ask a teacher or musical friend to play your songs on a piano and send you a digital recording. Or just sing unaccompanied.
If you prefer you can sing to one (or more) of our backing tracks - but you don't have to use them.
What happens then?
From all the entries we receive, 5 boys and 5 girls will be chosen to sing at the televised semi-finals in front of a panel of judges. They'll be offered expert coaching and support before the event by two famous former choristers Katherine Jenkins and Aled Jones and then 3 boys and 3 girls will be chosen by the judges to sing again in the final. One singer will be crowned BBC Young Chorister Of The Year and a second singer will be Highly Commended.
The prize
In addition to the title of BBC Young Chorister Of The Year 2020 and a trophy, the winner will appear on Songs of Praise and take part in BBC Radio recordings. There may also be opportunities for the winner's choir or music group to be broadcast on BBC Radio and a chance to experience a recording session with the BBC Philharmonic Orchestra.
All applications must be received by midnight on Monday 20th July 2020.
Any questions - please e-mail: sopcompetitions@avantimedia.tv
Entry pack & terms and conditions: