Main content
Sustainability and Food Waste
MasterChef is very strict about how we source the ingredients we use and also how much we buy.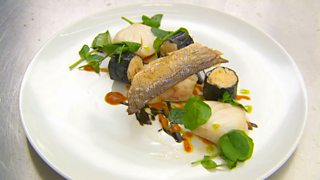 When sourcing ingredients, we do so with regard to the current best practice on sustainability – and we ask all contestants when planning their menus to do so too.
In particular, they are asked to only order the quantity of ingredients necessary to make the required number of plates of food and to take into account the current guidelines on sustainable product sourcing.
An example of this is only sourcing game from reputable sources and in the correct season and making sure they consult the most recent guidelines from marine conservation organisations on fish sourcing when using fish or seafood in their menus.
We also have a strict policy around food waste. In addition to trying to reuse ingredients where practical across multiple challenges we
Reuse/restore all dry goods.
Freeze or refrigerate what perishables we can as soon as practical for later use. We have large commercial refrigerators off set so that ingredients can be kept fresher for longer
Anything else, like leftover fruit and veg, we donate to the local food recycling charities or food banks closest to our location.
We understand viewers concerns around food waste and our judges look very harshly upon blatant ingredient and food waste – as this is not a practice tolerated in the professional food industry.