Main content
Meccano for grown-ups: Sir Anthony Caro in Yorkshire
By William Cook | 17 July 2015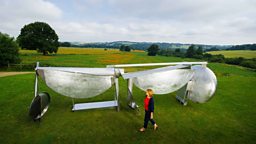 Caro in Yorkshire at Yorkshire Sculpture Park / Anthony Caro, Double Shot (1987/1993) / Photo: Jonathan Pow
Outside Leeds Art Gallery, beside the Henry Moore Institute, there is a big red metal sculpture which wasn't there before. A bizarre addition to the rush hour bustle, it's one of the most surreal sights I've ever seen. It looks like an alien space ship, crash landed in the city centre.
Shoppers and commuters stop and stare at it. Street drinkers assess its artistic merits over an early morning can of lager. Welcome to Yorkshire Sculpture Triangle, an inspired collaboration between Leeds, Wakefield, and Yorkshire Sculpture Park. And welcome to Caro in Yorkshire, one of the best shows of the year.
Sculptors are very free. We can do crazy things.

Anthony Caro
Anthony Caro's bright red sculpture (called Aurora) is the starting point for a sculptural mystery tour which takes in several of Britain's finest galleries and some of the most stunning landscape in the country.
From Aurora, walk to Leeds train station (five minutes from Leeds Art Gallery) and hop on a train to Wakefield (only fifteen minutes away).
From Wakefield Westgate station, a free shuttle bus takes you to The Hepworth Wakefield, a striking modern building by British 'starchitect' David Chipperfield. Inside is a new exhibition which breathes fresh life into Caro's work.
I don't know about you, but I used to find Anthony Caro a bit austere. This show changed my mind. Here, his sculptures seem like toys for playful giants. They teeter on the edge of tables, they hang precariously from the ceiling.
"Sculptors are very free," said Caro. "We can do crazy things."
My favourite piece was a wonky wooden helter-skelter called Child's Tower Room.
Caro likened it to a tree house. It made me wish I was small enough to climb inside it. It makes you dream of being a child again.
So what makes this show so special? I've seen some of this stuff elsewhere, and it didn't feel so full of fun. Partly it's the setting. Caro's sculptures work best outside. Flooded with natural light, this airy gallery is the next best thing.
Caro never visited this museum (he died in 2013) but I'm sure he would have loved it. In here, his colourful sculptures really shine.
The other big plus is Eleanor Clayton's astute curation. She's especially interested in Caro's relationship with architecture: he trained as an engineer; he coined the term 'sculpitecture'; he worked with Norman Foster on London's Millennium Bridge.
As he said: "Sculptors can learn from architects because architects have a feeling for scale and the open air."
To see Caro in the open air, get back on board the shuttle bus for the short drive to Yorkshire Sculpture Park, about seven miles away.
Aurora (2000-03) on show outside Leeds Art Gallery and the Henry Moore Institute / Photo: Courtesy Of Barford Sculptures Ltd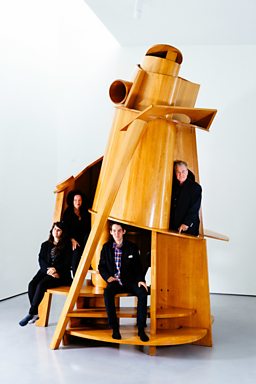 Paul Caro, son of Anthony Caro, with his family on Child's Tower Room / Photo: Jonathan Pow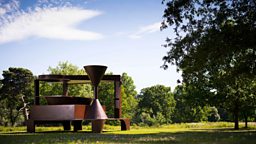 Forum (1992-94) / Photo: Jonty Wilde
Until I first went there, a few years ago, I had no idea what a spectacular place this is: 500 acres of rugged parkland, around a hundred sculptures and several indoor galleries (handy if the weather's foul).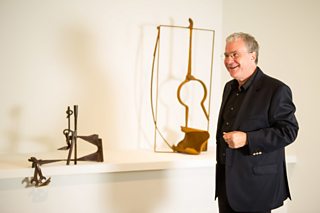 Paul Caro takes the first look at the exhibition at The Hepworth Wakefield / Photo: Jonathan Pow
No wonder YSP won Museum of the Year in 2014. No wonder it attracted 400,000 visitors last year.
One of YSP's nicest galleries, the Longside Gallery, contains a new Caro show, curated by Helen Pheby.
It's a fascinating insight into Caro's development as an artist, and the wide range of his work. Alongside his familiar abstract constructions are some of his rigorous bronze busts (you'd never guess they were by the same artist) and some powerful figurative paintings.
"I tried painting once and hated it," he told Tim Marlow – he could have fooled me.
There are also some paper sculptures, and some early life drawings, corrected by Caro's mentor, Henry Moore. One wall of the gallery is glass, and the view beyond is glorious – rolling countryside, as far as you can see.
The best part of YSP's Caro show, as always, is the great outdoors. There are numerous new Caros dotted around this grand estate, plus an old favourite, his enormous, graceful Promenade.
Seeing sculpture in the open air is much more democratic than seeing it in a gallery. It's not so confrontational. You don't end up fretting about what it means.
Inside, it's easy to end up thinking a bit too hard about Caro's sculptures. Outside, you just see the joy in them. It's like Meccano for grown-ups.
Caro didn't come from Yorkshire but he spent a lot of time here. His relationship with YSP dates back to 1978. "He was very tough and very direct," says YSP's founder and director, Peter Murray. "He was always honest." He was a constant and enduring friend.
Like his friendship, Caro's artistic influence will endure. As the curator and critic Bryan Robertson once said to Peter Murray, after Picasso painting was never the same - and after Caro sculpture will never be the same.
So what made Caro so important? "Sculptors are scavengers," he said. His genius was taking ordinary hunks of scrap metal and transforming them into beautiful objets d'art.
On the journey back into Leeds. I start seeing new shapes and patterns in the industrial landscape of the city. Like all great artists, Caro makes you see the world around you in a completely different way.
Caro in Yorkshire is at The Hepworth Wakefield & Yorkshire Sculpture Park from 18 July to 1 November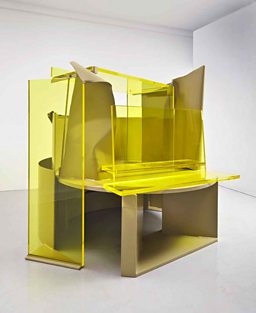 Autumn Rhapsody (2011/2012) / Photo: John Hammond
Palanquin (1987-91) / Photo: Jonty Wilde
First National (1964) / Photo: Jonty Wilde