Main content
Once you pot you can't stop
Star ceramicists from BBC Two show share their love of pottery
24 November 2015
With over 60 years of pot-making between them, KATE MALONE and KEITH BRYMER JONES have their work sitting in galleries and kitchens all over the world. Fans of The Great Pottery Throw Down on BBC TWO will be familiar with the programme's two judges who hope to use their passion for pottery to inspire a new wave of student ceramicists. Get Creative caught up with Kate and Keith on the set of the show to find out how they both got started and why they think you should get behind the potters wheel.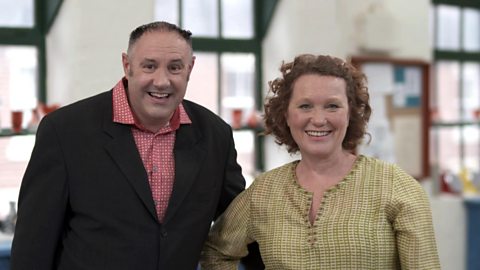 Great Pottery Throw Down judges say making pots is addictive.
If Kate and Keith have persuaded you to have a go then why not join in with one of the many taster sessions taking place across the UK between Friday 4 and Sunday 6 December. Hey Clay! is organised by The Crafts Council and as part of Get Creative, the weekend has been organised to time with the enthusiasm generated by the Great Pottery Throw Down.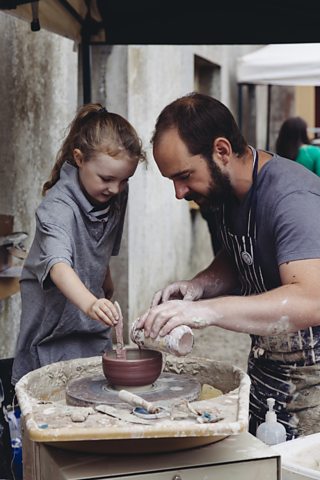 From Newcastle to Cornwall there will be more than 60 free taster sessions where you can roll up your sleeves and give it a go.
Keith and Kate themselves, as well as a host of other talented potters, are opening their studios and running workshops for Hey Clay!
And it's not just pot making on offer, there's also crafting porcelain and making clay characters.
Search the Crafts Council listings to find a session near you.
Looking for more inspiration?
On the set of BBC Two's The Great Pottery Throw Down, presenter Sara Cox has her first pottery lesson.