Main content
A Message from Mars: Britain's first ever sci-fi feature film
BBC Arts has partnered with the BFI to release a newly restored version of Britain's first full-length science fiction film, A Message from Mars, with a specially commissioned soundtrack from Matthew Herbert.
Available to watch below, it is the first time in a century that the film - made in 1913 - can be seen at its original length.
Plus, ahead of the release, BBC Arts made a special behind-the-scenes film following the work of the BFI technical experts who spent six months painstakingly restoring the silent picture for the digital age.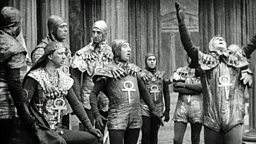 About the film
A Message from Mars (1913) is the first full-length science fiction feature in the history of British cinema. It stars the leading comedy actor of his day, Charles Hawtrey, as a selfish man who is taught a series of valuable lessons by a visiting Martian.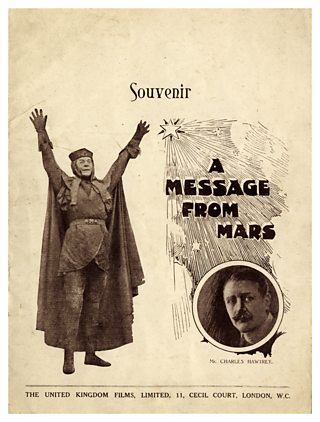 Original souvenir programme from 1913
The stakes are high, for the Martian will only be permitted to return to his home planet if he is successful in his mission to instil a change of heart in his subject.
The film was based on a popular stage play which saw many revivals over 30 years in Britain. It features the first on-screen imaginings of Martians by a British film-maker, as futuristically clad members of the Martian court.
The film survived in the collection of the BFI National Archive as two shortened versions with significant imperfections in the third reel and a number of missing scenes.
Scans from these copies were combined with a tinted and toned print from the collection of the Museum of Modern Art in New York to bring the film back to its original one-hour running time.
Restoration specialists at the BFI National Archive devoted six months of painstaking work on identifying the missing scenes from each copy and producing a new master with the best available image quality and reproducing the applied colours of the original prints.