Main content
Brexit Britain: A day of discussion and debate
Saturday 23 July 2016, 13:00 BST, Royal Geographical Society in London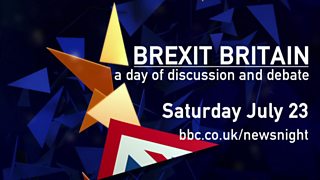 Following perhaps the most significant event in the history of post-war Britain, BBC Newsnight collaborates with Intelligence Squared to bring you a day of debate and discussion on what the UK's decision to leave the EU will mean.
Hosted by Evan Davis and the Newsnight team, the event will bring together politicians, historians, writers and academics to explore the ramifications of Brexit.
The referendum has revealed deep rifts across the country and in a few short weeks completely upended the political landscape.
The new Prime Minister Theresa May has claimed "Brexit means Brexit, and we're going to make a success of it."
But what will success look like?
How much of what we want will the EU be prepared to give us?
And what impact will the resulting deal have on business, public services, our universities, etc...?
Will Britain's role in the world change?
These are just some of the many questions we will be exploring one month on from the referendum on Saturday 23 July, as Britain starts to chart a course through the complex challenges that lie ahead.
The day will culminate in a live Newsnight broadcast on BBC Two at 18:00.
Tickets: Standard £15, Student £7
To buy your ticket, head over to the Intelligence Squared website
The hashtag for the event is #BrexitBritain
You can also follow along on Newsnight's Facebook, Twitter and Snapchat accounts