Main content
Meet the magicians
Ben
Tall, handsome, intelligent and charming, Ben is a well-dressed and well-travelled magician. His work has taken him to some of the world's top nightspots, theatres and private parties, from Monaco to Las Vegas, where his performances are original, daring and always startling.
Not only is he a wonderfully skilled sleight of hand magician, he's also a walking encyclopaedia of magical history. With a formidable range of knowledge to draw on when it comes to the magic competition, Ben won't let his impeccable manners get in the way of beating his fellow magicians and avoiding a potentially fatal killer trick. A killer magician in a killer suit.
Chris
Chris loves his computer, video games, a quirky t-shirt and the odd book – he was a geek before geek was the thing to be. And as well as being a geek he's a mentalist – which when it comes to magic isn't as rude as it sounds! A multi-award winning mind reader, with a string of accolades under his belt (including sell-out shows and tours), Chris is an accomplished and much loved performer, using a mongrel hybrid mix of witty chit chat, magic, psychology, devilish good looks… and lying!
You'll seldom see a card trick from Chris – he's just not that sort of magician – but one thing's for sure, he's definitely the joker in the pack. Never afraid to make himself look ridiculous in the name of avoiding the killer trick, he'll dress up, strip off, and do silly things just for your entertainment. And if you're a fan of puns, Chris will give you one.
Damien
Bitten by the magic bug at the age of 12, Damien's magical style grew out of the years he spent performing street magic, close-up. And the street is where Damien's heart lies. He loves a baseball cap, trainers and a unique tattoo or two. Sprinkle in a bit of bling and a cheeky South London attitude, and you're well on your way to a flashy, showy magician.
When it comes to the competition on Killer Magic, Damien can trash talk his opponents like the best boxers. And make no mistake; his tricks punch hard. But behind his tough guy guard he can match Ben for charm. Watch the way he makes his audience the stars of his tricks. And the thrill he gets from startling spectators with his skill and imagination makes him a born entertainer.
Dee
Rock 'n' roll attitude, mysticism and guyliner. Oh, and frankly remarkable magical skill. That's the essence of Dee. With the concentration and focus he brings to his performance it's no surprise to learn he's fascinated by feats of mind over matter. Though he's not saying whether or not he winces when he adds to his growing collection of tattoos. Incidentally, he prefers the ones on his right hand to those on his left.
With a tongue as pointed as his boots and a sense of humour as dark as his clothes, Dee can give the impression he's come straight from hell. But he hasn't. He's from Nottingham. And don't get the wrong idea - he's got a lighter, frivolous side. Just look at the hat collection. He almost matches Damien for headgear, and he's right up there with Jasz in the unofficial biggest make-up bag competition.
Jasz
Jasz is a burlesque dancer, a stilt-walker and a fire-eater. And with that sort of background to call on it's no wonder Jasz leaves audiences open-mouthed with her adventurous routines. It's not that she doesn't feel fear; it's that she likes it... Always up for trying something out, for pushing boundaries, for doing something in a new way, Jasz also brings a style and glamour that sets her apart. She's certainly brought the killer heels to killer magic.
Her hair's been green, blue, black, blonde and she has a variety of performance styles too. She can be keen and bouncy, slinky and sultry, dark and mysterious and any colour in between. It allows her to fit right in to the mood of her trick and means she can pull off hidden camera tricks in spectacular fashion - an original, fearless, quality and breath-taking performer and magician.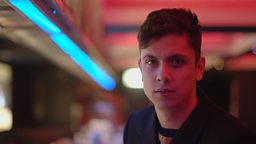 Ben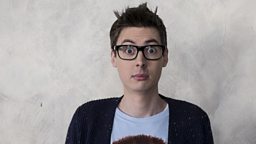 Chris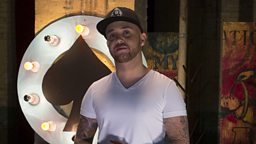 Damien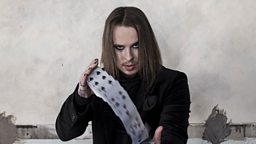 Dee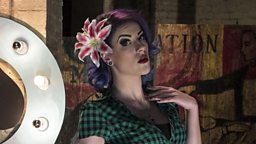 Jasz