Main content
Six stunning UK locations from Mortimer & Whitehouse: Gone Fishing
Two of the UK's best-loved comics and long-term friends, Bob Mortimer and Paul Whitehouse have been exploring some of the most beautiful fishing locations in Britain.
Experienced angler Paul suggested they go on a fishing trip to help speed up Bob's recovery after heart surgery. Since then the pair have been travelling the UK trying to reel in a good catch – with Paul setting out the rules of the waterways and Bob as his keen apprentice.
Here are their six most picturesque spots from their second series:
1. River Usk - South Wales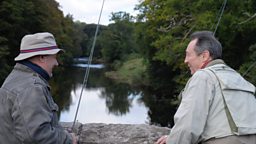 In the first episode the pair enjoyed the stunning light and beautiful scenery at the River Usk in South Wales while fishing for wild brown trout that live in its fast-flowing waters. Paul spoke of fond memories of catching his very first trout there as a boy, while on a trip with his dad. "We reminisced about our first girlfriends and, more importantly, our dads while trying to catch our native trout" he reflected.
2. Bentley Fishery - Brentwood, Essex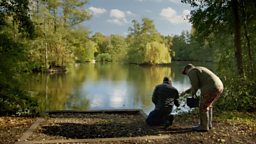 Paul and Bob took a trip to Bentley Fishery, a 3.5 acre carp lake nestled in the Essex countryside, which has more than 80 hand-picked fish swimming in its waters. They had the option of sleeping by the lake in their tents and fishing all night, but Bob took extra precautions and said: "I knew that come the crunch we would probably bottle it, so I booked a lovely lakeside fishing lodge just in case." But before they left Bob made a brew in his new "Kelly kettle" and mused: "A cup of your own tea always tastes better on the riverbank."
3. River Tay - Perthshire, Scotland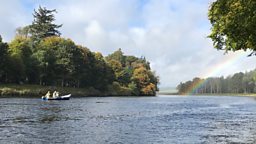 "Where better to go fishing for salmon than the mighty river Tay in Bonnie Scotland?," asked Paul. The river is majestic and the scenery is extraordinary. Bob's verdict: "One of the most stunning sunsets I have ever seen." On record, the biggest salmon caught here was hooked by Georgina Ballantine over 100 years ago – a colossal fish weighing a massive 64lbs.
4. Upper Tamar Lake - Bude, Cornwall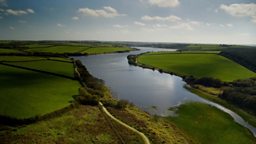 The windswept and quiet Upper Tamar Lake in Bude is recognised as a popular destination for match fishing – it's a well-stocked favourite with competitive fishermen. It was the stripy, spikey, spiny perch that Bob and Paul went to catch. But they also enjoyed taking in the surroundings, with the pair finding that "there's something authentic and nostalgic about supping soup from an enamel mug by the lake".
5. Lough Erne - Kilmore Quay, Enniskillen, Northern Ireland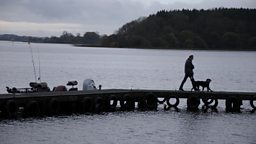 Lough Erne is actually two connected lakes, or as Bob put it, "a colossal sheet of water studded with mysterious islands". Beautiful and beguiling as it was, the pair admitted they "needed a lot of help to fish effectively". Wild weather toyed with Bob and Paul, tossed them aside and lit up the lake beautifully as they went after pike, otherwise known as the "freshwater shark with fearsome teeth".
6. River Ure - North Yorkshire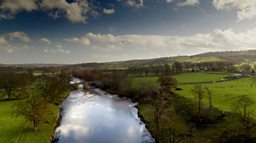 Yorkshire is a stronghold for grayling, a fish once referred to as "the lady of the stream". And what better place to catch one than in the River Ure? In the final episode, Paul and Bob stayed in a remote and isolated barn close to the famous Ribblehead viaduct on the edge of the Yorkshire Dales. Bob stated it was their most "spectacular location" – the pair, however had an unspectacular evening playing a board game that Paul insisted they complete.