Main content
Grimmy's Heart Rate Monitor Challenge: the juiciest findings so far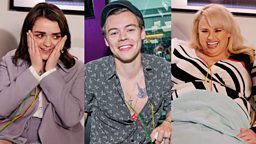 It's the game that's swept the nation and had many a star sweating profusely. We are, of course, talking about Grimmy's Heart Rate Monitor Challenge.
It all kicked off last year when Harry Styles swung by Nick Grimshaw's studio and, within moments, found himself hooked up to some very technical looking hospital equipment, having his beats-per-minute scrutinised and inadvertently revealing all his secrets.
Besides donning a lab coat, there are very few similarities between Grimmy and a medical professional (don't tell him we said that) but that didn't stop him from taking his heart rate monitor on the road and enlisting a few more celebs to hop aboard his trolley...
Warning: Third party videos may contain adverts.
The most recent drop-in to Grimmy's pop-up practice was none other than Game of Thrones star Maisie Williams.
What did we learn about Maisie during her medical, you ask? We learned that she's got a penchant for Pedro Pascal and a proclivity for pilfering pub signs, as well as potentially giving away some GoT spoilers. Don't say we didn't warn you.
Nick Jonas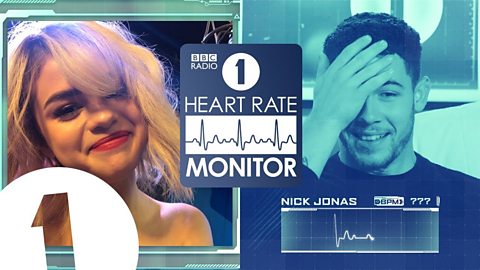 What makes Nick Jonas' heart rate rise?
In the mood for some major cameos? Well, you're in luck! Joe Jonas, Selena Gomez and *drum roll plz* Jack Black (!!!) make an appearance during Nick Jonas' Heart Rate Monitor Challenge so, naturally, it's a good'un.
Grimmy also gets to the bottom of Nick's fledgling romance with Miley Cyrus so if celeb goss is your thing, you're going to want to hit the play button. Stat.
Rebel Wilson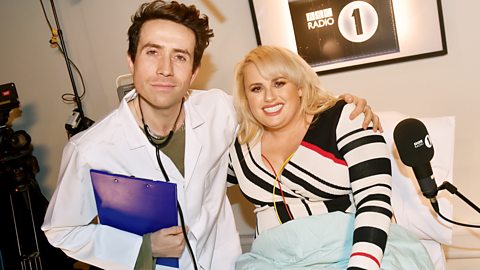 Rebel Wilson takes on the BBC Radio 1 Breakfast Show's HEART RATE MONITOR.
Did you know about the time Rebel and Kelly Osbourne partied the night away with Justin Bieber? No? Did you know that Rebel has been banned from speaking about her time on the set of Ghost Rider? No? Well pull up a chair because you're about to be schooled in Rebel Wilson 101.
Grimmy uncovered a lot during his time monitoring Rebel and even managed to recruit fellow Aussie Hugh Jackman to make a cameo appearance. We learnt a lot, TBH.
Warning: Third party videos may contain adverts.
We like to think we're pretty well versed in all things Harry Styles. We've watched him grow from starry-eyed boy band member to solo superstar and every moment of his life during that time has been chronicled exhaustively.
You can imagine our surprise, then, when Hazza's beating heart gave the game away and suggested that we don't know everything about the curly-haired wonder. We didn't know, for example, that Ryan Gosling set his soul on fire or that a sterling pair of Chelsea boots was the way to his heart. Duly noted.