Main content
Helen Sear's postcard from Venice
19 May 2015

In the final BBC Arts postcard from Venice Biennale 2015, photographic artist Helen Sear takes us on a whistle-stop tour of her ...the rest is smoke exhibition for Cymru yn Fenis / Wales in Venice 2015.
She also visits the trees and broken glass of Camille Norment's Rapture at the Nordic pavilion and savours the work of legendary American video and performance artist Joan Jonas' hit show They come to Us without a Word at the United States pavilion.
Watch the postcard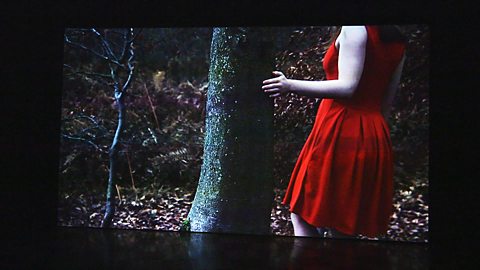 A look at Sear's Wales in Venice exhibition & highlights at the Nordic and U.S. pavilions
The church and hospital of Santa Maria Ausiliatrice in Venice was built in the 11th century. It was also a shelter for pilgrims. Later it was occupied by an order of Franciscan nuns, most of whom died of the plague in 1630.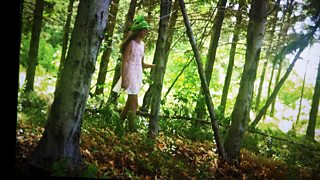 I love this feeling of being inside a dream, of being haunted by sound in the different rooms

Helen Sear on They come to Us without a Word
It's still taking in strangers; in this instance the English-born fine art photographer Helen Sear, who is representing Wales (Cymru yn Fenis) at the 56th Venice Biennale.
Surprisingly, it is the first time that Wales has presented a solo exhibition by a female artist here.
Sear's show is entitled …the rest is smoke. The phrase is borrowed from an inscription "Nihil nisi divinum stabile est. Caetera fumus" (meaning "Nothing is stable if not divine. The rest is smoke") which appears on Renaissance master Andrea Mantegna's third painting of St Sebastian, which is to be found in the city's Ca D'oro palace.
Sear adopts this rather pessimistic idea of the transience of human life as a keynote for her show while mixing it with her obvious curiosity about the natural world. Her signature piece is the large scale video projection, company of trees (2015).
Norwegian artist Camille Norment's Rapture, which Sear visits at the Nordic pavilion, also includes a set of performances by musicians and vocalists at specific times during the Biennale. The work is designed to explore the relationship between music and the human body.
Pioneering video and performance artist Joan Jonas' installation They come to Us without a Word has been a hit at the 56th Biennale. Its climate-themed works include performance, film, drawing and objects. Sear described it as "a beautiful combination".
A Cultureshock Media Production for BBC Arts.
Venice Biennale
Angolan-born artist Nástio Mosquito's exhibition and also picks his own highlights from the Biennale

Sonia Boyce visits the Czech and Slovak Pavilion to see one of the Biennale's most talked-about works

A tour of Sear's exhibition for Wales in Venice and she visits the Nordic and US pavilions

Will Gompertz with an overview of the British artists on show at the Venice Biennale 2015

Art critic Rachel Campbell-Johnston reports from Venice to review this year's 56th Biennale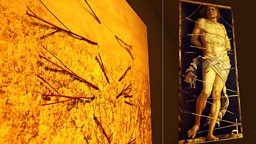 ...caetera fumus (2015) from …the rest is smoke and a still of Mantegna's St Sebastian
Art and Artists: Highlights
Edinburgh's Dovecot Gallery is hosting two major exhibitions as part of the 2015 Edinburgh Art Festival

An astounding photographic collection by 'Speedy George' Douglas

A sculptural mystery tour which takes in several of Britain's finest galleries

Just who was the man behind some of the most memorable artworks of the last century?

The extraordinary work of award-winning American photojournalist Steve McCurry

A major Tate retrospective of the British sculptor, and the dedicated museums in Yorkshire and Cornwall