Main content
Lupita Nyong'o on new movie Us: "It stretched me, it bent me, it cost me a whole lot"
The Oscar-winning star tells 1Xtra's Dotty about the new Jordan Peele movie, plus she reveals a strange phobia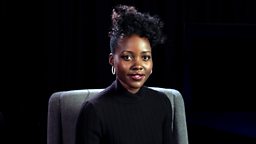 Lupita Nyong'o isn't usually daunted by starring in a film – she's had challenging roles in Black Panther, Queen of Katwe and 12 Years a Slave, for which she won the Oscar for Best Supporting Actress in 2014. But when speaking to Dotty for 1Xtra, she revealed that starring in Jordan Peele's new horror film Us was her biggest challenge yet.
"This movie – it stretched me, it bent me, it cost me a whole lot," she admitted.
In the film, which is Peele's follow-up to the hugely successful Get Out, the Wilson family are haunted by doppelgänger, monster versions of themselves. Nyong'o plays Adelaide, the first character to twig that something is seriously wrong, but she also plays the evil other half, Red.
"I had to be both the light and the dark; two characters in one film," she told Dotty. "And then to hold down both sides of the argument: To see things from one perspective and then from the complete opposite. I had to be judge and advocate for both characters. On any given day, I was being asked to switch from one to the other. It was a full workout."
Just like Get Out, the genius of Us is in how it can make you laugh out loud and tremble with fear in the space of a few seconds – all underpinned by Peele's smart social commentary. "I definitely had a moment of rupture while making this movie. It was not pretty. Jordan might tell you about it," Lupita laughed.
Despite giving a convincingly scary performance, the ominous fear factor of Us didn't stay with her. "When I left this film, I was done. It was out of my system."
One fear she can't shake off, however, is butterflies. That's right, when Dotty asked her for the one thing that constantly freaks her out, she said butterflies. "They have a reputation for being really beautiful, and having pretty wings and being heavenly. But when you look closely at a butterfly, it never loses its monster. There's something creepy about it."
Those with a butterfly phobia won't mind Us, but anyone freaked out by tense, jumpy, brilliantly inventive horrors might want to bring a friend.
Disclaimer: Trailer contains violent and disturbing scenes
Third party videos may contain adverts