Main content
Pasta Con Le Sarde
Escape from the November fogs with this exotic but simple Sicilian Pasta con le Sarde (or more prosaically Pasta with Sardines), in a recipe from Michelin starred chef Giorgio Locatelli.
Pasta Con Le Sarde
This is a dish that sums up Sicily for me: the Arabic combination of sultanas, nuts and saffron (I think it needs lots) shows the history of the island, yet the ingredients themselves have been indigenous there since classical times. If you can't find any wild fennel, use a teaspoon of fennel seeds instead. Soak them, whole, in just a little water - only enough to cover them - for a couple of hours, and add them instead of the wild fennel.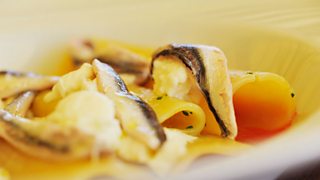 Subscribe to our podcast to be kept up to date with all cookery items.
Tips and techniques
Use the best quality pasta you can afford, and cook for the length of time it says on the packet. Use a timer for this.
If you can't find bucatini, linguine would work too. If the pasta won't fit in the pan, you can bend it or break it up - it makes no difference to the taste.
Always put a little of the pasta cooking water back into the sauce to loosen it up.
Make sure you buy proper Italian pine kernels, they are more expensive but taste completely different from the pine nuts which come from China.
Ingredients
2 salted anchovies or 6 anchovy fillets in oil
100g breadcrumbs
120ml extra virgin olive oil
1 medium onion, chopped
50ml white wine
2 tablespoons 'strattu or 1 ½ tablespoons tomato puree
8 fresh sardine fillets
30g sultanas
30g pine nuts
A good pinch of saffron (about 20 threads)
3 sprigs of wild fennel, finely chopped, or 1 teaspoon of fennel seeds, soaked in a little water (see above)
Sea salt and freshly ground black pepper
200g pasta, such as bucatini
Recipe serves 4
Preparation method
If using salted anchovies, rinse and dry them. Run your thumb gently along the backbone to release it, and then you should be able to pull it out easily. If using anchovies in oil, drain them.
Toast the breadcrumbs in a dry pan over a medium heat, until they are quite a dark golden brown. Take care not to burn them.
Heat half the extra virgin olive oil in a pan and add the onion. Sauté until softened but not coloured, then add the anchovy fillets, stirring them until they 'melt'. Add the wine and bubble up to let it evaporate, then add the 'strattu or puree and bring back to the boil, adding just enough water to give a sauce consistency.
 Add the sardine fillets, sultanas, pine nuts, saffron and chopped fennel or soaked seeds. Taste and season if necessary, stir gently, and cook for 10 minutes.
 Bring a pan of water to the boil, add salt, then put in the pasta and cook for about a minute less than the time given on the packet, so that it is al dente. Drain, reserving some of the cooking water.
 Toss the pasta with the sardine sauce, adding a little of the pasta cooking water if necessary to loosen the sauce, and sprinkle with the toasted breadcrumbs.
Browse previous recipes
Seeking to create perfect pumpkin soup, cracking curry or unbeatable bread and butter pudding?
Browse our selection of Cook The Perfect... recipes

More Food on the BBC
Browse our selection of recipes from top chefs, cooks and food writers who have joined us on Woman's Hour.