Main content
Growing old disgracefully: The Citizens Theatre at 70
The Citizens Theatre in Glasgow turned 70 in September. While the age of the Citz, as it's better known, might suggest respectability, that is not a word which has figured much in its celebrated history. Brash, democratic, embracing, international, feisty, bold, communal... this is the vocabulary of the Citz, a theatre company dedicated to bringing the best new and reimagined classic plays to the widest possible audience, often with an unexpected twist. NEIL COOPER pulls back the curtain on a great Glaswegian - and British - institution.
Watch on BBC Four on Sunday 15 November and on iPlayer for 30 days thereafter
It was all too fitting that director Graham Eatough and writer David Greig's audaciously ambitious staging of Alasdair Gray's novel, Lanark, was playing at the Citizens Theatre on 11 September, 70 years to the night since the Gorbals-based theatrical powerhouse first opened.
Following Lanark's Edinburgh International Festival premiere, here was an epic take on on a magical-realist story that defies easy categorisation today just as it did when it was first published in 1981, and which both mythologised the powers of the imagination to change a city like Glasgow even as it defined them.
Renaming it the Citizens Theatre made a bold statement about this new venture's intended reach, especially situated as it was in the heart of a bombed-out Gorbals
If there is a building that could be said to do something similar, it is the Citizens, the theatre more lovingly known to several generations of audiences, actors, directors and designers who've been inspired by the work barely contained within its walls as the Citz.
Founded in 1943 as the Citizens Company by playwright James Bridie (Osborne Henry Mavor), gallery owner Tom Honeyman and Irish dramatist Paul Vincent Carroll, what became the Citizens Theatre Repertory Company was originally housed in the Old Athenaeum on Buchanan Street before moving across the Clyde two years later into what since 1878 had been the Royal Princess's Theatre.
Renaming it the Citizens Theatre made a bold statement about this new venture's intended reach, especially situated as it was in the heart of a bombed-out Gorbals.
Under Bridie's artistic directorship, the Citz aimed in part to try and capture the spirit of Dublin's Abbey Theatre, and there was a focus on Scots dramatists such as Robert McLellan, Robert Kemp and Bridie himself, with Kemp being possibly the earliest homegrown dramatist to adapt Moliere into Scots. Shakespeare, Shaw, Sheridan, J.B. Priestley and J.M. Barrie made up a stately programme.
Following Bridie's death in 1951, no artistic director was appointed for another twelve years, and during that period The Citz opened its doors to a new wave of contemporary writing, from John Osborne's Look Back in Anger with Fulton Mackay as Jimmy Porter, to what were then similarly early sightings of Arthur Miller's The Crucible and Tennessee Williams' Cat on A Hot Tin Roof.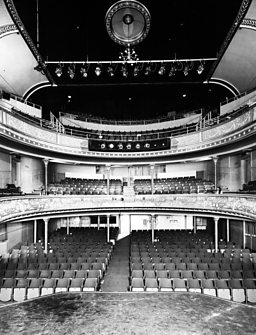 Auditorium of The Citizens, 1977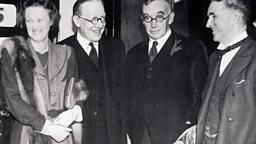 James Bridie, second from right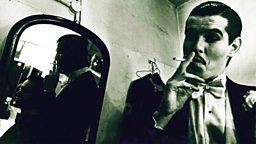 Pierce Brosnan backstage at the Citizens Theatre, Glasgow during Semi-monde, 1977
From 1963 to 1969,the five directors who oversaw the Citz, including Callum Mill and Iain Cuthbertson, would offer portents to come as they fully embraced European theatre to their programmes.
It was during this period too that the experimentally inclined Close theatre was founded. The Close was a 150 seat annexe that the Citz opened up in an adjoining dance-hall in 1965 as a club in order to get around the beady moralistic eye of the Lord Chamberlain, who was charged with censoring out of a script any perceived lewdness or insurrectionary act.
With a bar open longer than the local pubs and members even able to get a drink on a Sunday, beyond its risqué avant-garde programme involving the likes of Steven Berkoff and mime auteur Lindsay Kemp, it was in The Close, one suspects, that the Citz's reputation for Dionysian excess extended off-stage.
It is also said that the corset worn by Tim Curry in the original London production of The Rocky Horror Show was first sported by the young actor during his tenure in the Gorbals. With The Close sadly destroyed by fire in 1973, any ghosts of that era probably took such legends with them.
Throughout its existence, the Citz has had a remarkably stellar acting alumni pass through its ranks. The bar was set in these early years, with such luminaries as Stanley Baxter, Edith MacArthur, Duncan Macrae, Fulton Mackay, Russell Hunter and Roddy MacMillan opening the door for youngsters such as Hannah Gordon and Tom Conti.
Giants such as Iain Cuthbertson blacked up as Othello, Albert Finney took the title role in Pirandello's Henry IV, while waves were made in 1968 when Leonard Rossiter took the title role in Brecht's parable on Hitler, The Resistible Rise of Arturo Ui.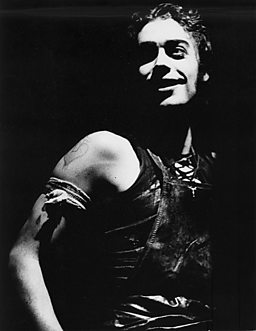 Tim Curry at the Citizens Theatre, 1971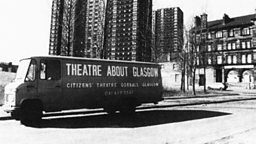 A van displaying the Citizens Theatre's TAG logo in Glasgow
Probably the Citz's most lionised era began in 1969, when a young director called Giles Havergal took the helm. Over the next thirty-odd years, Havergal, alongside his co-directors Robert David MacDonald and Philip Prowse, redefined what a rep theatre could be.
Despite the Citz's location in the heart of an unreconstructed working class community, rather than patronise their patrons, they offered up Goethe, Schiller, Marlowe, Proust and Jean Genet
Through a combination of unabashed intellectualism, a visual flamboyance that bordered on the decadent and a taboo-busting irreverence with both greater and lesser known classics, the Citz became a truly European theatre.
In the first decade of the triumvirate's reign controversy was almost de rigeur, ever since a near nude 1970 production of Hamlet that saw a dynamic young actor called David Hayman take the lead in a show one newspaper headline described as 'Hamlet Depicted As A Gibbering Oaf', but which hungry young audiences flocked to anyway.
Hayman would become a key figure of the Citz's acting ensemble of the era, whether playing Lady Macbeth in another controversial Shakespeare or a myriad of classical roles.
Actor Ian McDiarmid, who played the title role in the Citz's 1971 production of Brecht's The Life of Galileo, has described the triumvirate's approach to casting as being one more responsive to personalities than more conventionally trained actors.
This can be borne out, not just through Hayman and McDiarmid, but through the likes of Gerard Murphy and Laurance Rudic, who both made their mark at the Citz. While all were fine actors in their own right, each came too in full possession of a star quality that has rippled throughout the company ever since.
This approach lent itself to the Citz's bold stylistic reinventions of classic plays that chimed with the new freedoms afforded by the abolition of the Lord Chamberlain in 1968.
Even if the Lord Chamberlain had still possessed any power, the fact that Citz productions went beyond words to make for an equally rich visual experience might have meant such restraints would have had little effect.
There may have been plenty of adaptations an translations, usually penned by MacDonald alongside some fifteen of his own original plays, but, with Havergal as ringmaster and madam, the Citz was as far from a British literary-based theatre as you could get.
The visual drive of the regime came from Prowse, and it is telling that other designers he brought in such as Kenny Miller and Stewart Laing both moved into directing their own work, combining their Citz-sired skills to become theatre makers of note both in and out of the building.
One of the crucial benchmarks laid down in this era too was that, despite the Citz's location in the heart of an unreconstructed working class community, rather than patronise their patrons, they offered up Goethe, Schiller, Marlowe, Proust and Jean Genet.
This was done too in a take it or leave it fashion which may have occasionally enraged the city fathers, but which, with tickets available free to anyone turning up on the night with their dole card – and in the 1970s and 1980s there were plenty- arguably captured an entire generation of back street autodidacts. It was this mix of Glaswegian localism and classicist internationalism that has set the tone at the Citz ever since.
This could be seen too in the Citz's theatre in education arm. TAG (Theatre About Glasgow) was set up in 1967 as Citizens Theatre For Youth, and throughout the 1970s and 1980s as TAG epitomised the blossoming grassroots outreach and community theatre scene.
A company which at various points featured the likes of Alan Cumming, Robert Carlyle and Blythe Duff in its ranks toured the city's schools where they performed to young audiences, many of whom were discovering theatre for the first time. TAG eventually grew into a national touring theatre company in its own right before eventually being absorbed back into its parent theatre's infrastructure.
Today, under the guidance of directors Guy Hollands and Neil Packham, the Citz's outreach work is covered by the Citizens Young Company and the Citizens Community Company.

Bargain prices at the Citizens Theatre in Glasgow's Gorbals district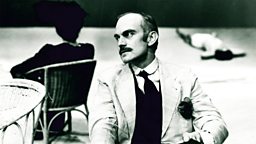 Giles Havergal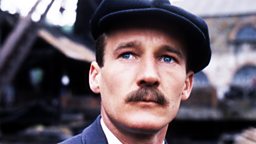 David Hayman, 1982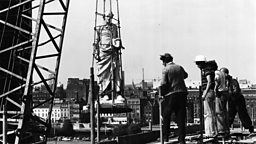 A statue of Shakespeare on the roof of the Citizens Theatre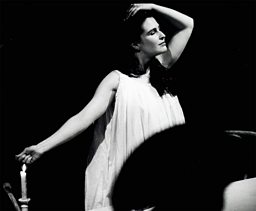 Helen Baxendale in Soldiers, 1993
Glenda Jackson in Brecht's Mother Courage and her Children, 1990
During the triumvirate's tenure the Citz continued to nurture talent, and young turks such as Pierce Brosnan, Alan Rickman, Frances Barber, Gary Oldman and Rupert Everett all cut their acting teeth on the its stage.
Rupert Everett returned several times after finding fame on film, lending an ongoing whiff of glamour
In Everett's case, at least, he returned several times after finding fame on film, lending an ongoing whiff of glamour that could continue to attract the likes of Ken Russell starlet Georgina Hale, A Taste of Honey's Murray Melvin or Sophie Ward to perform in one of the theatre's two studio spaces that had opened up.
1990 saw a revival of Pirandello's Enrico IV for the Citz's programme to accompany Glasgow's tenure as European City of Culture in 1990. Also in the 1990 season was a production of Brecht's Mother Courage ad Her Children starring Glenda Jackson in the title role.
Jackson returned to the Citz a year later to appear in Eugene O'Neill's Mourning Becomes Electra, one of the actress's final stage roles before being elected as a Labour MP in Westminster in 1992.
The triumvirate continued their reign over a decade that saw the Citz embrace a new wave of writing via Harry Gibson's stage adaptations of several Irvine Welsh novels as well as little seen works by Mae West and Noel Coward.
Then, after an astonishing thirty-four year run, Havergal, MacDonald and Prowse – all long-standing players on the world stage by now – finally departed the Gorbals in 2003 and 2004, with Jeremy Raison moving in as the Citz's new artistic director.
With Guy Hollands joining Raison as co-artistic director in 2006, the Citz continued to bridge the relationship between the local and the international through the likes of an adaptation of Ron Butlin's novel, The Sound of My Voice, a look at German playwright Franz Xaver Kroetz's play, Tom Fool, and main stage productions of work by Tom Murphy, Harold Pinter and Caryl Churchill's Top Girls, with former This Life star Daniela Nardini in the cast.
It was the appointment of Dominic Hill as artistic director of the Citz in October 2011, however, that really started to build bridges between each era of the theatre's past with its bright new present.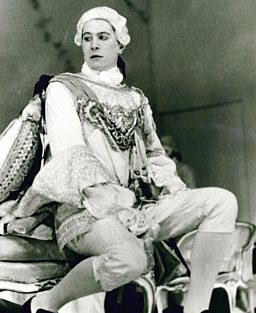 Gary Oldman in Der Rosenkavalier, 1983
One of Hill's opening statements was to cast a prodigal David Hayman as King Lear in a programme that focussed on putting work onto a big stage.
What has made the Citizens Theatre unique is its willingness to embrace the new in all its forms, however shocking that may be
This was the case both for his epic stagings of Dostoyevsky's Crime and Punishment, as adapted by Chris Hannan, or Hamlet starring a brooding Brian Ferguson as the Danish prince, in Hayman's own production of John Byrne's The Slab Boys, or for Samuel Beckett's solo chamber piece, Krapp's Last Tape, for which Hill brought back another golden age prodigal, Gerard Murphy, in what would be Murphy's final triumphant stage role.
For all its past legends, myths and scurrilous stories, the Citizens Theatre's artistic sights are set squarely on the future, albeit with the same knowing nods to the forces that shaped it that saw David Hayman cast as King Lear.
Beyond its current production of Lanark, the Citizens opens up its Circle Studio for a season of work to commemorate the fiftieth anniversary of the Close. On the main stage meanwhile, next month sees the opening of a major new musical play by actor and writer Paul Higgins and Deacon Blue frontman and songwriter Ricky Ross. This marks the first collaboration between the Citz and commercial producers, Ambassadors Theatre Group.
Beyond that, already announced for the Citz's 2016 programme is another collaboration, this time with just opened state of art Manchester venue, Home, on a production of Samuel Beckett's play, Endgame, which will star Coronation Street actors, David Neilson and Chris Gascoyne.
Outside of the work itself, plans are well under way for a multi-million pound development that will retain the Citz's unique character while bringing its physical and technical facilities in line with twenty-first century needs.
In this respect, while on one level the Citizens remains defiantly old-school in a world based on market forces, it must, like Alasdair Gray's imagined Glasgow, reinvent itself anew just as the landscape of the Gorbals has around it. Because what has made, and continues to make, the Citizens Theatre unique is its willingness to embrace the new in all its forms, however shocking that may be.
Neil Cooper is Theatre Critic of The Herald.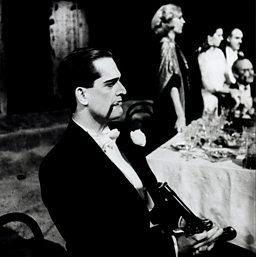 Rupert Everett in George Bernard Shaw's Heartbreak House, 1985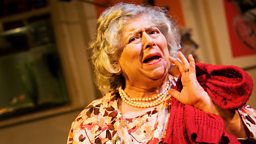 Miriam Margolyes in A Day in the Death of Joe Egg, 2011