Main content
Why now is the perfect time to get into jazz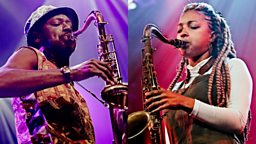 By Emma Finamore
6 Music headed to Cheltenham Jazz Festival this weekend, with live broadcasts from Gilles Peterson (Saturday 4 May, from 3pm) and Cerys Matthews (Sunday 5 May, from 10am).
Gilles' show featured interviews with Sérgio Mendes, Joshua Redman and Bugge Wesseltoft and a live session from Alfa Mist, while Cerys was joined by Ezra Collective's Joe Armon-Jones, festival director Ian George and legendary South African pianist/composer Abdullah Ibrahim. There was also a live session from Kansas Smitty's House Band.
Following reports of a "jazz renaissance" among younger listeners, what makes this moment in jazz so exciting and especially worth celebrating? And why is now a great time to discover the genre altogether?
Seeking inspiration from grime and other homegrown genres
A main element of what makes the current UK jazz scene so refreshing is the melding and crossover with other genres, Gilles Peterson says. "That's what gives the UK a bit of an edge. We're unique here – this country has always been brilliant for music culture and pushing it forward, obviously with all the different elements that have come out of dance music through the years, whether that's the original acid house spirit, or Northern soul, or grime, dubstep, drum n bass… all the things that have come out of the UK and had an impact globally."
Moses Boyd - a drummer, composer and producer, spearheading South London's vibrant jazz scene - grew up listening to grime, like Roll Deep, and was mentored by electronic producer Floating Points. He has also been part of the line-up for the 1Xtra Residency.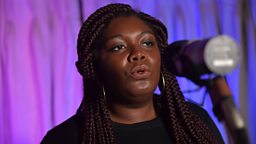 Taking its cues from all over the world
But UK jazz artists have been influenced by music from further afield as well as by fellow homegrown talent. Singer Yazmin Lacey (pictured above) – who grew up in East London but found her musical beginnings in Nottingham – incorporates RnB, soul, reggae and even garage into her contemporary take on jazz. Meanwhile, Your Queen Is a Reptile by British jazz group Sons of Kemet, nominated for a Mercury Prize this year, explores dual Caribbean and British identities, featuring bars from pioneering jungle MC Congo Natty.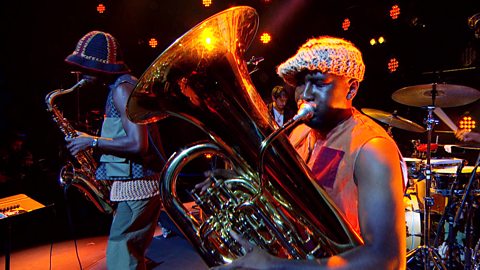 Sons Of Kemet perform My Queen is Harriet Tubman live at the Hyundai Mercury Prize 2018.
Jazz Re:freshed – promoters who have been putting on live jazz event in West London on a weekly basis since 2003 ("They've been basically pushing the scene throughout the 'less lit' period and have been constantly supporting and pushing new artists, everyone from Nubya to the Ezra Collective," says Gilles) – come from a background in hip hop and broken beat, and blend these influences with the jazz acts they present live. We Out Here – a compilation released by Gilles' Brownswood Recordings earlier this year, and overseen by young London saxophonist Shabaka Hutchings – reflects influences from West Africa to the American South, from free jazz to trap.
It is Britain's rich multicultural history that has informed UK jazz's melting pot sound. Gilles explains: "All those influences are very much in the DNA of all these new jazz musicians. That's what's giving them more of a natural feeling for that culture, and it's coming through in their music. With British musicians. they've got reggae, bass music culture, and you can hear it all in the music – that's what makes it really exciting."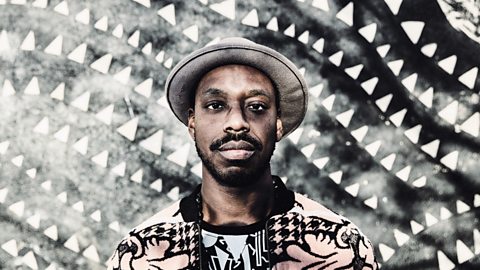 Shabaka Hutchings talks about creating new mythologies and the new Sons of Kemet album
How club culture is to thank
The UK's club culture has also had a hand in lowering the average age of a jazz enthusiast, according to Gilles. He says: "I think the really great club culture here is what makes a difference too, you can hear obscure African tracks in a club in England - it's almost part of everyone's record collection now."
The feeling is that it's music that belongs to the younger generation

Gilles Peterson
"If you go to Steam Down in Deptford [South-East London], it's packed with young people," Peterson explains. "I was performing in Brixton and played a few jazz tracks – and they all went nuts, as if I was playing Joy Orbison or something! The feeling that it's music that belongs to [the younger] generation is what makes it really interesting."
There's a firmly DIY nature to the UK current jazz scene, Peterson says, and perhaps it is this that lends itself to such experimentation. It's what sets the current crop apart from their predecessors, according to Gilles. "The current jazz scene is really exciting because – as opposed to previous scenes – it's got a confidence and is comfortable in doing it without any help," he explains. "Even though there is support for musicians, they've all basically gone and done it themselves. It's a DIY mentality, almost as if this is the first generation of jazz musicians who've really taken advantage of social media and all of that, on top of the structures that exist already."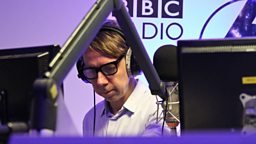 "Fundamentally they've gone out and done their own events and put on their own gigs, and have just been playing a lot. And the more they play, the better they get – they're getting world class."
Jazz artists are more relatable now
Another element that makes this an important moment for jazz is its stars. For a genre that can often get lost behind its emphasis on pure musicianship, rather than showmanship, these days jazz fans have artists they can relate to as well. "Like any scene, you need great leaders and great role models," says Gilles. "That's what this scene has in abundance. There are some really great spokespeople – just like you had in drum n bass and in grime – all these people who were really great communicators. I think with the jazz scene, whether it's Shabaka, Nubya, Moses or Femi Koleoso, they're all really brilliant people to communicate the message, really powerful and strong, confident and intelligent, and smart. But also they don't take themselves too seriously."
It's important to Gilles to reflect and appreciate the music coming out of different regions too. Gilles is looking forward to seeing Matthew Halsall (who hails from Manchester) soon, and his show on Saturday he'll be ensuring the light isn't shone just on London, but a range of places incubating innovative music, and celebrating those who've been flying the UK jazz flag since before the recent hype.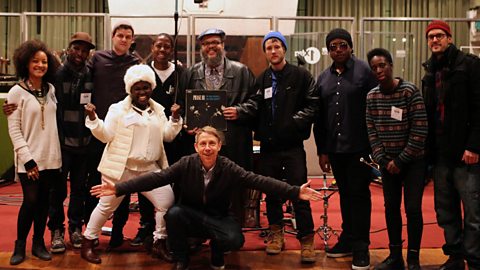 Behind the scenes with Gilles Peterson's All Star Band, in session at BBC's Maida Vale.
Across the pond...
It's not just the UK scene breaking new ground with jazz, though. In the US, Kendrick Lamar has been incorporating jazz and hip hop, Thundercat has been combining RnB and electronica, while Kamasi Washington's brand of jazz has been influenced by Afrofuturism. Canada's BADBADNOTGOOD are also an act very central to jazz and hip hop's fusion in recent years.
People hearing it for the first time think, 'actually, jazz isn't all that weird!'

Gilles Peterson
A whole world of discovery
These big names dabbling with jazz - as with British RnB sensation Jorja Smith working with the likes of the Ezra Collective - can often turn new listeners on to the entire genre. "A whole world of music is being discovered and people hearing it for the first time think, 'actually, jazz isn't all that weird!'. It's a natural progression, and also it's a response to the democracy of the way people listen to music now."
Peterson also cites certain UK records as being a gateway into jazz, and making connections with other genres. "When we put out Yussef Kamaal on Brownswood a few years ago, you could consider that a jazz record, that was an entry point for so many people. Everyone who was into dance music was buying it. It was an interesting record in terms of hip hop and grime too: it was what connected this new jazz with these other British genres."
"Since then Kamaal Williams (one-half of Yussef Kamaal) has gone on to work with a lot of grime artists, and I'm about to do a record with producer Swindle, who's coming more from the bass scene but he's always been mixing stuff with jazz and working with people like Kojey Radical and Mahalia."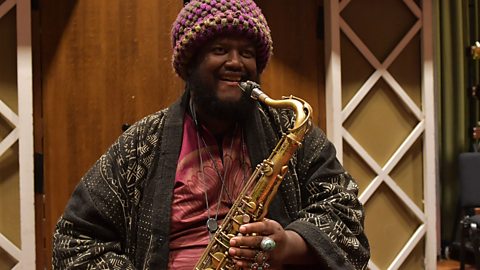 Saxophonist Kamasi Washington chats to Lauren and Gilles Peterson about his new album.
What's next for jazz?
"The most exciting record I've heard recently is the new Comet is Coming album – the next Shabaka Hutchings project that he does with Soccer96 – I think that's going to win the Mercury Prize next year. I was gutted when Sons of Kemet didn't win this year, even though I heard it was neck-and-neck. But that's why I think it'll happen next year, the Comet is Coming record is a more rave-y version of Sons of Kemet, and more prog-rocky too. That'll be one to watch."
Gilles is already looking to what this current wave of UK jazz frontrunners will do next, both in terms of composition, and in terms of breakout mainstream, dance floor success. He's got some tips on 'ones to watch', like guitarist Shirley Tetteh, making alternative, almost indie jazz, and Emma-Jean Thackray: "A great trumpeter who does a lot of interesting things."
But he also lays down a challenge for the musicians: "I'm looking forward to getting anthems out of the new scene, the tracks and everyone knows is British and that you can just play it in the club. It's important to have anthems." With this new wave of artists at the helm, it's a prime time to finally get into jazz.