Main content
10 life hacks from golfer Nick Faldo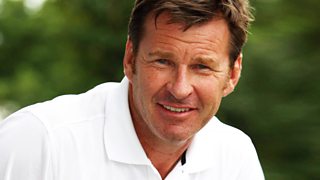 Donald Trump's post-election round of golf is no longer the biggest story in the sport… The Masters Tournament is underway at Augusta!
To mark the start of the tournament, the Don't Tell Me The Score podcast hears from three-time Masters and Open winner, and former world number one, Sir Nick Faldo. Host Simon Mundie hears about the fascinating methods and visualisation techniques that Faldo used so effectively, and how they resonate with people from all walks of life.
1. Just breathe
Sir Nick Faldo's introduction to visualisation techniques and mindfulness began when his first golf teacher, Ian Connelly, told him about how biathletes had to lower their heart rate when they stopped skiing and prepared for the rifle-shoot.
Sir Nick Faldo in action
"Nobody said to me how to slow my breathing down," says Sir Nick, "so I guess I must have just done this by experimenting, walking slower, breathing slower, talking slower, and then I could swing slower."
Later Faldo would receive some expert advice to hone this even further. "You can do this in the car – look at the red [traffic] lights and breathe from your diaphragm, pushing your belly out then breathe out from the bottom of your belly and push the air out through your lungs: 5 seconds in, 5 seconds out."
2. Success is a simple circle of hard work
Thanks to his clear head and sharp focus, Faldo could see a very obvious - and circular - path to success: "I would practice hard, prepare, go off and play a tournament, learn from that experience, assess it, and come back and practice hard again. It is as simple a circle as that."
3. Use facts to help you through a setback
When he was faced with defeats and disappointing performances, Sir Nick admits that he would get frustrated. He learned to tell himself to "be factual", meaning, after letting off a bit of steam, "find out what really happened, put finger on what you want to do, assess it, then feel better, ready for another day". So try to focus on the facts and avoid getting lost in the emotion of the moment.
4. Don't be afraid to change direction
A decision to change his swing style mid-career set Faldo back for two years, but, ultimately, helped him reach world number one.
"Never be afraid to change direction," he says of his choice. "It's not a failure, this word failure is used too much. Successful people know you learn far more from a failure, it gives you determination."
5. See success in your mind
Sir Nick won his first Open at Muirfield in 1987. In the most famous instances of his visualisation techniques, he knew he would triumph before it happened.
"The Wednesday before, I was messing around with a putter. I walked back up the first green, and on the left was the big giant leader board with no names on it – it just said 'Welcome to the Open'. I looked and I saw Faldo at the top of the leader board in my mind, and I thought 'OK, I can handle that', and I just kept walking."
6. The Pink Bubble technique
As well as the leader board vision in 1987, Faldo, unprompted, saw himself with the Open trophy (the Claret Jug) at the breakfast that the BBC has with the champion. "Nobody taught me that, that's natural," says Faldo.
Years later, the Pink Bubble technique put a name to the kind of creative visualisations he manifested. Faldo subsequently adopted the technique and used it twice a day.
"You would ask 'what's your goal?' and say 'I want to win this week', and you picture winning and holding the trophy. You put it in a bubble, send it out to the universe and you let it manifest. I know the words, but I don't know how it does it."
7. Act as if time is nearly up
Tennis champion Björn Borg was Faldo's first sporting hero. Known for his ice-cool temperament, Borg's emotional state impressed Faldo. Sir Nick says that he later heard that Borg used to train and practise as if it was always fifth set, an intense mental state.
The big word is "want"...
Faldo tried to bring the same level of intensity to his golf game. "It blows your mind to do that. I tried it at the US Open in 1987. I pretended every shot was for the Open and I won."
8. Focus on what you want
Faldo believes sports psychology is as simple as keeping your eye on what you want. "If you're looking at the target and are focused on what you want to do rather than going 'oh. I don't want to do this, I don't want to do that', there's a huge difference, isn't there?"
"The big word is want – if you look at the flag and say I want to hit it at the flag, that's where I am focusing. If you look at the green and you say I don't want to hit it in the bunker, what do you see? The bunker!"
9. Practice until you know you can do it
"Golfers need to know that when you connect with a ball that there are not going to be any surprises," says Faldo. "That for me is how you generate self-belief."
"I can sense how I do it, I know I swing like this and it's going to feel like that. There's a magical moment after you practise, and you go off and compete – I don't know whether it's the 10,000 hours rule – where you suddenly go 'I know I can do this'."
10. Forget about the missteps
When Faldo played a bad hole, he would use a neat mental trick to take the sting out of it. "I would pretend that by the time I had got to the next hole two weeks had gone by. I then had no memory of it and lost the emotion of it."
A similar method saved Faldo at the 1992 US Open, where he appeared to have squandered his chance of winning.
"I was world number one and favourite to win – and basically I had frittered it all away without realising it. I was making lots silly mistakes even though I was all right, nerve-wise. I walked off the 14th green and said to myself: 'forget the whole week, I've got four holes to play and you better play the best four holes of your life'."
And he did.
How to harness the power of your imagination to achieve success, with Britain's greatest ever golfer. Sir Nick Faldo spent 97 weeks as the world number one and won six majors; he attributes much of his success to his powers of visualisation, which is the theme of this episode.

More insights from Don't Tell Me The Score