Main content
From the Soundstart Launch 2018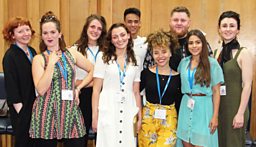 Some of the winners and runners up from the Soundstart launch 2018.
About Soundstart
In 2003 BBC Radio Drama celebrated both the fiftieth anniversary of what is now the annual BBC Carleton Hobbs Bursary Award, and the first year of a new acting initiative, the BBC Norman Beaton Fellowship.
Together these two radio awards are celebrated under Radio Drama's umbrella title for its acting initiatives : (((soundstart))).
In 2003 via these two bursaries, Radio Drama welcomed seven new actors to five-month contracts with the Radio Drama Company.
As well as work undertaken via the two acting events, (((soundstart))) initiatives include:
Regular actor workshops for freelance engagements
Actor workshops for membership of the Radio Drama Company
Out-reach workshops in the community
Voice CD auditioning with BBC radio producers
Advice on how to compile voice-reels
Advice on how to get into radio work