Main content
If you go down to the woollen woods today
15 May 2015
You really may be in for a big surprise if you head down to the woods today as the flaura and fauna may not quite be as they seem. Hundreds of knitters, felters and embroiderers have been busily creating magical animals and flowers to display in their local forests.
The outdoor art installation called Woollen Woods is part of 2015's Voluntary Arts Week, which starts on Friday 15 May and runs until Sunday 24 May.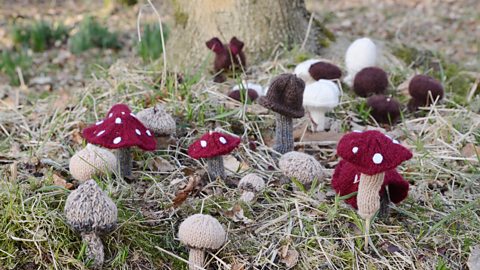 Woollen art pieces have been placed at Talkin Tarn Country Park near Carlisle.
Woollen Woods was launched in 2013 by Eden Arts, bringing crafters from across the world together to create a magical fibre forest in the grounds of two National Trust properties – Acorn Bank in 2013 and Sizergh Castle in 2014. The work produced featured everything from felted fungus to knitted slugs.
It is supported by The Campaign for Wool, a project initiated by Prince Charles to highlight the sustainable story of the natural fibre.
This year visitors will be able to see woolly widlife in various locations across the country from the 15 May. Check out the links below to see what they have planned and how you can get involved:
If you're visiting the Woollen Woods and feel inspired to photograph them, or to create your own, please share it with us on social media using the hashtag #bbcgetcreative.
This year's Voluntary Arts Week takes place from 15 - 24 May.