Main content
Nine things we learned from Marlon James's Desert Island Discs
Novelist Marlon James won international acclaim for his third novel, A Brief History of Seven Killings, which scooped the 2015 Man Booker Prize. He was the first Jamaican to win the prize, with a book which centres on an attempt to assassinate Bob Marley. Marlon James now teaches creative writing in Minnesota. His most recent novel, Black Leopard, Red Wolf, turns to fantasy and is the first of a proposed trilogy.
Here are nine things we discovered from Marlon James's interview with Lauren Laverne:
1. He destroyed every copy of his first novel before it was published, and only rediscovered it in his email outbox
After 78 rejections of his first manuscript James decided to give up his authorial ambitions. "I didn't believe in myself, which is why I destroyed that manuscript," he explains, "I pretty much forgot about being a writer." He credits the American novelist Kaylie Jones for forcing him to find her a copy: "She would not take no for an answer and I had to find it in an email outbox and send it to her," he says. "I didn't have enough paper and I had to cut the first 20 pages and the last 20 pages. Clearly I didn't need them because no one ever said: 'This novel feels like it's missing something.'"
2. He had 'Shakespeare duels' with his father
His father was a lawyer and despite "a complicated relationship" they bonded over literature, duelling over who knew Shakespeare's plays best. James notes that it was pretty competitive: "he would win with Julius Caesar, I would win with Hamlet, no one would win with Macbeth."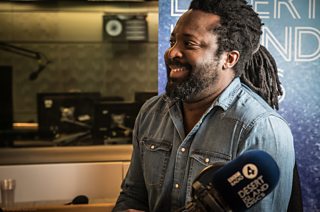 3. He was nearly in the toilet when his Booker Prize win was announced
James wasn't expecting to win the prestigious prize and needed to relieve himself: "When they were about to announce the verdict I got up to go to the bathroom. I was like: 'Whatever, I'm going to go.' I should have known [I was going to win] when three people followed me!" He laughs about it now: "They even stayed near the stall! I was like, 'You have got to be kidding!' There was a woman too in the men's stall."
4. For years at school he pretended not to know his own brother
James characterises himself in schooldays as "a nerd", "a geek" and "also probably the school sissy". His brother Andre, on the other hand, was "cool" and Marlon didn't want to spoil things for him. "I just decided that, you know what? I'm not going to ruin your cool, or ruin your life," he explains. "The most we may have done is nodded at each other for the next five years, and then especially when he had to repeat a year and ended up in my class, nobody knew. We didn't sit near each other; we didn't acknowledge each other."
5. He had an "exorcism to drive out the gay"
As a young man in Jamaica – a country which still criminalises male homosexual activity – James took a long time to accept his gay identity. Towards the end of the 1990s he even joined an evangelical church opposed to single sex relationships. "I didn't know I was gay," he says. "The cool thing about church is that at church you can put things on hold for as long as you want. We're all repressed together: let's just forget all emotion and think God will provide." But things became extreme. "I had my exorcism to drive out the gay," he explains. "In hindsight I realise it was extreme ex-gay therapy. At the time I just thought they were driving out demons."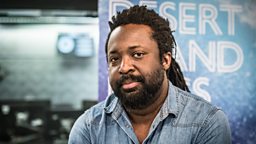 6. He found a solace in the words of Nirvana's Kurt Cobain
He picks Nirvana's Smells Like Teen Spirit because the band made him feel he wasn't alone. "There's liner notes in the Incesticide album where [Cobain] talks about all these people: homophobes, sexists..." James recounts, "'if you're that person' – he says a bunch of words I can't say on the radio – 'don't come to our concerts and don't buy our records.' It was the first time I felt someone's got my back. So Nirvana is super-special to me."
7. He escaped a career in advertising by getting suspended from work
James offers advice to creative people stuck in corporate jobs: "You need to know if you're a writer doing copy or a copywriter. You need to know if you're an artist doing graphics or a graphic artist. Those are not the same things. If you're a writer doing copy or an artist doing graphics you have to have an exit strategy." James's own exit strategy was unconventional: "Get suspended from the job and walk off." As he puts it: "I went on a photo shoot and [my boss] thought I didn't have to go. He thought I was chasing girls – I mean, somebody didn't get the memo."
8. He would get changed in a bookstore bathroom when he went out in New York
When he was staying in the staunchly conservative Jamaican community in the Bronx in New York, he dressed "as normal and as strait-laced" as he could, but when he went out he would find a place to change into something different. "I'd go into the [bookstore] Barnes & Noble disabled bathroom because it was wider, and I'd go in, take off all my normal, straight clothes and put on my fabulously gay, queer clothes." It limited his opportunities to stay out late though: "It was like Cinderella because I had to get back before Barnes & Noble closed." When he moved permanently to Minnesota in 2007 he decided to always be himself: "I wasn't going to have two versions of myself in Minneapolis."
9. As an obsessive fan, he once tried to break in to Prince's Paisley Park
James's describes Prince as his "favourite artist of all time" and chooses the late singer's 1984 single When Doves Cry to take to his desert island. His fandom peaked on his 38th birthday when he and a group of friends decided to try and sneak into Prince's famous home studio, Paisley Park. Things didn't go quite to plan though: "As I literally, instantly touched the gate all the floodlights go off, an alarm goes off, suddenly there are armed guards everywhere. They might be cops they might be anything. We are freaking out!" The guards turned out to be friendly though: "We spent pretty much the rest of the night with them telling us all the hilarious stories of the people who turn up at Prince's gate."

Hear more authors on Desert Island Discs...