Main content
The James Plays
One of the highlights of the Edinburgh International Festival moved to London's National Theatre in September 2014. This vividly-imagined trilogy brings to life three generations of Stewart kings who ruled Scotland in the tumultuous 15th century.
Billed as historical drama for a contemporary audience, the unprecedented co-production by the National Theatre of Scotland, the EIF and the National Theatre of Great Britain features an ensemble cast of extraordinary characters in a unique vision of a country tussling with its past and future.
Introduction to the James Plays by Rona Munro
Rona Munro's introduction is taken from the published text of The James Plays, published as a trilogy by Nick Hern Books.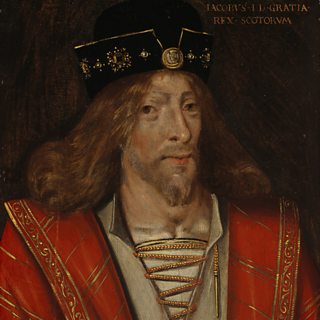 King James I
I'm certain that human nature is exactly the same now as it was then

Rona Munro
The process of writing these plays has been long (though not as long as you might suppose) and, at the time of writing this introduction, it's ongoing.
I am currently in rehearsal with the most extraordinary company of actors in the longest, most challenging, most terrifying and most exhilarating rehearsal process I have ever experienced.
I've long had the ambition to write on this scale. However, having the ambition is one thing. You also need the ability and the opportunity.
It's an unfortunate fact that very few contemporary playwrights get the writing commissions that allow them to develop the ability to write on a large scale, still fewer get the opportunities thereafter.
If you enjoy these plays at all you should understand that I owe a debt to a series of theatre companies and other organisations who support and develop new writing for the stage and who have allowed me to grow to the point where I felt able to go for the big dream.
These plays are set within a period of Scottish history which is virtually unknown. I feel a certain responsibility, therefore, to alert you to the fact that some small liberties have been taken with known events in order to serve our stories.
Certain characters represent amalgamations of many characters or stand for political forces within Scotland. Certain events have had their timelines altered to maximise the drama. However, as far as narrative imperatives allow, I've followed history and used primary sources.
We cannot know the character and thoughts of these dead kings and queens and long-gone Scots. We can speculate a whole series of possibilities from the few hard facts we can rely on, the slim historical evidence of their actions.
However, I feel robustly certain that whatever their thoughts and feelings might have been, human nature is exactly the same now as it was then. Only culture and circumstances have changed.
I've translated and used words from the 15th century within the plays, so you'll read songs with lyrics taken from The King is Quair, the love poem written by James I himself.
There are versions of work by the wonderful poet Robert Henryson and of anonymous authors whose words have still come down to us.
If any ghosts are offended by my appropriation and free interpretation of their work, I hope they'll still appreciate the wider publicity.
Plot synopses
James I: The Key Will Keep The Lock

By Rona Munro, directed by Laurie Sansom

The first of the historical trilogies explores the complex character of this colourful Stewart king – a poet, a lover, a law-maker but also the product of a harsh political system.

James I of Scotland was captured when he was only 13 and became King of Scots in an English prison.

Eighteen years later he's finally delivered back home with a ransom on his head and a new English bride.

He's returning to a poor nation, the royal coffers are empty and his nobles are a pack of wolves ready to tear him apart at the first sign of weakness.

But James has his own ideas about how to be a king and, after 18 years, he finally has the chance to realise them.

James is determined to bring the rule of law to a land riven by warring families, but that struggle will force him to make terrible choices if he is to save himself, his Queen and the crown.
James II: Day Of The Innocents

By Rona Munro, directed by Laurie Sansom

In the second of Rona Munro's dynastical trilogy, innocent games merge with murderous intent in a violent royal playground of shifting realities and paranoia.

An eight-year-old boy is crowned King of Scots. Soon James II is the prize in a vicious game between the country's most powerful families, for whoever has the person of the boy king, controls the state.

Seen through a child's eyes, the Scottish court is a world of monsters with sharp teeth and long knives.

Growing up alone, abandoned by his mother and separated from his sisters, James II is little better than a puppet.

There is only one relationship he can trust, his growing friendship with another lonely boy, William, the future Earl of Douglas.

The two boys cling together as they try to survive the murder and mayhem that surrounds them.

But the independence and power of young adulthood brings James into an even more threatening world.

He has to fight the feuding nobles who still want to control him, he has to make brutal choices about the people he loves best, he has to struggle to keep his tenuous grip on the security of the crown and on his sanity...while the nightmares and demons of his childhood rise up again with new and murderous intent.
James III: The True Mirror

By Rona Munro, directed by Laurie Sansom

Like James III himself, the final instalment of Rona Munro's trilogy is colourful, brash and unpredictable.

It turns its eye on the women of the royal court, both lowly and high born, who prove to be its beating heart.

Queen Margaret, married to James III is played by Sofie Gråbøl, most known to audiences as Sarah Lund in the Danish TV series, The Killing.

James III of Scotland. A man who's irresistible, charismatic, a man of fashion and culture. A man with big dreams...and no budget to realise any of them.

Obsessed with grandiose schemes that his nation can ill afford and his restless nobles will no longer tolerate, James is loved and loathed in dangerously unstable proportions.

But Scotland's future will be decided by the woman who loves him best of all: his resourceful and resilient wife, Queen Margaret of Denmark.

As dreams battle brutal realities and the nation thunders dangerously close to regicide and civil war, her true love and clear vision offer the only protection that can save a fragile monarchy and rescue a struggling people.

But the cost for Margaret herself may be too high.