Main content
The death and rebirth of Zora Neale Hurston
Once forgotten, she is now revered by everyone from Alice Walker to Solange Knowles, both of whom discuss her influence on them in the Seriously podcast A Woman Half in Shadow. But who was Zora Neale Hurston?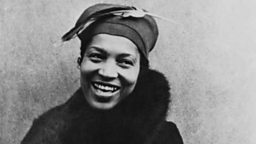 She was a novelist and a folklorist. The queen of the Harlem Renaissance. She was a contrarian, who didn't seem to believe in anything apart from the freedom to be herself. She was an African American original, born in Alabama in 1891, who died penniless and all but forgotten in Florida in 1960. And yet, in minds and memories, she persists.
Among those who have come to claim her as a foremother are literary greats Maya Angelou, Toni Morrison, Alice Walker, Zadie Smith and recent Booker Prize-winner Paul Beatty as well as a certain Beyoncé and Solange Knowles.
Interviewed on Radio 4's Seriously podcast, A Woman Half in Shadow, Solange speaks about how Hurston's work influenced when she first read it: "As a black woman, and a black womanist and feminist, I felt incredibly empowered by Zora's work. Though the work was set in a completely different time and context so many of the themes were so relevant to my life at the time and I applied them to my life at the time."
Pointing to the "strength and grace" in her prose, Solange notes the impact Hurston has had on her own work. "The biggest impression her work has had on me as a writer is just her way of communicating these themes. It's poeticness and it's bluntness. I think that she has such an incredible gift with that."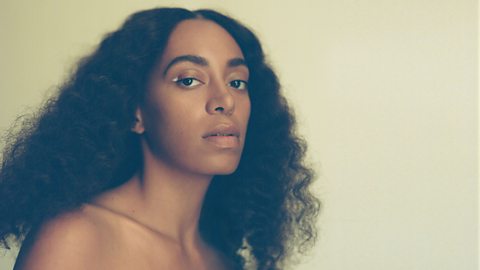 The singer-songwriter discusses the influence of the Harlem Renaissance author.
But how could a writer whose work still resonates so clearly have nearly become lost in time?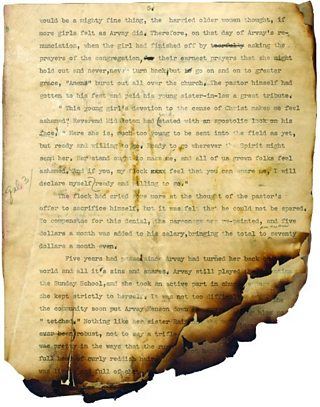 A burned document from Zora Neale Huston's archive
As a young child, Hurston had moved to the first self-governing all-black town run by African Americans in the United States: Eatonville, in Orange County, Florida. Her father was the town's mayor and later the church pastor. She was the fifth of eight children, and was always a dreamer. But she struggled from the age of 13, after the death of her mother. The remarriage of her father was an event of local scandal, and when the family left Eatonville, Hurston eventually dropped out of the education system after her fees stopped being paid.
After what she called her "years of wandering" –a decade in which there is no record of her whereabouts, she returned to school as a 26 year old masquerading as a 16 year old in order to qualify for free education. After gaining her high school diploma, she went on to study at Howard University, Barnard College and Columbia University, but she never added the 10 years back on to her age.
It was in 1925 that she headed to New York with "one dollar fifty in her purse, no job, no friends and a lot of hope", as she later wrote in her autobiography. She studied anthropology on a scholarship but became caught up in the cultural whirl of the Harlem Renaissance, instigated by the Talented Tenth – an elite group of well-educated black professionals attempting to influence through books and art the way the majority white population viewed African Americans.
By the mid-1930s she was writing and working as an anthropologist, measuring heads in Harlem and collecting black folktales in the South. In 1937, she was received a Guggenheim Fellowship to study voodoo culture Jamaica and in Haiti, which is where she wrote Their Eyes Were Watching God in just seven weeks. A feminist novel about a black woman coming to consciousness, it is now held to be her masterpiece, but at the time it was not well received and sank without a trace soon after publication. Further novels were rejected, and she was falsely implicated in a sex scandal that was reported extensively by the black press but ignored by the white.
Despite her situation she never felt inferior. "Sometimes, I feel discriminated against, but it does not make me angry. It merely astonishes me," she wrote. "How can any deny themselves the pleasure of my company? It's beyond me."
She left New York, and returned to Eatonville, before settling in Fort Pierce in central Florida. By the time she died in 1960, all of her books were out of print. Her Fort Pierce neighbours grouped together to pay for her funeral and she was buried in an unmarked grave. Her name was misspelt on her death certificate. While she had had numerous essays and seven books published, all her letters, newspaper clippings, photographs and notebooks were burned. The local sheriff came to try and put out the fire but it was too late.
Her resurgence came at the hands of The Color Purple writer Alice Walker, who at the peak of her own fame brought Hurston back to public consciousness, citing Their Eyes Were Watching God as the most important book to her.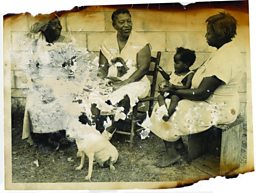 One of Zora Neale Hurston's partially burned photographs
"A friend in Mississippi, where I had moved to, gave me her book, Their Eyes Were Watching God, and after that I was absolutely taken," Walker says in the documentary. She decided to take a pilgrimage to the writer's final resting place and, on finding her unmarked grave, she purchased a headstone that very day and instructed the words "A Genius of the South" be carved upon it.
That was in 1973, over a decade after Zora Neale Hurston's death. Since, her legend has grown. "A novelist and folklorist, an anthropologist and short story writer, an essayist and playwright: Zora was multi-voiced, in a time that women, never mind black women, were all but invisible. Though nobody seemed to have told Zora," notes the poet Jackie Kay, who presents A Woman Half in Shadow.
Hurston's books have been reprinted, and those famous fans have been garnered and now her hometown, Eatonville, remembers its famous daughter each and every year at the Zora Neale Hurston Festival of the Arts and Humanities. She will not be forgotten again.
More from Seriously...
An insight into the world of fictional characters brought to life by devoted fans.

Phyllis Bottome is little known today, but did she inspire Ian Fleming?

DJ and presenter Bobby Friction on how to escape the online echo chamber.

A travel guide like no other, for black motorists in the mid-20th Century it was a catalogue of refuge.

Bridgitte Tetteh explores attitudes to female bodies in the black community.

Art critic Martin Gayford learns what it's like to be painted by a modern master.

The Sex Pistols visited Yorkshire twice, but what impression did they leave?

Ian McMillan watches from the side lines in South London

Jolyon Jenkins investigates whether meditation can do you more harm than good.

The band member recalls the anarchistic joy of a truly unique group.

The team of recovering addicts who made their mark on cinematic history.

David Aaronovitch on how an Eastern political tract became a Western icon.

David Bowie's interviews reveal his humour, passion and determination to succeed.

Did Nazi leader Hermann Goering have a brother who saved innocent lives from the Holocaust?

Mat Fraser meets the former striptease stars back on the stage in their 70s and 80s.

A poetic retelling of the Orpheus myth, from the celebrated writer Neil Gaiman.

Kellie Redmond explores Disney's fascinating contribution to the war effort.

The Simpsons star, satirist and actor reflects on the flood that devastated his home town of New Orleans.

The award-winning writer on porpoise dissections, stranded whales and beached dolphins.