Main content
9 remarkable things that happened at Children in Need Rocks for Terry
On November 1, a very special concert took place at the Royal Albert Hall to honour legendary broadcaster and the inspirational figurehead of BBC Children in Need, Sir Terry Wogan.
It was an eclectic bill, that suited the varied tastes of a true music man. Each performer or song was had a direct connection with Sir Terry. There were artists he discovered and supported via his Radio 2 shows, singers and songs that were personal favourites - including Take That, Ward Thomas, Gregory Porter, Alfie Bow and Beverley Knight - and more than a few wild cards along the way (step forward Alexander Armstrong and Rick Astley).

Here's a selection of startling events and wondrous performances from a truly memorable night.
1. Olly Murs was Sinatra's stand-in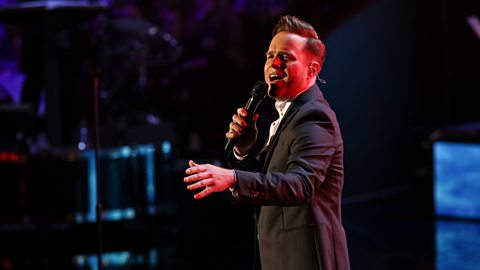 Olly Murs performs Frank Sinatra's 'Fly Me To The Moon/Come Fly With Me'.
For Sir Terry, there was really only one person at the top of the musical tree, and that was Frank Sinatra. As Ol' Blue Eyes himself was somewhat difficult to book, the job of filling his colossal (and no doubt very expensive) shoes fell to the plucky young hopeful Oliver Murs. Luckily, Olly's palpable eagerness and sincerity kept him from falling into the arch, loose bow tie, one raised eyebrow trap of so many other Sinatra impersonators, and he managed to swing Fly Me to the Moon, Come Fly with Me and Bad Bad Leroy Brown with the best of them.
2. Alexander Armstrong gave a military salute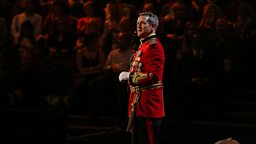 By far the most eye-catching outfit of the evening (beating Howard Donald from Take That's zippy snakeskin poloneck) was the military garb worn by comedian and singer Alexander Armstrong, who donned a scarlet tunic of the sort still worn by the Major-General commanding the Household Division, for a run through Gilbert and Sullivan's tongue-twisting The Major-General's Song. It was, of course, far from Pointless.
3. Ward Thomas revealed the secret of Sir Terry's hospitality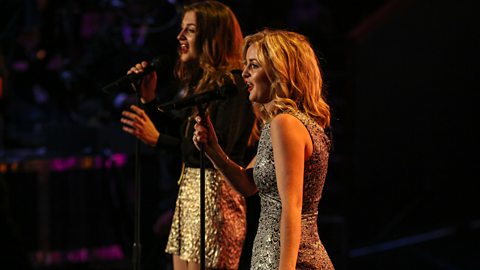 Ward Thomas perform Dolly Parton's super hit '9 to 5' for Children in Need Rocks.
Ward Thomas, the sisterly country duo who lit up the night with a performance of Dolly Parton's 9 to 5, were a particular favourite of Sir Terry's. He was an early champion of their music, but they did admit to some nerves when they first came to Radio 2 to perform in front of the great man. However, they discovered on meeting him that he had a canny trick to put performers at their ease.

When asked backstage for their fondest memory, both Catherine and Lizzy Ward-Thomas remembered his hospitality above all: "We had all these expectations and he came out with a bag of chocolate rolls and said 'would you like one?' and then we suddenly felt relaxed."
4. Rick Astley proved he really is never gonna give up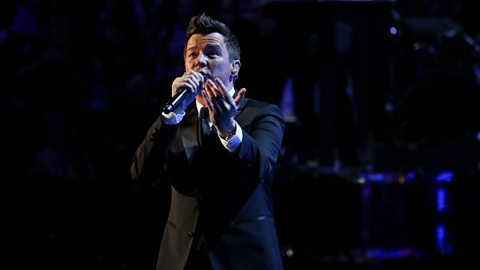 Rick Astley adds a twist to his classic 'Never Gonna Give You Up'.
Connoisseurs of the art of Rickrolling may assume that the appearance of Rick Astley singing Never Gonna Give You Up might be some kind of internet hoax, that maybe Fearne Cotton had introduced a jam between Rod Stewart, Eric Clapton, Paul McCartney and Justin Bieber and then Rick came out instead. This (while a fun idea) was not the case. In fact Rick had a long history with Sir Terry, appearing on his evening TV show during his pop pomp and in session for Weekend Wogan in 2010.
5. Beverley Knight fainted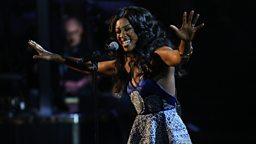 Poor Beverley Knight had a bit of a funny turn during her performance of the Dolly Parton / Whitney Houston classic I Will Always Love You. It wasn't a full collapse, but a visible enough wobble to affect her performance and worry members of the audience.
She was seen by medics backstage, who put the cause of her troubles down to low blood sugar - although her publicist later noted that she had also been "in a very hot dressing room back stage and left to go straight on stage". Thankfully she quickly felt better, and was cleared to tape a second performance later in the evening, which went without a hitch.
6. Shaun Escoffery went over the rainbow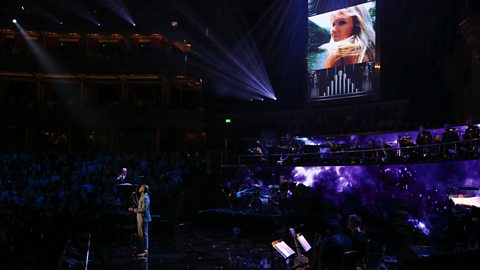 Shaun Escoffery duets with Eva Cassidy to perform 'Over The Rainbow'.
Shaun Escoffery paid tribute to one of the many songs that Sir Terry not only championed but pretty much put on the musical map, with a pin-drop perfect version of Eva Cassidy's beautiful Over the Rainbow. The moment was charged with extra poignancy when it emerged that the concert was taking place one day short of the 20th anniversary of Eva's death, and her bruised version of the song from The Wizard of Oz was then treated to some new onstage magic, so that Shaun was able to trade verses, and actually duet with Eva herself.
7. Everybody went surfin' (except Greg James's dad)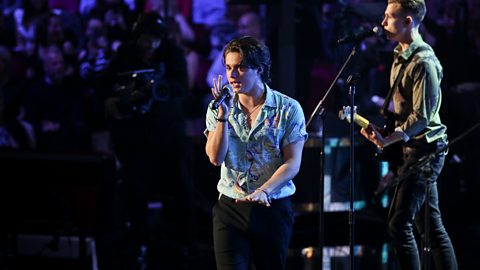 The Vamps perform The Beach Boys classic 'Surfin' USA' for Children in Need Rocks.
The Vamps - firm favourites with Sir Tel - gave an energetic rendition of the old Beach Boys classic Surfin' USA, which gave the production team an idea for something to do between acts. The Albert Hall crowd were asked to perform a Mexican wave while presenters Fearne Cotton and Greg James prepared to introduce the next act. This they did, although Greg was outraged to note - from the stage, no less - that one of the few people to remain in their seat was his own father.
8. Take That filled the Albert Hall with confetti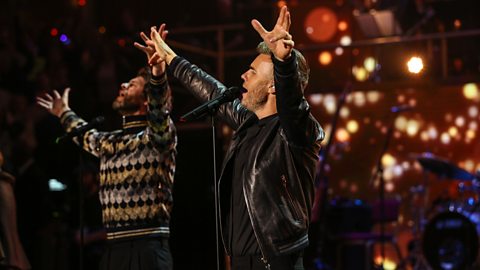 Howard Donald, Mark Owen and Gary Barlow perform 'Never Forget' for Children in Need.
Every event of this sort needs its triumphant climax, the confetti cannon moment, and that can be a hard task on a bill with such enormous variety (see the next item in this list for the best illustration of that point). Thankfully Take That have the perfect song for just such an occasion. They transformed the Albert Hall into a glittering arena rock show, complete with choir, orchestra, light show and yes, confetti cannons. What could possibly top such a moment of jubilation? Well...
9. Michael Ball and Alfie Boe sent a floral tribute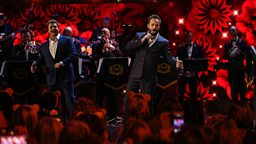 Perhaps the most singular performance of the night came at the very end, as Michael Ball and Alfie Boe, two of the country's most distinguished and accomplished singing talents, gave a rousing, almost tearful, rendition of Sir Terry's sole hit single, The Floral Dance. It was a performance ripe with emotion, vivid both emotionally and literally, and delivered with the full reverence demanded of such a solemn occasion.
Speaking of which, here's a wonderful collection of clips of Sir Terry himself, during the many years of active service he gave to the charity about which he felt so strongly: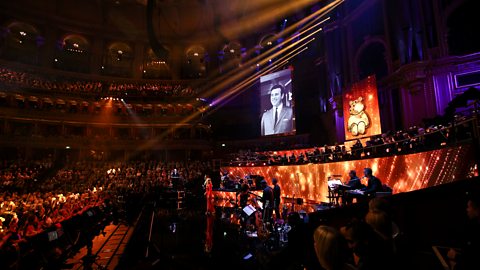 Relive some of the antics Terry Wogan took part in for Children in Need over the years.