Main content
Greg Rutherford shares his chances of winning Strictly & those 'compulsory' spray tans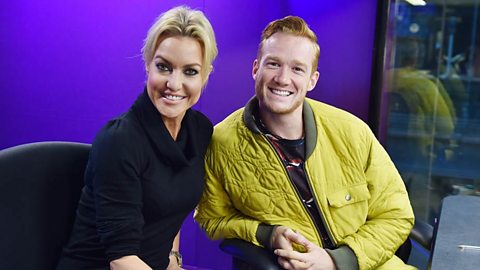 He'll never be able to listen to Bryan Adams again.
Olympic hero and all-round nice guy Greg Rutherford stopped by the Breakfast Show with his Strictly Come Dancing dance partner Natalie Lowe this morning.
Naturally, Greg and Nat bigged up this week's movie-themed show, which should be all sorts of fun.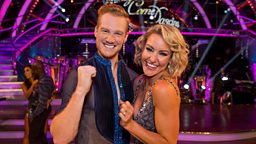 Comparing his time on the dance show to doing his regular profession of, ya know, being a long jump Olympian, Greg reckoned performing on the BBC programme was way more daunting!
"I guess it's the thing I do. When I go into a stadium I have to do that and perform and get on with it, nervous or whatever else.
"With this I am SO much more nervous, I cant even explain. It's a terrifying process, you're in a studio full of people who want to critique you, then you've got however many millions at home watching you and you think, 'if I make a bad step or forget part of the dance or fall over it's gonna be remembered forever!'"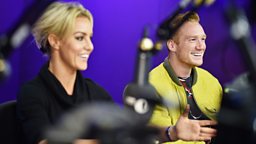 When Grimmy asked whether he thought he could win the competition, Greg plainly answered, "No!"
That's the, erm, spirit?
But seriously, Greg likes to win at stuff, but he remained modest and pretty grounded when assessing his chances.
There's a competitive side to me. I want to win, obviously, but I'm not coming into it saying it's do or die. I'm going to try as hard as I possibly can. And maybe... who knows?"
THAT'S MORE LIKE IT!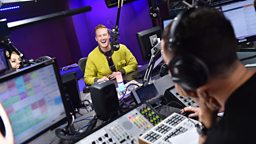 When asked about the spray tans contestants don for the live shows, he said, "Yeah, I'm still trying to scrub bits off - it's hard to get off! It's ridiculous, the stuff doesn't come off!"
We reckon Greg secretly loves a good tanning up, but probably not as much as Nat who thinks it "does look better on TV, as long as you don't overdo it!"
Wise words, Nat.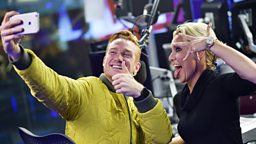 Catch the new series of Strictly Come Dancing each Saturday on BBC One at 6.45pm.