Main content
Young Choristers of the Year 2014
Two young choristers from Guildford and Devon have been crowned winners of the prestigious BBC Radio 2 Young Choristers of the Year 2014 competition.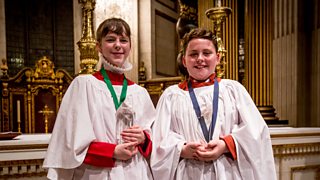 Winners of Radio 2's Young Choristers of the Year - Tom King and Helena Paish
Tom King, aged 13, who sings at Guildford Cathedral, and Helena Paish, aged 12, who sings at Crediton Parish Church, were named Radio 2's Young Choristers of the Year 2014 in a special programme broadcast on Radio 2, which reaches on average 15m listeners a week, on Thursday 13 December.
The grand finale of this year's competition took place in the stunning surroundings of St Paul's Cathedral in the City of London, and was hosted by BBC Radio 2 The Sunday Hour presenter Diane Louise Jordan.
The final featured eight contestants from around the UK who each performed in front of a panel of highly acclaimed judges. Chaired by the Director of Music of St Paul's Cathedral, Andrew Carwood, the judges on the night were Suzi Digby OBE, international choral director and renowned promoter of young voices, and X Factor winner and lead in hit West End musical The Bodyguard, Alexandra Burke.
Clare Balding hosts Radio 2's weekly faith show with topical conversation and inspiring music.

The world's longest-running orchestral live music programme on radio, featuring the BBC Concert Orchestra